No land's man: the plight of Assam's 'foreigners'
Those declared foreigners are sent to detention camps in six jails across the state. They stay there until they are deported to their country of origin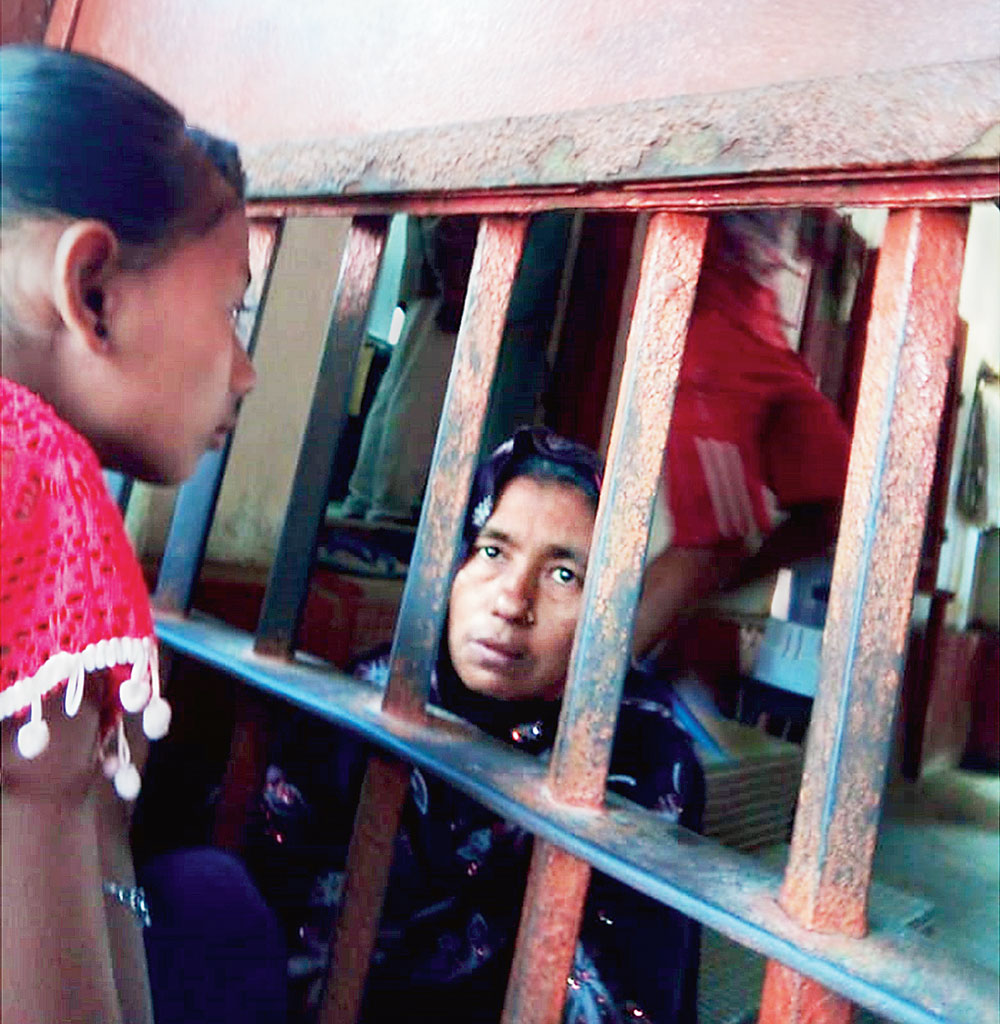 Banesa Begum in the detention camp inside Silchar Jail with her daughter, Sanjana
Sourced by The Telegraph
---
Published 14.04.19, 02:29 AM
|
---
The red and green single-storey house on Silchar's Jail Road, 340 kilometres southeast of Guwahati, looks innocuous. A weather-beaten corrugated tin shade nearly hides the signage that says: Central Jail Silchar — ESTD 1881. The Tricolour, fixed to a white pole to the left of the entrance, flutters in the breeze.
Baby Das, 25, has been waiting here all afternoon. At 4pm, an armed guard leads a middle-aged woman, Baby's mother Sulekha, to the closed gate and towards the peephole. The meeting lasts half an hour with both women weeping silently until the prison guard separates them. Next, Baby leaves for a lawyer's chambers in the city to check on the status of her mother's case; it is currently pending in Gauhati High Court. After the update she will return to her village, Thaligram, which is 30 kilometres away. This has been her weekly routine ever since her mother was arrested in April 2018. "She did not do anything and yet they put her behind bars. Our family is shattered," says Baby.
A similar scene plays out the next day, when Banesa Begum, 50, meets her husband Batu Mian. Their daughter, Sanjana, 14, is also there. Batu has come from Udharbond, 40 kilometres away. He has sold his cattle and mortgaged his property to fight the case to exonerate Banesa who was arrested last May. "I went from lawyer to lawyer and court to court, but nothing happened," says a despairing Batu.
Sulekha and Banesa are not convicts or under trial criminals awaiting judicial verdict. They have been declared foreigners by the state government and alleged to have illegally migrated from Bangladesh. Their rights, entitlements and privileges as Indians now stand suspended until they prove their citizenship in one of the 100 foreigners' tribunals across the state. The foreigner tag also deprives them of the right to vote in the Lok Sabha polls, even though they have been voting regularly till the 2016 Assam Assembly elections. Sulekha and Banesa are now D-voters or doubtful voters.
Much has been reported about the National Register of Citizens (NRC) in Assam and its exclusions, but the process of identifying D-voters began on July 17, 1997. At the time, the electoral rolls of Assam were being revised by the Election Commission (EC). This drill came into being after a sustained agitation by local groups — All Assam Students Union and All Assam Ganasangram Parishad — demanding identification and deportation of illegal immigrants. In August 1985, the Assam Accord was signed between the Government of India and the leaders of the Assam Movement. A key clause was that "foreigners who came to Assam on or after March 25, 1971, shall continue to be detected, deleted and expelled in accordance with law".
Quite obviously, D-voters have been left out of the NRC. Those declared foreigners are sent to detention camps in six jails across Assam. They stay in the camps until they are deported to their country of origin — in this case believed to be Bangladesh. "If you visit any of these jails in Silchar, Goalpara, Kokrajhar, Dibrugarh, Jorhat and Tezpur, you will hear the wails of hapless inmates," says Kamal Chakraborty, a human rights activist who has been trying to organise legal help for those deemed D-voters and thrown into detention camps.
According to the state (BJP) government, these camps are a part of the stopgap arrangement for around 1,000 declared foreigners until stand-alone detention centres are readied. Says Chakraborty, who is the chief convenor of a group of activists called Unconditional Citizenship Demand Forum, "Most of these detainees are marginalised people — rickshaw pullers, domestic helps, daily wage labourers, farm hands." Many are women with no certificates to prove birth, educational qualification or marital status. In many cases, frequent floods have wiped out property and other identity documents. "Usually unlettered, neither can they appeal nor do they have proper documents to prove citizenship," he adds.
Initially, there were over three lakh D-voters, but many were able to get their names cleared by tribunals. These were mostly people belonging to the middle class, with an understanding of and access to legal redress. Subsequent revision of electoral rolls cut down the number of such voters to 1.2 lakh, according to a recent statement by Assam's chief electoral officer, Mukesh Chandra Sahu. Chakraborty says there are an estimated 70,000 people who have been issued the Declared Foreigner notice, but they haven't been put in detention camps as there is a space issue. "These people lead a life of panic and often live under cover, waiting like sacrificial lambs," he says.
On February 22, 2014, Narendra Modi promised in an election rally in Silchar that if BJP came to power, it would close the camps. He also advocated the removal of the "D" tag against 1.43 lakh voters in Assam before the 2014 polls.
EC officials are supposed to conduct door-to-door surveys and revise the voters' list after verifying citizenship documents. Border Police, a division of Assam police, too are supposed to survey areas under their jurisdiction for illegal immigrants. If a person cannot furnish proof of citizenship within a stipulated time, they can be referred to a foreigners' tribunal. It is then up to the person to prove to the tribunal that he or she came to India before March 24, 1971 — the agreed date as per the Assam Accord. Sulekha and Banesa were apparently served notices last year, accusing them of entering India after 1971, even though they maintain they were born and brought up in India.
"Very often the EC will randomly pick names of people from the voters' list and frame them as illegal immigrants without any investigation," says Aman Wadud, a Guwahati-based lawyer who provides pro bono legal aid to poor Indian citizens who have been thus framed. He has fought many a case in several courts. "They [Border Police] just record that they approached the person and he or she failed to show any citizenship document. In many cases, the Border Police approach the poor and illiterate, take their thumb impressions on blank paper, prepare a case alleging such people are illegal immigrants and refer the case to the foreigners' tribunal."
These tribunals are governed by the Foreigners Act, 1946, which puts the burden of proof on the accused. Says Wadud, "They have frequently held someone as a foreigner because of minor anomalies of name and age in voters' lists." Many people, who have proved their citizenship once, have also received notices to prove their citizenship yet again. Even people from Tripura, Bengal, Uttar Pradesh and Bihar are being held as foreigners."
Rights activist Chakraborty cites the case of Chandradhar Das, a 102-year-old man who was in the Silchar jail after he was declared a foreigner. Says Chakraborty, "The order passed on him was ex parte [without hearing his account because he failed to appear before the tribunal], when fact is that this particular tribunal (FT-6) did not have a government pleader for months." Chakraborty was approached by Das's daughter, Niyati Roy, who didn't have a clue as to why her father was declared a foreigner despite having a citizenship certificate issued in 1966 from Agartala.
Says Chakraborty, "We took up the case to the deputy commissioner of the district with an appeal to release him on humanitarian grounds. He was unwell and suffering from age-related disorders." Das was eventually released after a three-month detention. "He's fit now and is happy about the fact that his name was cleared from the D-voters' list," says Niyati.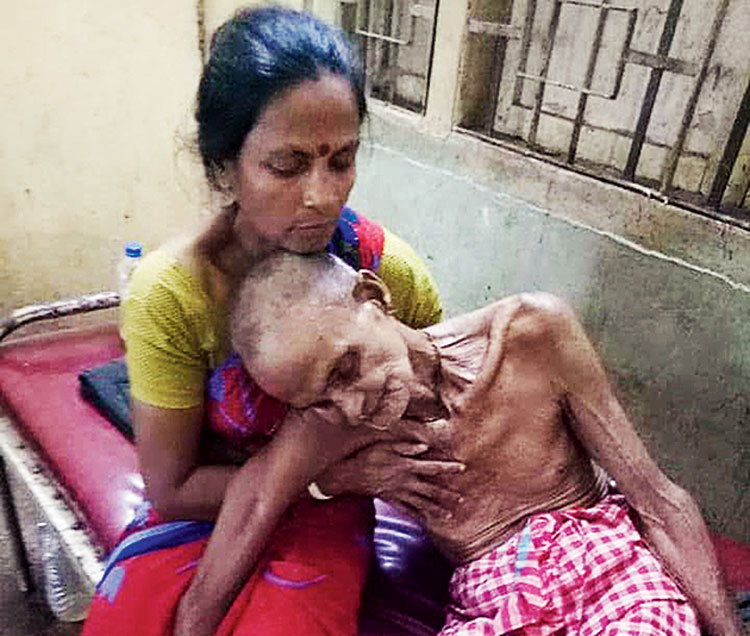 When Das was released, there were over 100 men and women in the Silchar jail who had been declared foreigners. Chakraborty talks about the dismal condition of the detention camps. Indeed, little is known within and outside Assam of the living conditions of these detainees, some of whom have spent close to a decade in these camps with little hope of release. There is no formal agreement between the governments of India and Bangladesh for India to deport persons they deem to be Bangladeshi nationals.
In January 2018, human rights activist Harsh Mander visited two detention centres in Goalpara and Kokrajhar on invitation from the National Human Rights Commission (NHRC). He was serving as the NHRC's Special Monitor for Minorities. Along with two researchers, he spoke to detainees, jail and police authorities, other government officials as well as civil society groups in Assam.
After the visit, he wrote in his report: "The camps are held in a corner of the two jails for several years, in a twilight zone of legality, without work and recreation, with no contact with their families… in the women's camp, the women wailed continuously, as though in mourning." What struck him most was that the inmates of the camp were mostly detained on the basis of ex parte orders. He recommended corrections of the condition of detainees to the state government and the NHRC, but these were ignored. Thereafter, he quit the NHRC and filed a PIL in Supreme Court to address the plight of the detainees. The plea hearings are taking place right now.
Says Joydeep Biswas, political scientist and associate professor at Cachar College under Assam University, "The whole process of identification of D-voters and ex parte labelling of a person as a foreigner is unconstitutional." According to him, the process has been fast-tracked ever since a BJP-led government came to power in Assam. He adds, "The struggle of doubtful voters has intensified creating an atmosphere of fear among certain communities and has further polarised voters along linguistic lines, an issue in Assam for decades." Biswas also questions the composition and functioning of foreigners' tribunals. "These are quasi judicial bodies where we don't have judges but members only. There's hardly any investigation before marking anyone a foreigner," he says.
Chakraborty has seen the fear psychosis spreading among these marginalised people. "You'll see more deaths and suicides in the near future," he prophecies darkly.
On April 7, 70-year-old Amrit Das, a detainee at Goalpara camp, was reported dead. He had been languishing in the camp since May 2017, despite the fact that his name figured in voters' lists from 1961 onwards. Wadud tweeted: "This is the third death inside a detention centre in the last one year. All detained as 'foreigners', but after death their bodies are returned to their 'Indian' families. Still they want more people in detention camps…"