When the park is a parking lot
The park is packed with statuary. And I look at it through locked gates, as it is never open when I am around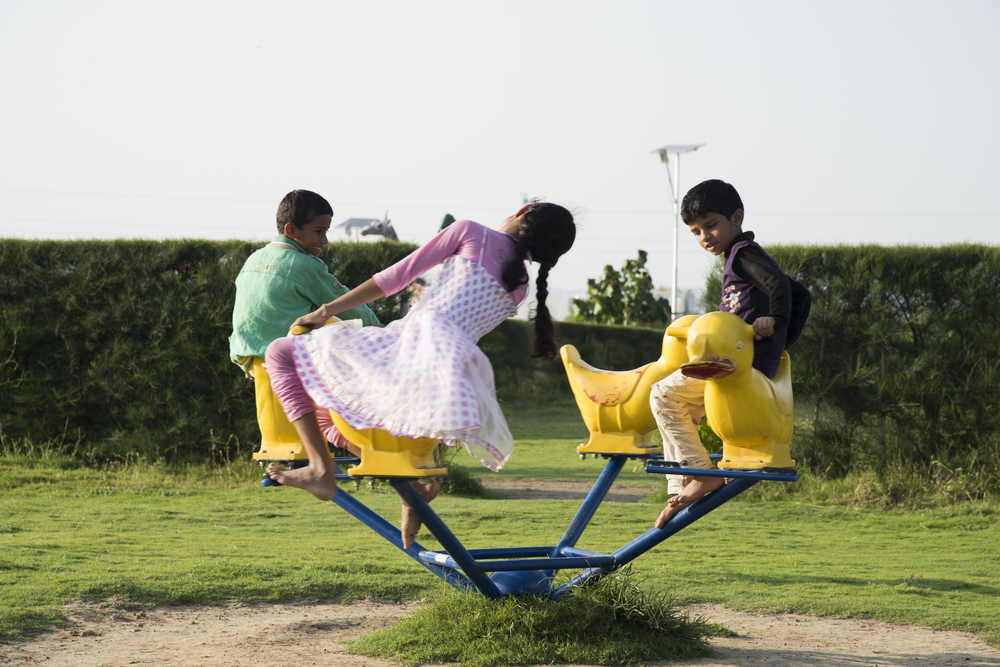 ---
---
A park that was recently inaugurated has opened up new space in the neighbourhood. But wait. "Open" is hardly the word to be used here; the park invites a verb that is the very opposite in meaning.
Now a nice, compact multi-storeyed building could have been built here with a bit of relaxed space all around. So it is wonderful that instead of a concrete structure, we have a park. But is it a park? If it is, of what?
The word "park" derives from the Old French "parc", related to the German "pferch", meaning 'pen' or 'fold', says the dictionary. The word was originally a legal term for land held by royal grant to keep game animals. This park, rising from the side of a busy south Calcutta road, lives up to its root-word.
Parked inside it, for want of a better name, are animals of all sorts. They come in the form of statues.
Near the entrance stands a giant, multi-coloured Donald Duck, with a savage expression on his face. But he is not Donald Duck, he is someone else! He is holding a flaming torch in his hand. But wait! It is not a torch, it is an ice cream cone!
Is this Donald Trump? The statue is pretty orange, too. The more I look at it, the less I know what it is.
Seated at his feet and looking up at him is a little monkey in a yellow T-shirt and red cap. He is holding a bin with a docile expression on his face.
The park is packed with statuary, mostly of the simian kind. A giant langur with a black face hangs from a tree. Another giant simian sits with its back towards the road. Maybe he does not like to display himself like the others.
I spot at least one kangaroo holding on to another bin, and at least one Chhota Bheem holding up what looks like a mini mountain. And a strange white structure, which would reach a little above adult knees, running like a ridge through a part of the park. The white structure has little doors built on it in a row. A sunny pleasure dome with caves of ice? Or is this where the Seven Dwarfs live?
And I am looking at it all through tall railings and locked gates. The park never remains open when I am around. I am assuming it does when I am not: early mornings and evenings. But now, since I am looking at it through impenetrable metal bars, the park looks like a zoo. Or a giant cage, with the animals within it the embodiment of somebody's lurid fantasies.
It is, as a dear friend calls many phenomena around us today, another example of the "Bengali grotesque". But aesthetics aside, it is pure horror. I don't know why children should be let into the park. Or anywhere near it.
Even more troubling, perhaps, is the fact that it is a park. Or should have been. But everything has been done here to fill up the space.
At a recent exhibition held at Jadunath Bhavan Museum and Resource Centre in Calcutta, the purpose of instituting the Calcutta Improvement Trust in 1912 was discussed. One idea was to free up spaces in the city.
The Dhakuria Lake was created under a CIT scheme. Even roads were considered free spaces. In the intervening years the idea of space has changed — to almost become its very opposite.
Possibly we don't believe now that space exists unless we cram it. Then it comes into being. So a park comes into being when we fill it up so much with insane statues that there is hardly any space to walk or play. In any case, it is closed for most of the day.
So multi-storeyeds come into being, floors piled on floors, in place of beautiful old buildings, invisible to the modern eye till they disappear.
Perhaps it has also to do with our sense of entitlement. We make something, and we love to leave our mark on it. So a park will bear every stamp of the powers that be in the area.
By the way, a slide and a swing have also been thrown into the park. Parts of these can be seen through the statues.