Oh, suck! Please now, new suckers
And now, bhaaiyon-behnon, we have Parasites. Let us be warned. Those that live off us while they squeeze the life out of us, Parjivis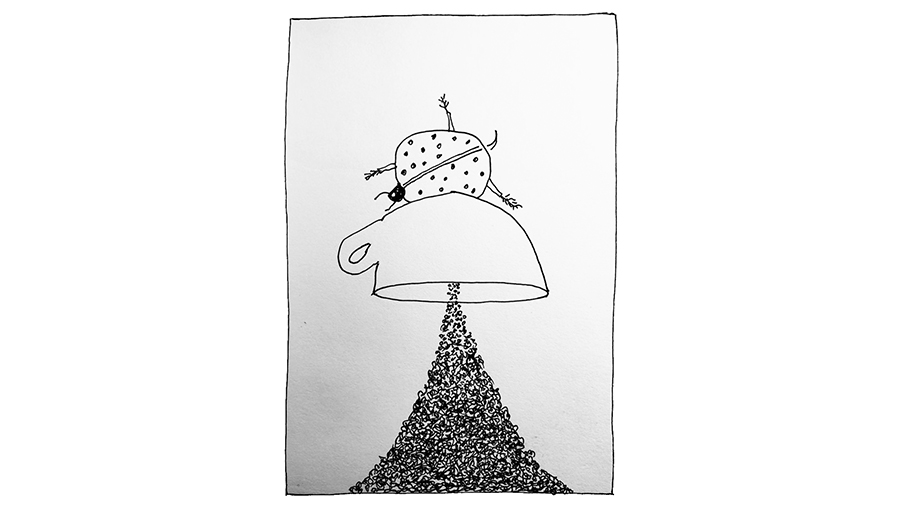 ---
---
The more things don't change the more they don't remain the same. I mean TheChaiwala is still around making all sorts of noises but he, it would appear, has forsaken hawking chai and taken to hawking conspiracies; chai pe charcha has become chai pe parcha, and a screaming, flaming parcha it is, just unfurled on a teleprompter near TheChaiwala: KaunIsPiracy!!! Ahem, I mean, kaun is behind this piracy, because I bought the exclusive rights over conspiracy, so get out of the way, all, and let me tell you with all the authority at my disposal as TheChaiwala that we shall not have this any longer. It is chai, tea! And I am the only one to have a high on it, psst, get the joke and get it quick because I won't crack another in a while. I am high on chai, I meant. And listen to the conspiracy now, hold your breath: They, I mean the conspirators out there, are trying to purloin the chai and the high and are planning to launch something called the High Tea! We shall not have that, I mean, BMKJ, what the hell, let's have some storm in the teacup. Let's have low tea, and let's not have it in a cup at all, let's be atmanirbhar and have low tea in our own kinda things, you got it, let's have low tea in a lota. Gotcha! (I learnt that one from you know who, Kemchho, just before he became kimchhi, ha-ha, Gotcha!) We are getting more and more atmanirbhar, read my lips, if you can still see them in all of the lush overgrowth, I mean, someone has to lead by example on the afforestation programme. There are obligations that come with the job. Look at TheChaiwala. Does he leave your side even when you might want him to? Never. He is there, at the throw of the television switch, harnessed live to cause and country, relentlessly serving chai. Correction is required, we need to move. Nothing needs to be replaced with Something. NewIndia's calling.
We must be grateful to have been warned again of the renewed perils that are gnawing away at us and that will one day soon be the end of us if we do not take urgent measures. What would have become of us if we hadn't been alerted that time to the rife and fatal perils of termites? Nobody bothered warning us all this while what an apocalyptic end termites had been plotting.
We are teetering on a hollowed out precipice and nobody told us. Such were the reckless botch-ups of the epoch justly called NothingHappened. All through NothingHappened, termites happened, and they were allowed to continue happening. As their nomenclature vaguely suggests, termites terminate. We were being voraciously had. But since we have given unto ourselves TheBossOfAllThings, he's given unto us reason to feel secure. He's let out the war cry: Exterminate before they terminate. This is nothing to scoff at. We should feel indebted we are now sagaciously and ferociously helmed.
And now, bhaaiyon-behnon, we have Parasites. Let us be warned. Those that live off us while they squeeze the life out of us, Parjivis, that name has a rig of unutterable horror to it: Parjivis. Ever heard of them? They live off. Off threat of the enemy. Off the peril of invasion. Off the sorrow of dead soldiers. Off the fear that we are in danger, all of us. We are in khatra, the sort of ditch we will never crawl out of, that is called khatra. Termites gnaw. Parasites suck. Together they are, well there isn't even a word for that yet. Parasites and Termites. They are not a hazard to us alone, they are a global jeopardy. And it was down to one man to flag this menace to humanity. Is there more proof required to confirm we are now blessed with a world-class leader?
Doubly blessed be his name, TheBossOfAllThings can do better than merely cry TERMITE!
I tell you a tale of fabled might
Though it only concerned a mite
I swished my sword, I cried out of my sight!
For I am the greatest parasite!!