New book on Agatha Christie sheds light on the author's disappearance for 11 days in 1926
EYE ON ENGLAND | Raging PM race between Sunak and Truss, lecturer of St Andrews explains the emotional connect of bengalis with Hilsa and more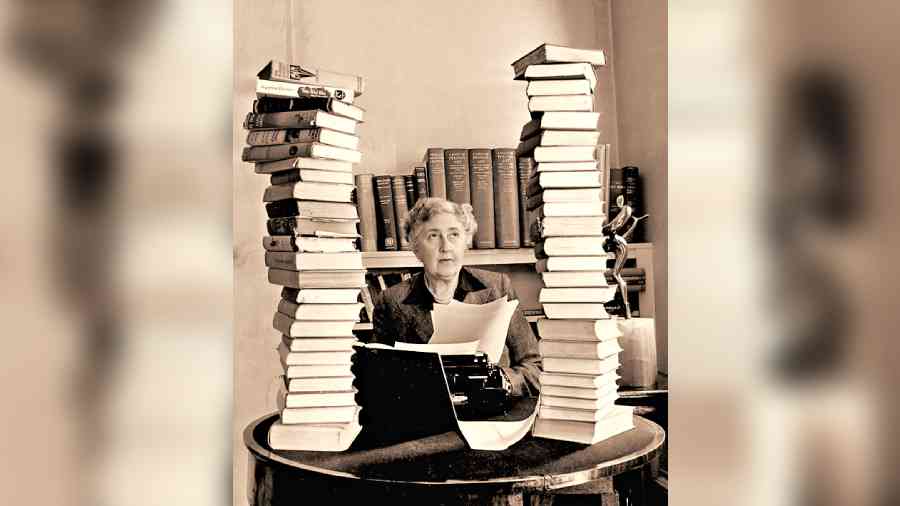 Agatha Christie: Queen of crime
Telegraph picture
---
Published 03.09.22, 02:45 AM
|
---
Undisputed queen
Agatha Christie is in the news again. I intend to get the new biography on the 'Queen of Crime', titled Agatha Christie: A Very Elusive Woman, which has just been published by the historian Lucy Worsley, the chief curator at Historic Royal Palaces. She suggests the reason that Christie disappeared for 11 days in 1926, when the police thought the author had either been murdered or had committed suicide, was because "she entered what today would be called a fugue or dissociative state and when you are in this state, you can perform as normal. Having talked to quite a few psychologists, I've come to believe that what has been given the term 'memory loss' is quite unhelpful."
Meanwhile, at the Edinburgh International Book Festival, the crime writer, Val McDermid, who has sold more than 15 million books, revealed that she has been warned that publicists must no longer describe her in posters as "the Queen of Crime". The term was registered as a trademark by Agatha Christie Ltd in May 2013, more than 37 years after the writer died. Last week, I caught the black-and-white film version of Witness for the Prosecution made in 1957, with a wonderful performance by Charles Laughton as the defence barrister, Sir Wilfrid Robarts. Christie first wrote the story in 1925 but later changed the ending to ensure that justice was seen to be done.
Fishy business
Anindya Raychaudhuri, a senior lecturer in English at St Andrews in Scotland, has commented on the cultural significance of Tenualosa ilisha that is displayed in an exhibition at the university, examining the legacy of the university's colonial possessions and connections. Raychaudhuri, currently travelling in India, explains what illish or hilsa means to Bengalis particularly: "The exhibition highlights the cultural importance of the fish and the emotional investment that people may have with it — from memories of the sensory experience of a loud and messy Bengali fish market, to the pain of Partition, which resulted in millions of people being forced to move away from their homes and, therefore, from the senses and flavours with which they had been familiar." St Andrews, founded in 1413, is the oldest university in the Englishspeaking world after Oxford and Cambridge. It is also where Prince William and Kate Middleton met as undergraduates in 2001. The exhibition, Re-collecting Empire, also says that golf balls — made from gutta percha — "a natural rubber material found in trees native to South-east Asia", represents colonial exploitation. This thought is offered to members of the Royal Calcutta Golf Club and the Tollygunge Club, established in 1829 and 1895, respectively.
Unpopular figure
On July 5, I was at the British Museum attending the launch of Richard Blurton's book, India: A History in Objects, when I was stunned to learn that Rishi Sunak had resigned from the cabinet. I instinctively knew he had made a mistake — he should have remained loyal to Boris Johnson who had made him chancellor. But perhaps Sunak was in a Catch-22 situation and would have been pilloried had he not resigned.
On September 5, we will know how he has performed against Liz Truss in the Tory leadership contest. The bookies have offered odds of 91 per cent for Truss to win against Sunak's 9 per cent. However, from the start, the Daily Telegraph, the Daily Mail and other right-leaning papers waged a very personal campaign against Sunak. Simon Jenkins, a former editor of The Times (which, incidentally, did endorse Sunak), summed it up very well in his Guardian column: "Rishi Sunak's bid for Downing Street is like that of a boxer told at the start of a contest that the judges have already decided he has lost."
Two-thirds of Tory party members apparently filled in their ballot papers even without listening to Sunak. What is odd is that the Conservative Party has never revealed just how many members it has, which is less than transparent. Sunak has insisted that Tory Party members are not racist but the tone of many of the readers' letters even in the Daily Telegraph is revealing.  One should not extrapolate from the particular to the general but typical ones read, "… thank God, the British have seen through the deceit of the schoolboy debating champion"; "My view would be that in India most wealthy people are not trustworthy"; "He can afford to desert this country (not his) because he has a green card to work in the USA"; and "If Sunak becomes PM then I am leaving the Conservative party. Full stop!!!!"
Expensive tastes
Sir Ben Kingsley, who won an Oscar for playing Mahatma Gandhi in Richard Attenborough's film, is suing interior designers in London for £60,000 for allegedly failing to deliver on his luxury kitchen, with special 'Calcutta gold worktop' and marble. It brought to mind the remark that Sarojini Naidu made to Gandhi: "Do you know how much it costs every day to keep you in poverty?"
Footnote
The pandemic has hit cinemas hard. Cineworld, the second-largest cinema chain in the world, is facing bankruptcy. This is bad news for Indians because at its UK multiplexes, it sets aside a screen for Bollywood movies and often another for Tamil films. Occasionally, even if a release was held-back in India because someone had protested that "Hindu sentiment had been hurt", I could invariably catch it at Cineworld Wandsworth in south London.