Culture rebrand as veiled threat
PM's promise to reinvent, renovate Bengal legacy worrisome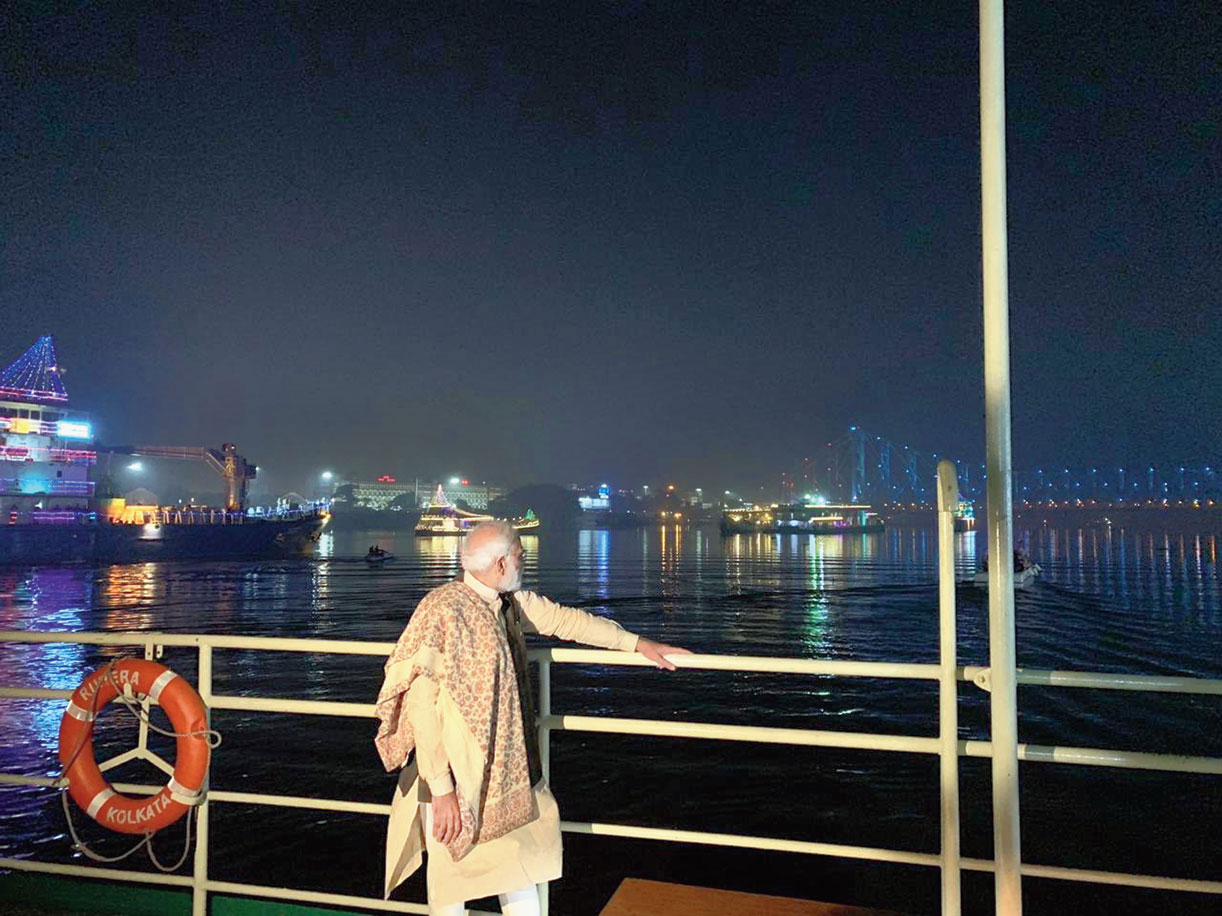 This Twitter image released by Narendra Modi shows the Prime Minister on his way to Belur Math on Saturday.
(Twitter/@narendramodi)
---
Published 27.01.20, 08:08 PM
|
---
Calcutta was once the cultural capital of India. That is a truism. It was so at a stretch till the 1970s, when its decline was accelerated. Today, it barely exists on the country's cultural map. We have failed to protect and preserve our once-rich cultural heritage, tangible or intangible. In all these years, we have been unable to build a museum to show off the art of Bengal and its undeniable glories. Heritage buildings of the native or colonial kind moulder in neglect, while the open spaces around them are encroached upon by land sharks and government agencies. Yet myopic Bengalis refuse to face this sad truth and harp on the supremacy of their kind.

Sensing this weakness, probably, and to fill up the void, the prime minister on January 11 opened the splendid exhibition, Ghare Baire — The World, The Home and Beyond: 18th-20th Century Art in Bengal, in the Old Currency Building of 19th-century vintage, restored by the Archaeological Survey of India. It is a culture ministry initiative, curated by the Delhi Art Gallery in collaboration with the National Gallery of Modern Art, and the lion's share of about 600 works on display is from the DAG's collection. The prime minister sprung a surprise on Calcutta, for few, if any, were aware that plans were afoot for such a huge project right in the heart of the city. The sweet-talking prime minister began his well-rehearsed speech with the words: "amar sonar Bangla", or 'my golden Bengal', an obvious reference to Tagore's song which is the national anthem of Bangladesh. He tripped on the Bengali names occasionally but continued to gush about the great cultural and intellectual attainments of Bengal, and how he sought to "reinvent, rebrand, renovate and rehouse" India's cultural legacy to dovetail with 21st-century needs for it is a key aspect of nation-building. And how this endeavour will be initiated in Bengal. He reeled off an inventory of his plans for Bengal, including celebration of the 250th birth anniversary of Raja Rammohan Roy in 2022, that coincides with the 75th anniversary of India's Independence. He announced that a separate gallery dedicated to Bengal's contribution to the freedom movement will be set up in the Victoria Memorial Hall and that it will be named 'Biplabi Bharat'. Never missing a chance to woo Bengalis, he reminded his audience that Vivekananda had told the people of the West that the 21st century belonged to us.
Does this augur well for us, considering that the culture of prevarication, of bending facts and putting a different construction on them has struck deep roots here? Moreover, given its taste for gigantism (the colossal statue of Vallabhbhai Patel) and its efforts to undo and rewrite the past (its plans to remake Lutyens' Delhi), one does not have much faith in the ruling party's tastes in art and culture. The prime minister said history writing during British rule and even thereafter did not throw light on many aspects of our lives. Invoking Rabindranath, he referred to an essay the poet had written in 1903 in which he expressed his dissatisfaction with the history we learn to pass examinations. For India's history was not one of "outsiders" indulging in patricidal and fratricidal power struggles. It was as if the people of this country did not exist. The prime minister innocently reminded his audience that those were not his own words. He was only quoting Tagore. For we know who he means by "outsiders". In all probability, the prime minister was referring to Tagore's essay, "Bharatbarsher Itihas (the history of India)". He did admit to the supremacy of art and culture in enriching history over strife, but he forgot to add that Tagore's stress was on unity in diversity. And it is this unity that the ruling dispensation has sought to fragment through sinister interventions. So the prime minister's eulogies and blandishments can be read as a veiled threat to usurp and appropriate regional culture. Shakespeare said: "The devil can cite Scripture for his purpose." When it comes to human nature, the Bard seldom goes wrong.