Missing an F-16. Not Missing an F-16
The facts of the India-Pakistan dogfight, post Pulwama and Balakot, refuse to add up. The naysaying, it refuses to stop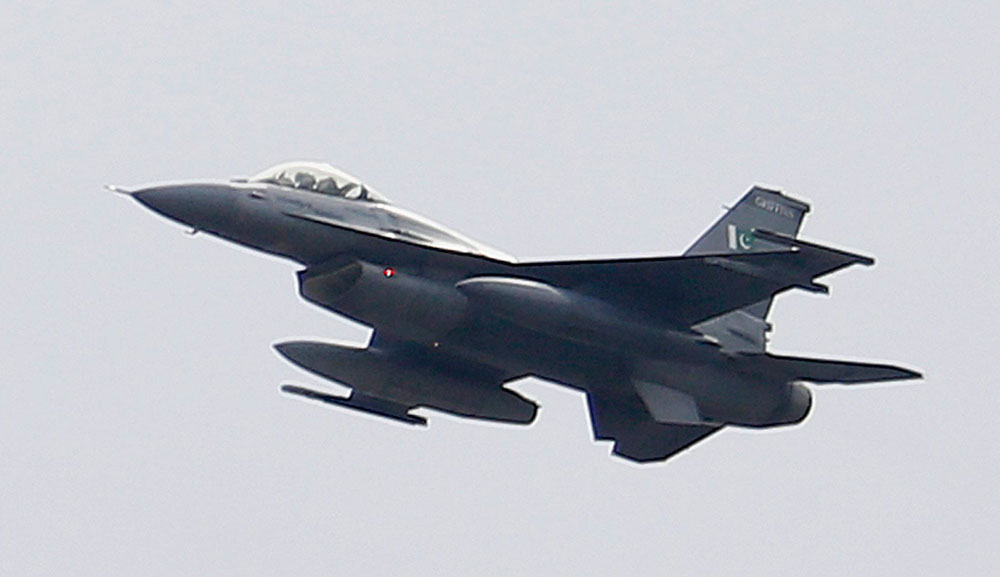 A Pakistani Air Force F-16 fighter jet flies during a military parade
(AP/PTI)
---
Published 07.04.19, 03:22 AM
|
---
The facts of the India-Pakistan dogfight in February, post Pulwama and Balakot, still refuse to add up. The naysaying, it refuses to stop. On Saturday, a report published in the US magazine, Foreign Policy, stated that Pakistan is not missing any F-16 fighter. The writer has it on good authority it seems, though the two US defence officials vouching for the same remain unnamed — weightiness of the issue notwithstanding. Big Brother. Not Very Small Brother. Such things happen. This revelation contradicts what the Indian government has been saying all along — that a Pakistani F-16 fighter was shot down by Wing Commander Abhinandan Varthaman who was flying a MiG-21 Bison. The F-16 is officially called the fighting falcon. Just saying. And a falcon is a bird of prey. Kills with its beak. One of the many nicknames for the Soviet Union-made MiG-21 is silver swallow. Swallow that.

Brothers and Arms
The magazine quoted an analyst with an aerospace and defence firm who had to say: "...the United States has a rigid process in place to try to ensure its equipment does not fall into the hands of 'hostile actors'." In March 2004 Pakistan was granted access to the American military equipment market after it became a major US non-Nato ally — "in recognition of its role as the frontline state in the ongoing war against terror". F-16 is US made. Promising to expedite early delivery of the equipment to the Pakistani armed forces in 2007, lieutenant-general Jeffrey B. Kohler, chief of the US Defense Security Cooperation Agency, had said: "Our country is very sensitive to Pakistan's defense needs."
Yes. No. Maybe
No sooner than the magazine report was out on Saturday, Pakistani Prime Minister Imran Khan said, "The truth always prevails and is always the best policy…" Spokesperson of Pakistan Armed Forces, Major General Asif Ghafoor said: "...India needs introspection especially over atrocities in IOK." And yet it was Ghafoor who had earlier said that JF-17 Thunder, developed jointly by Pakistan and China, had been used in the dogfight. Thereafter, he had changed his tune ever so subtly. He said, "Whether it was F-16 or JF-17 which shot down 2 Indian aircraft is immaterial." And now there's a report claiming that Pentagon, the headquarters of the United States Department of Defense, has said it is not aware of any such head-counting as has been reported by Foreign Policy.
Not Summing Up
From the beginning, India has stated that it shot down one Pakistani aircraft, an F-16. Pakistan claimed from the beginning that it had shot down two Indian jets. And then the Indian Prime Minister went ahead and said something about India "feeling the absence of Rafale", which was neither here nor there. One thing is for sure, no matter on which side of the line of control we are, nothing quite adds up. Or maybe that's how it is meant to be.