MGNREGA: rural welfare on crutches
The inadequate sanctioning of schemes across gram panchayats hinders operations, thereby reducing employment opportunities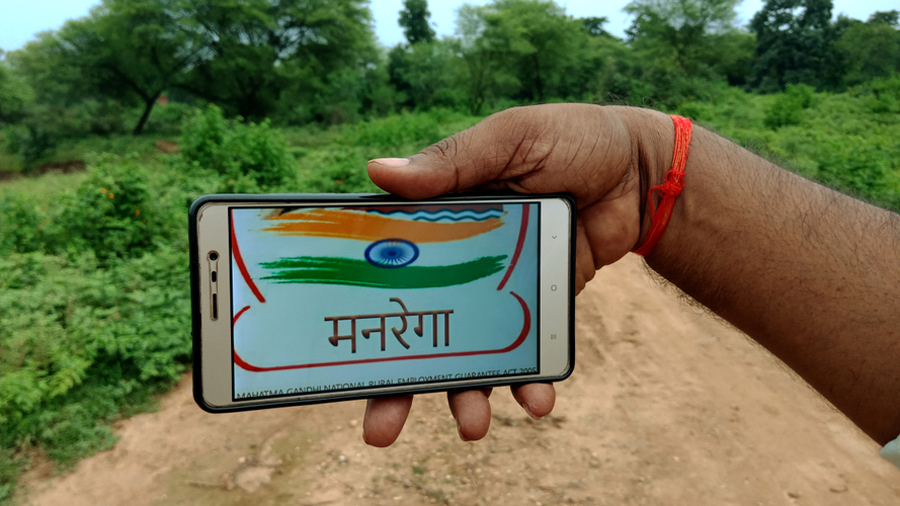 Lack of awareness among workers and the supply-driven nature of MGNREGA result in workers not even knowing that they can demand work and earn additional cash in times of crisis.
Shutterstock
---
Published 01.01.21, 02:18 AM
|
---
Headline:
Byline: Debmalya Nandy

The Mahatma Gandhi National Rural Employment Guarantee Act tracker released by the People's Action for Employment Guarantee as well as a research report presented by LibTech India reveal why the rural job programme has not been able to cater to the needs of the poorest during this steep rural job crisis.
Earlier, a survey by the Azim Premji University had shown that 6 out of 10 rural workers had lost their jobs during the lockdown. The Centre for Monitoring Indian Economy also stated that about 1.1 crore daily wage workers were unemployed. Corroborating these claims, the Right to Food Campaign survey has shown that about 43 per cent of its respondents had no work in the month of April and May and that 62 per cent of the workers are now earning considerably less than pre-Covid times. These are adequate evidence of the crisis of employment in India during and after the lockdown.
The MGNREGA, the biggest rural flagship job programme, was expected to rise to the occasion and ensure people earned a dignified income and coped with income losses. However, the PAEG report suggests that while 1.3 crore new job cards were issued and about 1 crore more households have worked under the scheme compared to last year as of November 30, the average employment per household remains as low as 41 days as of now as compared to 48 days in 2019. Also, 17 lakh households had completed 100 days of employment as of November 30 against 40.6 lakh households last year. In a crisis year, it is expected that a higher number of households would go for full employment under the MGNREGA. But the data show that while demand for work has been very high, the implementation has been shoddy.
The MGNREGA's limited efficacy can be attributed to three factors.
The lack of funds and their slow release have an adverse impact. The PAEG report shows that till the end of November, the persondays generated were 43 per cent higher than that achieved during the same period last year. This means that the Centre should have allocated 380 crore persondays for 2020-21 in the labour budget. However, it has only allocated 324 crore persondays as of November 30 as per the official website. This is restricting opportunities for additional employment. The ministry is left with less than 20 per cent funds. This is worrying since the remaining months would be peak working time given that the harvest season is over.
The inadequate sanctioning of schemes across gram panchayats hinders operations, thereby reducing employment opportunities. The block administration does not sanction schemes in bulk on account of the lack of competency. Consequently, workers do not get access to work at their convenience. Currently, the sanctioning processes are conducted through a software-based system called SECURE that is controlled by a handful of block and district officials. Even in states where gram panchayats are entrusted with sanctioning finances, the software-based system has taken control away from them.
Lack of awareness among workers and the supply-driven nature of MGNREGA result in workers not even knowing that they can demand work and earn additional cash in times of crisis. The MGNREGA has been in force for 14 years, but many people across rural India do not even know about its existence.
The report is also suggestive of inadequate administrative reciprocation against the surge in demand for work. It says that about 13 per cent of demands remained unmet. However, a recent survey conducted by Gaon Connection and CSDS-Lokniti has shown that only 20 per cent of the willing households got work. About 45.6 lakh households were not issued cards and the demands of 97 lakh households were not met during the year, as per the PAEG findings.
There is no respite for workers even after the payment is made by the Centre. LibTech India released a report describing the problems of last-mile delivery — 45 per cent of workers had to visit banks multiple times and an estimated 40 per cent of banking correspondents users made multiple trips due to biometric failures;  the average cost incurred while visiting  a bank to withdraw wages was Rs 31. Workers paid about Rs 11 while accessing their wages from banking correspondents and Rs 67 when they visited an ATM; 57 per cent of the respondents reported that their passbooks don't get updated; an estimated 42 per cent of workers in Jharkhand and 38 per cent in Rajasthan took more than four hours to access wages from banks, while an estimated 18 per cent of bank users were denied wages and asked to visit the banking correspondents instead.
This survey, conducted among 1947 workers in Andhra Pradesh, Rajasthan and Jharkhand, also found that according to official figures, as of July 2020, in the last five years, about Rs 4,800 crore worth of payments had been rejected and payments worth about Rs 1,274 crore are still pending.
A large number of the workers have lost trust in the MGNREGA because of the uncertainties involved in accessing work and payments. Last mile delivery problems have worsened the situation. It is a pity that we have lost an opportunity to strengthen the rural job programme in spite of the Centre moving away from the earlier stance of rubbishing the MGNREGA.