Bengal's daughter
Mamata Banerjee has stopped the BJP's ashwamedha in Bengal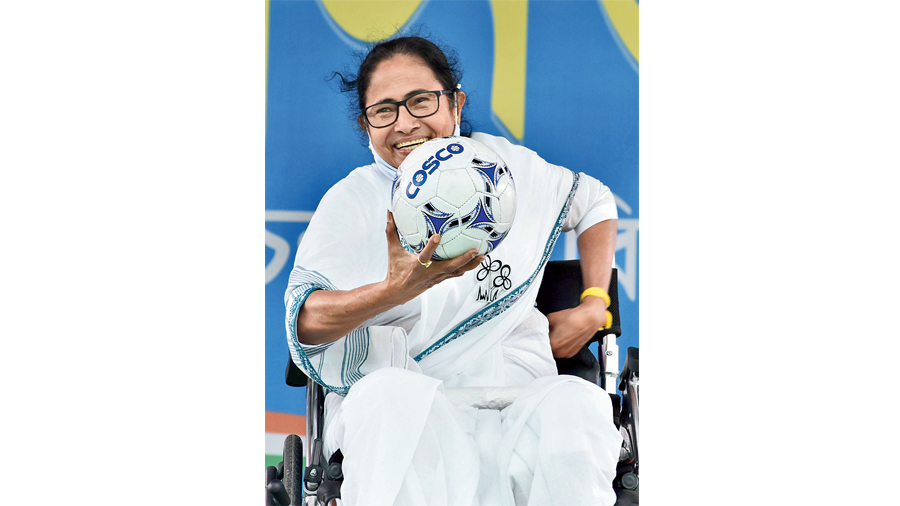 Mamata Banerjee.
File picture
---
Published 03.05.21, 12:52 AM
|
---
Who dares wins. Beyond all the analysis and interpretation that will come to attend the quite astounding, and sobering, verdict of the people of Bengal, this is Mamata Banerjee's finest hour. She has become today the consequence of who she has relentlessly been in the process of becoming since she had her skull split in a skirmish with the Left three decades ago: a fighter who won't give up the fight.
She had the most formidable and dubiously loaded war chest thrown at her, volley upon volley, dare upon bellowing dare; she took the blows with grit and with pugnacity and exhausted them. In the process of such mostly one-legged gallantry, she has scored a stellar breach in a raging myth of our politics — that Narendra Modi and Amit Shah form an invincibility we'd better reconcile to, that there is an inevitability to the hegemony of their 'chakravarti' project, that where they venture they will establish their suzerainty. Mamata has halted the ashwamedha in Bengal; she remains firmly in the saddle of her realm, battle-scarred and bleeding in Nandigram herself, but unshaken. It isn't often a two-term incumbent is able to fight off such a robust charge on the fortress. The travesty remains it isn't often the challenge is borne the way Mamata did in Bengal. Or, let it be said, the way freshman Tejashwi did in Bihar not so long ago. The way he hounded the combined might and resources of Modi-Shah and Nitish Kumar in Bihar, the way he nearly came to pip them, should have already proved to those ready to pay heed that the Modi-Shah mission plays — very often successfully — on the counterfeit currency of impregnability.
This is not to remotely suggest at this stage that their term as big daddies of the field is anywhere near expiry; that would be infantile indulgence at the moment. They remain in active rampage; Narendra Modi, for all his garrulous fumbling and messing about, mindful and mindless, remains, in offence of good sense and to some stupefaction, the lead national act. What Mamata has demonstrated is that with enough intent and purpose, with cuffing the right buttons, the rampaging can be called out and shown its place.
This is a moment not unlike the Mahagathbandhan's 2015 victory in Bihar, later nullified by Nitish Kumar's notorious pole-vault into Modi's lap. The thwarting of the BJP's power-grab on Bihar was widely seen at the time as a swivel event that would enable a credible rallying of the Opposition. The only swivel that resulted was Nitish Kumar's treachery on the mandate. The counterblast from Bengal comes in the throes of a spiralled authoritarianism; it is marauding and it is untrammelled. Institutions have been beaten and twisted out of shape. The economy has been run aground. The citizenry's recourse to correction has been throttled. A cold, tyrant heart presides over our proceedings, such that it is no longer possible to believe that there may even be something human that constitutes the government we re-elected to power in 2019. Drop a litmus into the swirl of statements that have emerged from our minders as we suffer our harshest crisis and see for yourself what you come up with. There aren't enough hospital beds, not nearly enough oxygen, we are celebrating a 'tika utsav' but there is neither tika nor utsav anywhere the gaze goes. The fatigued fraternity of doctors and health workers has been stretched beyond measure. It requires urgent aid. We have made one man's vanity called the Central Vista an essential service; not a paisa allotted to this monumental callousness must be moved elsewhere, the earthmovers must roll, the heart of Delhi must be ripped and rolled to fashion the master's flawed fantasy at a time when Delhi is queuing up to see off its dead.
Such is the moment we are in, such are the suffocations from which Mamata's victory has allowed us a momentary lease of breathing. She has run a fine race, but the race isn't done yet. More than once in our recent past the baton of challenge has been picked, more than once has it been dropped. Most tellingly by the Congress, which, again to some stupefaction, remains the chief national Opposition. It is time it moults out of calcified derelictions, begins to act its part, begins to re-learn lessons from Bengal and, equally, from its defeats in Kerala and Assam. That lesson, bluntly put, is this: forsake your entitlements and your excuses, shun your reckless abandoning of the field, descend into the trench, fight the fight. Ahead of that, give yourselves a leader who would replace the non-functioning dyarchy at the top of the party.
Midway through the campaign for Bengal, Mamata had sent out a letter, a desperate plea really, to major non-BJP formations to close ranks and save the nation from being contorted crudely out of shape. She recognized, and rightly so, the immense power the Bharatiya Janata Party, especially the Modi-Shah duo, has come to wield, how destructive that could be to the nation, and why there was need to close ranks and stop the slide. The appeal received scant notice; some merely thought it an indication from Mamata that she was losing the battle, clutching at straws as she sensed a drowning mid-stream. There are lessons for Mamata to learn, for sure, and corrections to effect. The smart politician that she is, it is not possible she is unaware of widespread disaffection with actors of the Trinamul Congress in Bengal. It cannot be that she is unaware that credible reason exists, even among her votaries, for grouse and grievance: corruption at the grass roots, the culture of syndicates and commission/extortion that has become pervasive, the charge of nepotism and of appeasement. Those cannot be brushed aside or buried, not even under the overwhelming downpour of celebratory confetti. Those will need attending.
But looking beyond Bengal, now that the battle is done and summarily dusted, it is perhaps time to revisit the letter and examine its contents for what they really were — a cry from the flanks to prevent the edifice from collapsing. Mamata has held that flank, wholesomely and indomitably; it is time the rest came up with the wares. The dare of winning a bout so often and lackadaisically given up as lost is on the table; it requires picking up.
sankarshan.thakur@abp.in