Letters to the Editor: Treat elderly actors with respect and dignity
Readers write in from Calcutta, Kanpur, Murshidabad and Hooghly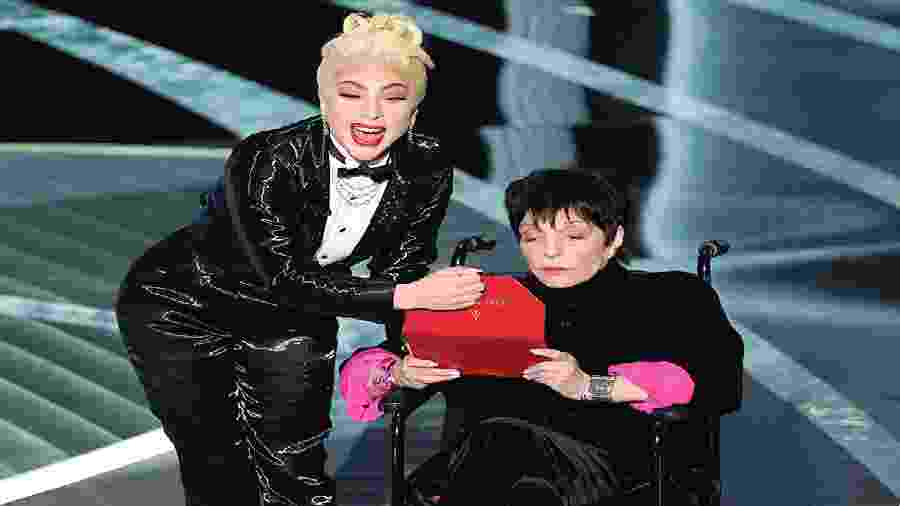 Lady Gaga, left, and Liza Minnelli present the award for best picture at the Oscars on March 27 at the Dolby Theatre in Los Angeles.
AP/PTI
---
Published 22.04.22, 04:27 AM
|
---
Out of line
 
Sir — One moment that stood out amidst the chaos in this year's Oscars was of the bonhomie between the singer, Lady Gaga, and the veteran entertainer, Liza Minnelli. Minnelli, who appeared to be in ill-health, was in a wheelchair. A friend of Minnelli, Michael Feinstein, has alleged that the actress requested a director's chair but was ultimately given a wheelchair. The actress did not want the world to see her deteriorating health. If true, this is unfortunate. Elderly actors are often made to feel out of place in an industry that is disproportionately fixated on youthfulness. They must be treated with respect and dignity.  

Sarmistha Mazumder,
Calcutta

Truth buried

Sir — The editorial, "Another virus" (April 20), raises several questions about the calculation of deaths from the coronavirus during the first and second waves of the pandemic. Ever since the Bharatiya Janata Party came to power, several departments have been accused of manipulating data. According to the World Health Organization, at least four million Indians died because of Covid-19 but the government's official figure stands at 522,000.

It is true that many patients died at home and could not be included in the official calculation. This is a serious lapse. The Indian government does not have a clear picture of the total number of infected persons, recoveries and the final death toll. The Centre cannot beat the virus by burying the truth.

A.K. Chakraborty,
Guwahati

Sir — The extent of the under-reporting of the actual number of Covid-19 deaths in India by the Narendra Modi government is shocking. Citizens have the right to know the truth. Hiding such a crucial matter will lead to a further loss of faith in the government. Kerala has been transparent in its calculation. Other states should do the same.

Suparni Haldar,
Calcutta


Tight control

Sir — The editorial, "Family first" (April 20), rightly pointed out that the Board of Control for Cricket in India remains indifferent to the democratization of the institution itself. It is appalling that over a third of the full-time BCCI members are sons and relatives of influential politicians or government officials. The recommendations of the R.M. Lodha Committee are yet to be fully implemented. Such dynastic control will have a negative impact on the BCCI. 

Jayanta Datta,
Hooghly 

Sir — It is shocking that the BCCI and the state cricket administrative boards are controlled by a select few families. This has led to a lack of transparency in their functioning. Unless this anomaly is fixed, India cannot claim to have a democratic cricketing set-up. 

Kirti Wadhawan, 
Kanpur

Sir — The prime minister of India, Narendra Modi, has repeatedly asserted his dislike for dynastic politics. But in sharp contrast to his proclamations, ground realities indicate that family connections are responsible for appointments to leadership positions in cricket as well as in politics. Political favouritism, too, exposes the hypocrisy of the ruling dispensation that has failed to honour many of its promises.

M.M. Rahaman,
Murshidabad


United stand

Sir — The Sree Mahavishnu temple at Vaniyannur, Kerala has set a laudable precedent in communal harmony by holding an iftar gathering ("Temple organises iftar", April 19). It is particularly reassuring to see this in the midst of the current intolerant atmosphere in the country. At a time when mindless violence is being witnessed in various parts of India in the name of religion, this gesture will go a long way in showing that all is not lost.

Amit Brahmo,
Calcutta  

Sir — Displays of harmony between Hindus and Muslims can still be seen in parts of the country. Muslim youths in Siliguri distributed water bottles to the participants of a Ram Navami procession and a predominantly-Hindu group of people hosted an iftar celebration for Muslims near Nakhoda mosque in Calcutta. It is a shame that the Bharatiya Janata Party is yet to take strict action against those guilty of communal violence.  

Avik Chatterjee,
Calcutta

Sir — Iftar parties were organized by Hindus for their Muslim neighbours and friends in Calcutta. These events are a sincere display of brotherhood and love. This should act as an eye-opener for the BJP.

Fakhrul Alam,
Calcutta