Letters to the editor: There is no shame in taking a career detour at an advanced age
Readers write in from Bangalore, Chennai, Ludhiana, Calcutta and Mumbai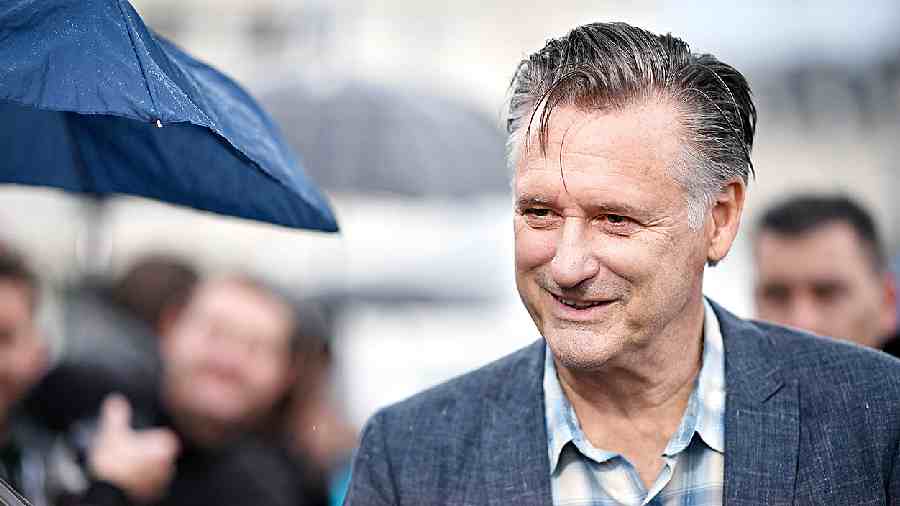 Bill Pullman
Telegraph Picture
---
Published 22.06.22, 04:03 AM
|
---
Beyond age
Sir —The American actor, Bill Pullman, who is known for starring in the cult classic, While You Were Sleeping, recently noted that the term, "late bloomer", can be quite disparaging. Pullman — he starred in his first film at the age of 32 — tried his hand at construction, teaching and directing plays before he found his calling as an actor. Many other celebrated artists, such as Grandma Moses, Ang Lee and Morgan Freeman, found success late in life. While it is easy to consider the success of these individuals as an exception rather than the norm, it is the willingness to go beyond social diktats, which mandate that one should follow a set career track, that matters the most. There is no shame in taking a career detour and prioritising professional fulfilment at an advanced age. 
Ananya Chakraborty, Calcutta
Unequal ground
Sir — The Punjab and Haryana High Court has ruled that Muslim girls over 15 years of age are eligible to marry a person of their choice. Under the Hindu Marriage Act, 1955, the minimum legal age for women to marry is 18 years and for men, the corresponding age is 21 years. Last year, the Narendra Modi government introduced a bill in Parliament that aims to fix 21 years as the uniform age of marriage for both women and men. Child marriage continues to be rampant in India. The variations in who is considered to be a minor should not stand in the way of fighting child marriage. Reports indicate that there were over 15,000 child marriages in the tribal districts of Maharashtra in the last three years. This is shocking. Unless there is a Uniform Civil Code governing marriageable age, it would be difficult to curb this menace. 
K.V. Seetharamaiah, Bangalore 
Safety first
Sir — The emergency landing of a Delhi-bound flight that took off from the Patna airport after flames were detected in the engine because of a suspected bird hit was unfortunate ("Jet engine fire after bird hit", June 20). It is good that the flames were spotted in time and that all passengers on board could be evacuated safely. The authorities must now thoroughly investigate the incident and re-evaluate the safety mechanisms in place. It is reassuring that the pilots and the cabin crew could maintain composure under such trying circumstances.  Recent incidents have shown that the directorate general of civil aviation is alert and mindful of the lapses in safety protocols. In May, SpiceJet was fined for training its Boeing 737 Max aircraft pilots on a faulty simulator. This is heartening. The upkeep of airports and a focus on flying conditions should also be prioritised. 
Khokan Das, Calcutta
Kind coach
Sir — The head coach of the Indian men's cricket team, Rahul Dravid, has announced that he is keen to identify the core group of players for the Twenty20 World Cup squad by the end of the England series. Dravid has said that he considers the wicket-keeper, Rishabh Pant, to be an "integral" part of the team in spite of the latter's failure to perform in the short form of the game. Many other players, such as Sanju Samson and Dinesh Karthik, were not given such opportunities when their performances had dipped. It is good that Dravid is the kind of coach who is willing to work through the shortcomings of the players and help them shine. Hopefully, the Indian team will reach new heights of success under his firm, but kind, leadership. 
N. Mahadevan, Chennai
Sir — The Board of Control for Cricket in India and Rahul Dravid must carefully consider the strengths and weaknesses of all shortlisted players for the T20 World Cup squad. Many young players, such as Arshdeep Singh and Umran Malik, have shown that they are capable of playing at the highest level but are rarely included in the national team. It is unlikely that these players will be part of the T20 World Cup team. 
Mrityunjay Saha, Calcutta
Derailed
Sir — Cable cars are considered to be an economically viable and sustainable mode of public transportation. But their safety depends largely on the experience and competence of the engineers and technicians who are responsible for manufacturing and maintenance.  Earlier this week, around 15 people were stuck in a cable car in the Parwanoo area of Solan district in Himachal Pradesh because of some technical issues. They have been rescued since then but such incidents are immensely traumatising. This is not the first time that such a mishap has occurred in India. Poor maintenance and lack of expertise are responsible for the recurrence of these incidents. 
Sunil Chopra, Ludhiana 
Yoga for all
Sir — June 21 is International Day of Yoga. In 2014, during a speech at the United Nations General Assembly, the prime minister of India, Narendra Modi, proposed that a day should be earmarked to celebrate yoga. This year, the theme was 'Yoga for Humanity', which was observed across 177 nations.  The term, 'yoga', is derived from two Sanskrit words — 'yuj', which means 'together', and 'yujir', which means 'to unite'. The physical and emotional benefits of practising yoga are remarkable. 
Anushka Jaiswal, Ujjain
Sir — Yoga can be more beneficial for some ailments than medication and help keep both mind and body healthy. The best time to practise yoga is early in the morning. The physical benefits of yoga include improved flexibility and mobility. It strengthens and builds muscles, increases stamina, improves digestion, among other benefits. Additionally, yoga helps with concentration and reduces stress. All of us must consider incorporating yoga into our lives. 
Jubel D'Cruz, Mumbai