Readers write in Calcutta, Chandigarh, Karnataka and New Delhi
Letters to the Editor: The pandemic has killed the art of small talk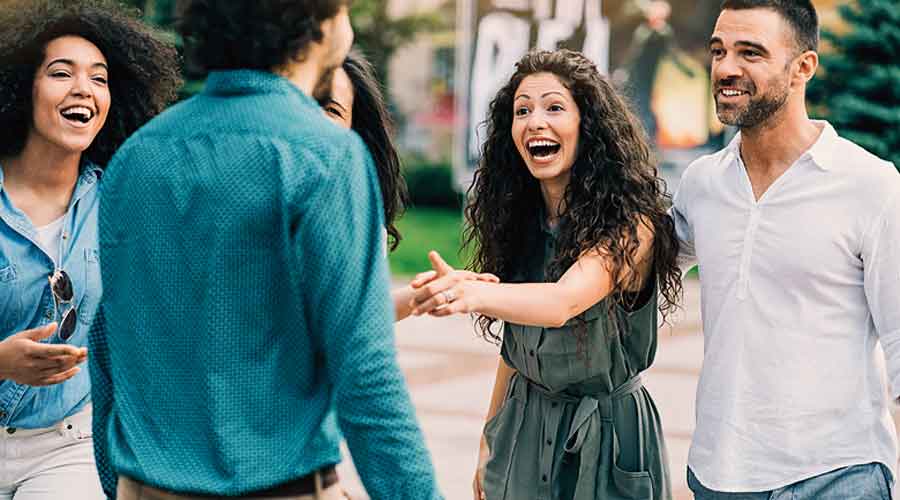 Representational image.
File photo
---
Published 04.04.22, 12:53 AM
|
---
A lost art

Sir — Has the pandemic and the lack of social contact for long periods led to the death of that great human institution, the small talk? The gift for banal conversation — be it complaining about the weather or the government or even discussing a football match — may not seem like an important one, but it can certainly save lives, especially when people meet after a long time. Ironically, for those of us struggling to form sentences in social situations once customary greetings are out of the way, the pandemic itself can be the best source of small talk. It is a shared experience that all of us are sure to have something to say about.

Rajeev Ruia,
Calcutta

Big question

Sir — The sangh parivar has asked Hindus to boycott halal products. The company that has faced the brunt of this call for boycott is the Himalaya Wellness Company, a Bangalore-based ayurvedic firm owned by a Muslim family whose products are widely popular in India ("Hate reaches Himalaya, riding lies woven around 'halal'", April 3). The company has clarified that all its products are vegetarian and the halal certification is just something needed to export its products to other countries. But this did not stop members of the sangh parivar from railing against it.
 
However, the controversy raises some important questions. In 2017, Air India confessed to serving only halal meat on its flights even though it had both Hindu and Sikh flyers — the latter are not allowed to consume halal meat. In 2019, when fast-food chain, McDonald's, publicly announced serving only halal meat products in India, it came as no surprise. Since keeping both halal and jhatka food items doubles running costs, the easy way out is to serve only the former. The government should make it compulsory for those selling or providing halal products to have jhatka alternatives readily available.

Pradeep Singh,
Chandigarh


Unsafe data

Sir — In February, the ministry of electronics and information technology released the draft India data accessibility and use policy, 2022 for public consultation. It seeks to maximize access to and use of non-personal data available with the public sector. Ensuring greater citizen awareness of, participation in, and engagement with open data is an objective of the policy. Yet, it says nothing about the Right to Information Act. This poses ethical and procedural dilemmas regarding balancing privacy and risk of data misuse with transparency and accountability.

Kingshuk Som,
Calcutta


Civic chaos

Sir — Nearly two years have passed since the term of Bangalore's civic body, the Bruhat Bengaluru Mahanagara Palike, ended. But elections are nowhere in sight for BBMP. Political parties, however, are preparing for the 2023 assembly polls. A petition by former Congress councillors, seeking directions to the state government to hold civic polls, is pending before the Supreme Court.
 
There are allegations that the civic polls have been deliberately delayed to strengthen the power of the members of the legislative assembly, who, in the absence of an elected civic body, have been calling the shots in the city. The apex court must respond to the petition and ensure that the civic elections are held at the earliest.

Shadab Alam,
Bangalore

Sir — With a population of over 1.35 crore, Bangalore accounts for 12.5 per cent of the seats in the Karnataka legislative assembly. For nearly a decade, Bangalore development was a coveted and separate portfolio in the state government. Ever since the Bharatiya Janata Party came to power in 2019, the contest between ministers for that portfolio has been so intense and led to so much infighting that two chief ministers — B.S. Yediyurappa and the incumbent Basavaraj Bommai — have held it themselves. Ultimately, it is the people who lose out in the absence of a dedicated civic body and a minister.

Kavitha Krishnan,
Hubli, Karnataka


Brim over

Sir — There have been a lot of jokes and memes about women and 'pandemic drinking'. One wishes these could be laughed off. A study in the Journal of the American Medical Association Network Open in 2020 found that the number of days on which women drank excessively increased by 41 per cent during lockdowns. We often assume that men are more typically the ones with a drinking problem. And men do generally drink more — but the gender gap is narrowing. One study reported that from 2006 to 2014, alcohol-related visits to the emergency room in the United States of America increased by 70 per cent for women and 58 per cent for men. A public health issue this large needs corporate and governmental allies to help spread awareness and work to reduce the shame associated with addiction.

Zinia Chatterjee,
New Delhi


Reel gets real

Sir — Two recent Hindi films, Jhund and Gangubai Kathiawadi, suggest that Bollywood's cinematic temperament is changing. These films are based on real-life stories and narrate the struggles of minority social groups, and question social taboos. By showcasing the heroic tales of the most disadvantaged — Dalits in Jhund and sex workers in Gangubai Kathiawadi — Bollywood has turned its gaze towards social justice.
 
Although early Hindi cinema presented stories of the poor, working class in Do Bigha Zamin, Jagte Raho and so on, mainstream cinema has largely revolved around the commercial interests and values of the upper caste elites. Films depicting social and religious fissures have been rare or have often been referred to as 'parallel cinema'. Films like Jhund and Gangubai Kathiawadi bring Bollywood closer to making meaningful cinema.

Aditya Banerjee,
Gurgaon