Letters to the Editor: See how comedy can turn the tables on power
Readers write in from Calcutta, Jalpaiguri, Nadia, East Burdwan, Malda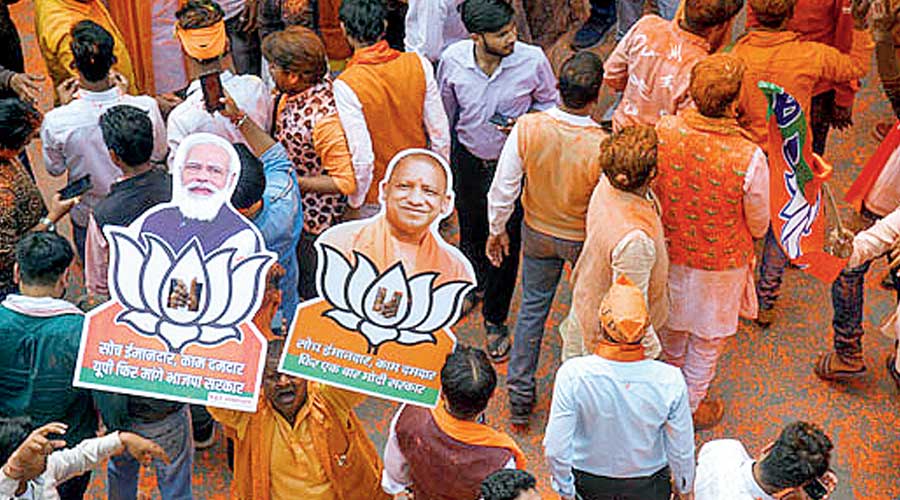 BJP supporters holding cutouts of Prime Minister Narendra Modi and UP Chief Minister Yogi Adityanath, celebrate with colours, as the party heads to a landslide victory in UP Assembly elections, at the party office, in Lucknow, Thursday, March 10, 2022.
PTI
---
Published 13.03.22, 01:07 AM
|
---
Turn the tables
Sir — In the middle ages, the court jester would not only have to entertain the king but also speak truth to power. But times have changed since then — a comedian is rarely taken seriously these days. But this perception seems to be changing. While professional politicians are clowning, comedians have proven to be a voice of sanity. For instance, the Ukrainian president, Volodymyr Zelenskyy, a former comedian, has shown the courage to lead his country through a war. This shows that comedians still have the ability to turn the tables on power.

Sreya Bagchi,
Calcutta
Saffron surge
Sir — The Bharatiya Janata Party must be congratulated for its resounding victory in four out of the five states that went to elections. The BJP retained power in Uttarakhand, Goa and Manipur. But perhaps its most significant win was in Uttar Pradesh — the BJP became the first political party to retain power in UP since 1985. Much of this success can be attributed to the formidable leadership of the prime minister, Narendra Modi. The various welfare schemes started by the Yogi Adityanath-led state government have clearly earned dividends. People still seem to have faith in Modi in spite of the failures in governance, such as his mishandling of the pandemic, agrarian distress, joblessness and so on. Such a decisive win will influence the outcome of the general elections in 2024.

Janga Bahadur Sunuwar,
Jalpaiguri

Sir — The editorial, "People's choice" (Mar 11), decodes the voting pattern that led to the BJP's victory in UP despite a strong wave of anti-incumbency. Perhaps the work done by the party in the construction of temples and religious corridors and its propagation of Hindutva have struck a chord with voters. It would not be wrong to say that the BJP's victory was a foregone conclusion owing to the absence of a credible Opposition. The scars from the ineptitude of the BJP government, both at the Centre and in the state, are still fresh. The Opposition should have done a better job of using these against the BJP.

Sanjay Agarwal,
Calcutta
Sir — The Aam Aadmi Party swept the Punjab assembly election, trouncing established parties such as the Congress and the Shiromani Akali Dal. The Congress might even lose its position as the principal Opposition owing to its miserable performance in the five states. This opens up new possibilities for the AAP to emerge as a national alternative to the BJP ("AAP eyes Cong space", Mar 11).
 During its campaign in Punjab, the party highlighted its initiatives in Delhi in terms of health and education and steered clear of attempts to polarize the electorate. The AAP not only won Punjab but also managed to win two seats in Goa, where Mamata Banerjee's Trinamul Congress — an aspirant for the leadership of a non-BJP front — failed to win any seats. This shows that the AAP has better chances of emerging as a challenger to the BJP than any other party at present.

S.S. Paul,
Nadia

Age no bar
Sir — Hearteningly, the apex regulatory authority for medical education in India, the National Medical Commission, has decided to eliminate the upper age limit for the National Eligibility cum Entrance Test for MBBS admissions. The age limit was 25 years for general candidates. This step will come as a shot in the arm for those students who could not take the exam earlier but are keen on pursuing medicine. All medical associations must support this measure.

Shyamal Thakur,
East Burdwan

Sir — The decision of the NMC to do away with the age cap for the NEET undergraduate exams would be unfair for those appearing for it immediately after Class XII. These students would now have to compete with more experienced individuals. The authorities must consider the prospects of all stakeholders before taking such decisions.

Puspal Sahoo,
Malda