Letters to the Editor: Salary hike for police dogs
Readers write in from Calcutta, East Burdwan and UK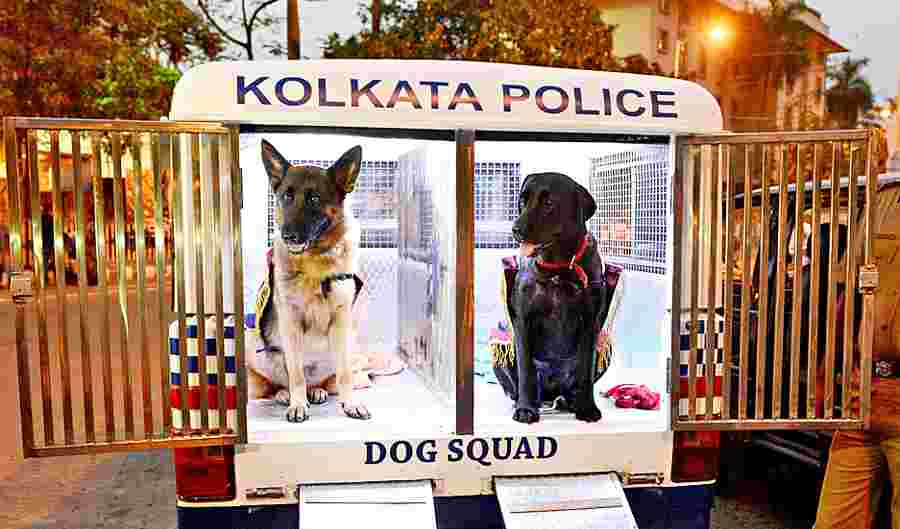 ---
Published 09.05.22, 04:15 AM
|
---
A dog's life
Sir — It is said that a dog is man's best friend. But the reverse can be equally true. Consider the proposal of the cops at Lalbazar. It has been reported that the 'salary' of police dogs would be raised by about Rs 800, given the rise in prices of daily essentials. It is a pity that unlike the Calcutta Police bosses, business establishments in India and abroad continue to remain tight-fisted. According to the Centre for Monitoring Indian Economy, 59% of the working-age population in India do not want to work because of poor wages. It is, then, a dog's life — only for humans. 
Monisha Pal, Calcutta
Aural memories
Sir — The article, "Summer's sounds" (April 27), by Uddalak Mukherjee reminded me of the American composer, Pauline Oliveros, who had used the term, 'deep listening', to describe "listening in every possible way to everything possible... the sounds of daily life, of nature, of one's own thoughts, as well as musical sounds." Summer's sounds emanating from within the house bring to mind the now-lost practice of putting charpoys out in the open in the summer evenings. They could be in the gardens, courtyards or terraces or, in government housing colonies, in the open common space in front of each row of houses. The rhythmic dragging of charpoys was invariably followed by chatter, among the men, the women and the children, all of whom formed age-specific clusters out in the open, hoping for a breeze. One could also hear a sense of community as neighbours chatted with one another. One recent morning in Delhi, I felt the absence of the city's sounds — traffic mostly, but also air conditioners and coolers. For some reason, the electricity supply momentarily shut down and a silence rare to a big city fell upon the street. I could hear conversations from homes, a man coughing, a child crying and the sound of quick footsteps on a rickety, wooden staircase. There was the crackle of mustard seeds in hot oil. I could also hear the reptilian breaths of pressure cookers from countless kitchens. Without the incessant sounds of electrical appliances, men and women seemed stranded in time. I adored that regression.
Yashodhara Sen, Calcutta
Sir — "Summer's sounds" by Uddalak Mukherjee made for wonderful reading. It reminded me of another distinct summer sound — the ghughu pakhi'r daak. The call of spotted doves is omnipresent at this time of the year, especially in the comparative silence of summer afternoons when people retreat into shaded homes. This is perhaps why no school essay in Bengali on the subject, 'Grishmer dupur', has been complete without the line, "Ghughu pakhi'r udas kora daak".
Sourish Misra, Calcutta
 Important lessons
Sir — There is a growing awareness among the masses that climate change is very real. This is the time for the school and college curricula to enhance climate literacy, especially in a way that has practical uses. The three core aspects that could be included are the science of climate change, climate action and climate adaptation. As governments and industries become environment-conscious, the next generation of employees will need to be acquainted with green technology. Education can unlock potential avenues for climate-positive action across sectors. Shovanlal Chakraborty, Calcutta Fresh start "Sir — Bengalis are renowned for their love of sweets. This is what had prompted the chief minister of West Bengal, Mamata Banerjee, to inaugurate a Mishti Hub near Burdwan in 2017. But the proprietors were compelled to down the shutters owing to a lack of income. While it is heartening to learn that Banerjee has taken steps to revive those shops, this is not enough ("Fresh attempt to revive Mishti Hub", May 7). However, if all state-run buses make a stop at the hub, the number of customers is bound to grow and the shops will run smoothly.
Shyamal Thakur, East Burdwan
Costly taste
Sir — The chocolate industry is worth more than $80 billion a year. But studies show that some cocoa farmers in parts of West Africa are poorer now than they were in the 1970s or 1980s. Farmers are also under pressure to supply to markets in wealthy countries instead of securing their own futures. To sustain their livelihoods, cocoa farmers of Côte d'Ivoire and Ghana need to diversify away from cocoa production. Cocoa farming requires tropical forestland. When the land is exhausted, farmers would benefit from diversifying to products like rubber and palm oil. But multinational chocolate companies need farmers to keep producing cocoa. Ghana and Côte d'- Ivoire have to think about what is best for them instead of the chocolate industry and consumers in the developed world.
Kuntal Samanta, Oxford, UK
Strange gap
Sir — Anik Datta's upcoming film, Aparajito, is a brave project. It takes on two venerated subjects — the world-renowned director, Satyajit Ray, and his lauded debut feature, Pather Panchali. Aparajito stars Jeetu Kamal as a dead ringer for the great man. When it is no secret who or what the film is about, one wonders why Datta has chosen to rename every single character. The mention of Pather Padabali in the trailer was disconcerting, to say the least.
Shubhra Dey, Calcutta