Letters to the Editor: Sadly, the Bear Grylls's show is more about cheap thrills
Readers write in from Kurseong, Jalpaiguri, Nadia, Jalandhar, Guwahati, Maruthancode (Tamil Nadu),Mumbai, Nainital, Calcutta, Chennai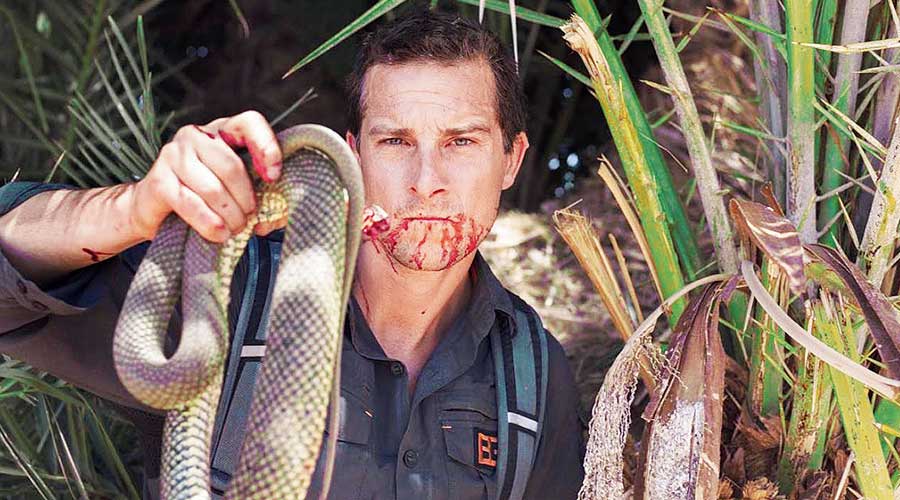 Man vs. Wild
[YouTube screengrab]
---
Published 07.04.22, 01:06 AM
|
---
Murder most foul
Sir — The television series, Man vs. Wild, which airs on Discovery Channel, shows the British adventurer, Bear Grylls, tackle extreme challenges and navigate remote locations around the world, sharing strategies to survive in the wild along the way. Although the show makes for interesting viewing, it is unfortunate that Grylls kills animals and insects — sometimes even endangered species — for food. The need for conserving wildlife, especially vulnerable species, cannot be stressed enough. In fact, Discovery Channel has many programmes espousing the cause of conservation. Grylls's show and his stunts provide the audience with cheap thrills to garner high television ratings.

Viresh Agarwala,
Kurseong
Small step
Sir — It is heartening that the Centre has decided to roll back the controversial Armed Forces (Special Powers) Act from several districts of Assam, Manipur and Nagaland ("AFSPA area in Northeast cut", April 1). For decades, the Northeast has been neglected owing to this draconian law. The Centre's decision is thus expected to usher in peace and development. But overcoming the trust deficit of the people will pose a significant challenge. The withdrawal of the AFSPA comes close on the heels of the resolution of a decades-old boundary dispute between Assam and Meghalaya. These are welcome steps to ensure stability in a volatile region.
 
Janga Bahadur Sunuwar,
Jalpaiguri

Sir — The Centre has cited improved security situation as the reason for reducing the ambit of the AFSPA in parts of the Northeast. The decision is laudable; but it is not enough to undo years of injustice ("Not enough", April 4). Piecemeal gestures do not address questions about why such a law, which gives free rein to the armed forces, is needed in the first place. In fact, the Supreme Court had ruled that security personnel committing crimes do not enjoy immunity. It is sad to see that the law has not been repealed even in the face of persistent opposition .

S.S. Paul,
Nadia
Sir — The human rights activist from Manipur, Irom Chanu Sharmila, who fasted for 16 years demanding the repeal of the AFSPA, has called the Centre's decision to partially revoke the outdated law a small success. The limited withdrawal does seem like a half-hearted attempt at restoring peace.

Yash Pal Ralhan,
Jalandhar
Sir — The partial removal of the AFSPA from the Northeast along with the settlement of boundary disputes between Assam and Meghalaya has generated a momentum in favour of peace and stability. The state governments in the region should not waste this opportunity. Historic injustices suffered by the people in the Northeast must be addressed.
The impunity granted to security personnel infringes on the rights of civilians. While national security cannot be compromised, this should not come at the cost of fundamental rights.

A.K. Chakraborty,
Guwahati

Real crisis
Sir — Sri Lanka is in the grip of an unprecedented crisis. The country is reeling from a severe shortage of essential commodities. Several missteps by the Mahinda Rajapaksa government, including a cut in indirect taxes and the push for organic farming, are responsible for this economic downturn. The decrease in the revenue from tourism owing to the pandemic and the Ukraine war have aggravated the situation.
The country's vast natural resources and manpower must be carefully channelized to bring the economy under control. India's efforts to help its neighbour are commendable.

G. David Milton,
Maruthancode, Tamil Nadu
Sir — The Sri Lankan president, Gotabaya Rajapaksa, had declared a state of Emergency in response to the violent protests against the government ("Grand delusions", April 3). Rajapaksa cited public security and maintenance of essential services as reasons behind imposing the Emergency. But the real motive behind his decision was clearly to forestall a public revolt against the government.

Bhagwan Thadani,
Mumbai

Smooth the way
Sir — The Bay of Bengal Initiative for Multi-Sectoral Technical and Economic Cooperation — an organization comprising India, Bangladesh, Myanmar, Thailand, Bhutan, Nepal and Sri Lanka — must be lauded for adopting its first charter since its inception in 1997. The Bimstec can help India further its regional aspirations. Within the grouping, India's dominant position in terms of gross domestic product and population will add to its clout.
The charter proposes a roadmap for better connectivity in the region. To realize its true economic potential, India must make the movement of goods and services across borders easier.

Vijay Singh Adhikari,
Nainital

Code red
Sir — It is worrying that this March was the hottest one in India in 122 years. The weather department attributed the unusual heat to deficient rainfall — India recorded 8.9 mm of precipitation in March, which was 71 per cent less than the average. The countrywide maximum temperature for the month has also breached the optimal level. It is high time we realize the dangers of climate change and gear up to fight the threat on all fronts.

Shovanlal Chakraborty,
Calcutta

Sir — We must seriously rethink the reckless felling of trees. Burning of tropical and peatland forests accounts for almost 10 per cent of greenhouse gases generated. Forest protection is thus an important part of limiting climate change.

Ranganathan Sivakumar,
Chennai