Letters to the Editor: Mohan Bhagwat's recent statement on LGBTQ community a ploy to garner votes
Readers write in from Calcutta, Jamshedpur, and Chennai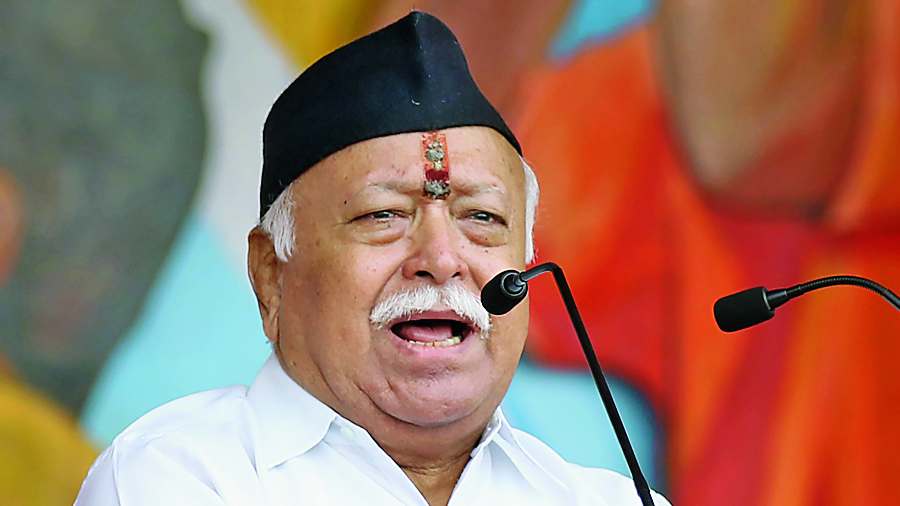 Mohan Bhagwat
File picture
---
Published 15.01.23, 04:01 AM
|
---
Hollow words
Sir — The Rashtriya Swayamsevak Sangh chief, Mohan Bhagwat, recently stated that members of the LGBTQ community are "human beings having inalienable right to live" and that their lifestyles were not in conflict with Hindu society. This would be heartening had he not added that those "proclivities" are found in animals too. Bhagwat's statement is akin to the 'rainbow capitalism' adopted by corporations to encourage sales and customer loyalty. The RSS leader appears to be making an effort to reach out to a greater audience to garner more votes before the upcoming general elections in the country.
S.S. Chaudhuri, Calcutta
Unjust aim
Sir — The Central Board of Film Certification has cleared the film, Gandhi Godse - Ek Yudh, without any cuts. Apparently, the film-maker, Rajkumar Santoshi, hopes that the audience will understand both M.K. Gandhi and his killer, Nathuram Godse, a little better after watching this film. This film seems to be part of saffron propaganda and is thus unexpected coming from a director like Santoshi. Godse was found guilty of murdering the Father of the Nation. No one should justify the ideology of such terrorists.
Jang Bahadur Singh, Jamshedpur
Dangerous lapses
Sir — The collapse of a Metro pillar in Bengaluru that led to the death of a woman and her toddler is unfortunate ("Neglect FIR on eight for Metro deaths", Jan 12). The civic authorities are to be blamed for the lapses that caused the pillar to crumble — for instance, the construction site was left open to vehicular traffic in a flagrant violation of protocol. A detailed inquiry into the accident is necessary to punish those found guilty of laxities. Steps must also be taken to ensure that such accidents do not recur.
Debjani Gupta, Calcutta
Frenzied adulation
Sir — A 19-year-old film fan in Koyambedu, Tamil Nadu, lost his life while dancing atop a moving vehicle, celebrating the release of Ajith Kumar's film. Such extreme idolisation of film stars is concerning. In their frenzy, people seldom consider the practical implications of their actions on themselves and their families. Films, no matter how good, are not worth losing one's life.
M.C. Vijay Shankar, Chennai 
Second life
Sir — Calcutta is full of old and majestic houses dating back to the British period. But these architectural gems are falling apart owing to poor maintenance. The owners of these buildings do not have the wherewithal to repair them as most of them are occupied by tenants who pay extremely low rent. It is thus heartening to learn that one such old building on Sadananda Road has found a buyer who will not raze the house but repair it ("Old house finds buyer who won't raze it", Jan 12).
Amit Brahmo,  Calcutta
Green oases
Sir — Planting big trees on roadsides and along highways can actually lead to a build up of smoke and haze, causing accidents. One of the best ways to incorporate more greenery in the city would be to use the technique of rooftop gardening. Not only are these mini-plantations on terraces or balconies a sight for sore eyes but they also provide fresh produce to households.
Asim Boral, Calcutta
Parting shot
Sir — The opening ceremony of the FIH Men's Hockey World Cup in Odisha's Barabati Stadium was spectacular ("World Cup begins with fanfare", Jan 12). With the matches having begun on Friday, hockey lovers in India are surely in for a great season. 
Sourish Misra, Calcutta