Letters to the Editor: Lee Anderson's remarks on food poverty
Readers write in from Calcutta, Jamshedpur, Jalpaiguri, Mumbai, Kanpur, Ludhiana and Ujjain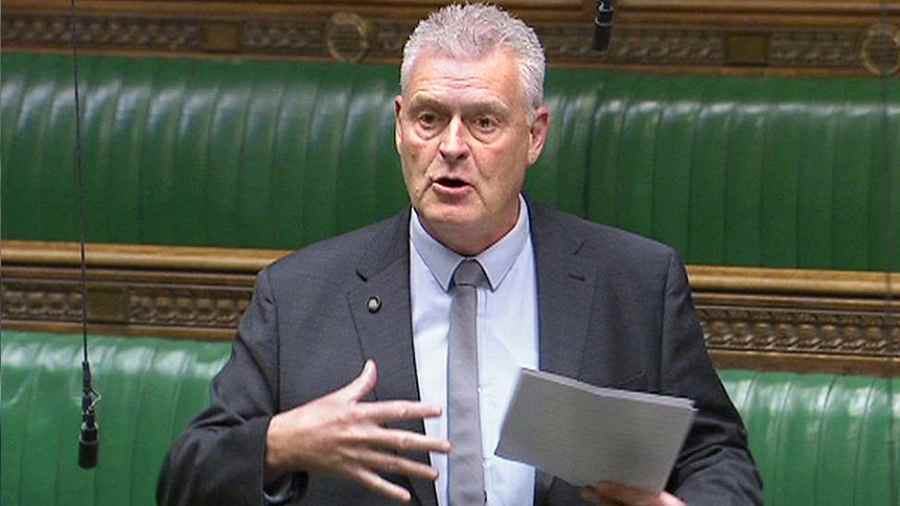 Lee Anderson
File picture
---
Published 18.05.22, 02:39 AM
|
---
Eyes wide shut
Sir — Politicians are often blind to the harsh realities faced by the people they represent. This was evident in a recent remark by the British Conservative leader, Lee Anderson, who argued that there is no need for food banks as the main cause of food poverty is the lack of cooking and budgetary skills. Anderson has defended himself by insisting that meals can be cooked for as low as 30 pence, further exposing his lack of respect towards those struggling financially. Politicians around the world are guilty of such statements — a former Union minister of India, Beni Prasad Verma, had lauded high inflation as a boon to farmers. It is unfortunate that people are often let down by those individuals who have been entrusted by the former to voice their grievances.  
Snigdha Basu, Calcutta
Swift dismissal
Sir — The Lucknow bench of the Allahabad High Court has rightly reprimanded the Bharatiya Janata Party leader, Rajneesh Singh, who had approached the court seeking to open 22 locked underground chambers of the Taj Mahal ("Wah, Taj! And Wah, Common Sense!", May 13). The petitioner had alleged that the monument was built on a Shiva temple, Tejo Mahalaya. This allegation is not new. In 2000, the Supreme Court had dismissed a similar public interest litigation.  It seems that pressure on Islamic monuments in Ayodhya, Kashi and Mathura has emboldened self-professed guardians of Hindutva. This has led to frivolous PILs that have no historical sanctity. The courts should take strict action against those stirring up trouble. Hopefully, the Lucknow bench's dismissal will discourage the Hindutva activists who are trying to rename the Qutub Minar as Vishnu Stambh. 
S. Balakrishnan, Jamshedpur 
Sir — It is strange that a senior BJP leader had filed a PIL in court seeking to open the locked chambers in the Taj Mahal. The Gyanvapi mosque in Varanasi is also facing allegations of being built on Hindu structures. It seems that the Babri Masjid demolition and the construction of the Ram temple at that site have opened up a Pandora's box. There has been a steady removal of Mughal history from textbooks. These are clear attempts to divide the country along communal lines. 
Janga Bahadur Sunuwar, Jalpaiguri
Sir — The claim that the Taj Mahal was constructed on top of a Shiva temple is misleading. It is important that we preserve our cultural heritage from such attacks. People should appreciate and protect the Taj Mahal rather than indulging in such baseless claims. 
Kirti Wadhawan, Kanpur
Steady decline
Sir — The decline in avian population is apparent as many of the spaces that used to see flocks of birds are now sparse. It is more prominent in urban areas. Pollution, loss of tree cover and increased urbanisation have robbed birds of their natural habitats. Scientists estimate that billions of birds have vanished in the last 50 years. Research has found that more than 40% of insect species are declining and a third are endangered. This does not bode well for birds and the planet. Around 60% of birds rely on insects as a food source. The destruction of ecosystems will have a devastating impact on the human population.  Birds and insects play a crucial role in pollination. The loss in their numbers will have a direct effect on food supply. We must exercise caution and work towards the conservation of the declining bird and insect populations before it is too late. 
H.N. Ramakrishna, Bangalore
Tragic end
Sir — It was heartbreaking to learn that the former Australian cricketer, Andrew Symonds, has died in a car accident. He was one of the finest all-rounders and a two-time World Cup winner. Symonds played in 26 Test matches, 198 one-day internationals and 14 Twenty20 internationals between 1998 and 2009.  Australia has lost three prominent cricketers in a short span of time. The spin legend, Shane Warne, and the former wicketkeeper, Rodney Marsh, had died within hours of each other in early March. They will be missed. 
Khokan Das, Calcutta
Sir — It was thrilling to watch Andrew Symonds play at the peak of his career. Symonds was a right-handed, middle-order batsman and alternated between medium pace and off-spin bowling. He might not be considered as one of the greatest cricketers, but his charisma and flamboyance made him a fan favourite. His death is an irreparable loss to the cricket community. 
Atharv Patil, Ujjain
Unkind treatment
Sir — The Directorate General of Civil Aviation in India has issued a showcause notice to IndiGo airlines after a fact-finding committee found that the staff had mishandled the boarding of a specially-abled child at the Ranchi airport. Instead of attending to the needs of the child with patience and compassion, the staff did not allow the boy to board. The DGCA should take strict measures against IndiGo for this misstep. 
Sunil Chopra, Ludhiana
Precious food
Sir — The price of tomatoes is more than Rs 80 per kilogramme in several parts of the country. Tomatoes are a major source of lycopene — it reduces risk of heart disease and cancer — and are also a great source of Vitamin C, potassium, folate and Vitamin K. The government must do all it can to bring down the price of tomatoes and other key food items to provide relief to the common people. People could also consider cooking with curd or tamarind as an alternative to tomatoes. 
Jubel D'Cruz, Mumbai