Letters to the Editor: Individual actions can help save the planet
Readers write in from Calcutta, Dibrugarh, Howrah, Chennai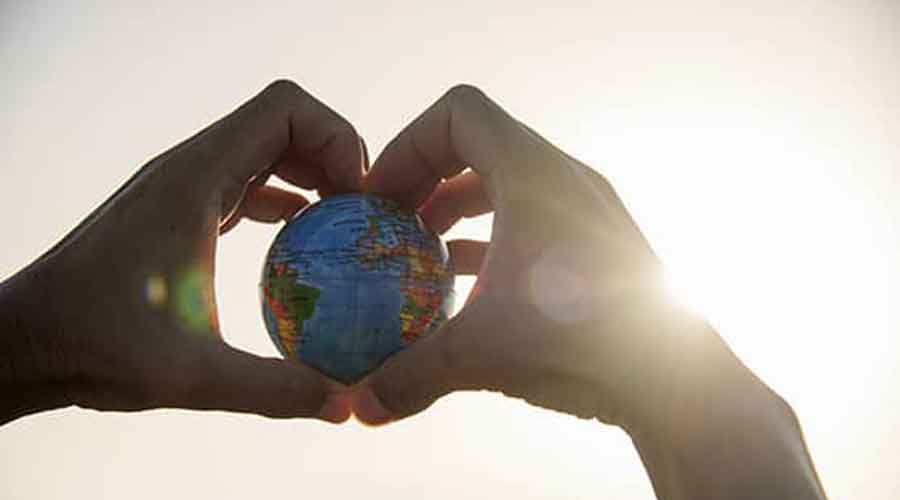 Representational image.
Shutterstock
---
Published 09.03.22, 01:55 AM
|
---
Essential steps
Sir — The fight against climate change is the shared responsibility of governments and ordinary citizens. Research from three leading institutions suggest that six relatively straightforward lifestyle changes can reduce a quarter of the projected emissions. The recommendations include eating a largely plant-based diet with minimum wastage, buying fewer consumer items and taking flights infrequently. While it is easy to adopt some of these changes, some others, like taking one long-haul flight every eight years will require time. Nevertheless, it is imperative that we make these lifestyle changes as soon as we can. Individual action can significantly help reduce the pressures on the planet.  

Raya Chakraborty,
Calcutta
Uncanny parallels
Sir — Sankarshan Thakur has succinctly pointed out the uncanny similarities between the Russian president, Vladimir Putin, and the prime minister of India, Narendra Modi ("Blood brothers", Mar 2). Putin is certainly a dictator — his pointless attack on Ukraine leaves no room for doubt — and Modi has openly shown admiration for the Russian leader. The actions of both are guided by ultranationalism. Their stints in power are marred by the brutal suppression of dissent. It is frightening to see the parallels between the two. Hopefully, the situation will not deteriorate further in India.

Amit Brahmo,
Calcutta

Sir — Unlike Russia, where Vladimir Putin has decimated all Opposition, India is still a democracy. Regional leaders like Mamata Banerjee, Akhilesh Yadav and M.K. Stalin are all putting up a brave fight against the onslaught of Hindutva. Many sections of the population that previously voted for the Bharatiya Janata Party have realized their blunder. There is no reason to lose hope just yet.

Meenal Baruah,
Dibrugarh

Old ties
Sir — The article, "Back in the USSR" (Mar 8), by Ruchir Joshi reminded me of the Bengali magazine, Soviet Desh, that I grew up reading. In those days, magazines would be delivered by post and all of us eagerly waited for the arrival of Soviet Desh. It had plenty of interesting stories and poems for children. It was an integral part of my childhood.

Sourish Misra,
Calcutta

Sir — Ruchir Joshi's article brought back memories of my sojourn in the former Soviet Union. I visited the country twice, covering both present-day Russia and Ukraine. I was pleasantly surprised to see a statue of Mahatma Gandhi near Moscow University. The railway station at Leningrad — now renamed St Petersburg — reminded me of the old Sealdah station. The cultural ties between India and Russia are old. Many of us in India fondly remember the stories of the former Soviet Union. The ongoing war between Russia and Ukraine would have been unimaginable back then. Hopefully, the crisis in Ukraine will be resolved soon. 

Ashok Kumar Ghosh, 
Calcutta

Many troubles
Sir — The editorial, "Poisoned water" (Mar 7), rightly points out that the contamination levels have increased in several places along the Ganga since the Bharatiya Janata Party government came to power. It is disheartening that the national flagship programme to clean the Ganga, Namami Gange, has failed to keep its promises — the government initially pledged that the river will be clean by 2019 and then extended the deadline to 2020. On top of that, a new study by Toxics Link found traces of antibiotics, such as ofloxacin, sulfamethoxazole and norfloxacin, in four other major rivers. 
Environmentalists continue to emphasize the necessity of cleaning up India's rivers but to no avail. The construction of sewage treatment infrastructure, river-surface cleaning and industrial effluent monitoring are necessary but basic measures that need to be undertaken. The government should also focus on awareness programmes on waste reduction and management.  Indians must learn to properly dispose waste. 

Joyeeta Sil,
Howrah 

Sir — There is no doubt that most waterbodies in India, especially rivers, are immensely polluted. People dump their waste in rivers, lakes and ponds without care. What they fail to understand is that their actions have far-reaching consequences — waterborne diseases are a major cause of death and a high concentration of chemical effluents also destroys the ecosystem of waterbodies. The environmental and health costs of water pollution are too high. We must be vigilant and refrain from polluting water sources. 

Suparni Haldar,
Calcutta

Early exit
Sir — It is unfortunate that Tamil Nadu has been eliminated from this year's Ranji Trophy by the Jharkhand team. Tamil Nadu has performed poorly in the last few tournaments. This year, the team made only 152 runs in the second innings, which was easily met by Jharkhand. The players on the Jharkhand side, especially its captain, Saurabh Tiwary, must be commended for their performance on the field. Hopefully, Tamil Nadu will be better prepared next year.

Vinay Mahadevan,
Chennai
Parting shot
Sir — Poland must be praised for opening its borders to at least one million Ukrainians fleeing the Russian attack. In contrast, the United Kingdom has refused to ease visa requirements for Ukrainian refugees. This is a trying time. All of Europe must extend a helping hand to those in need.
Abha Sen,
Calcutta