Letters to the Editor: How climate change has altered language
Readers write in from New Delhi, Calcuta, Chennai, Hooghly and Bankura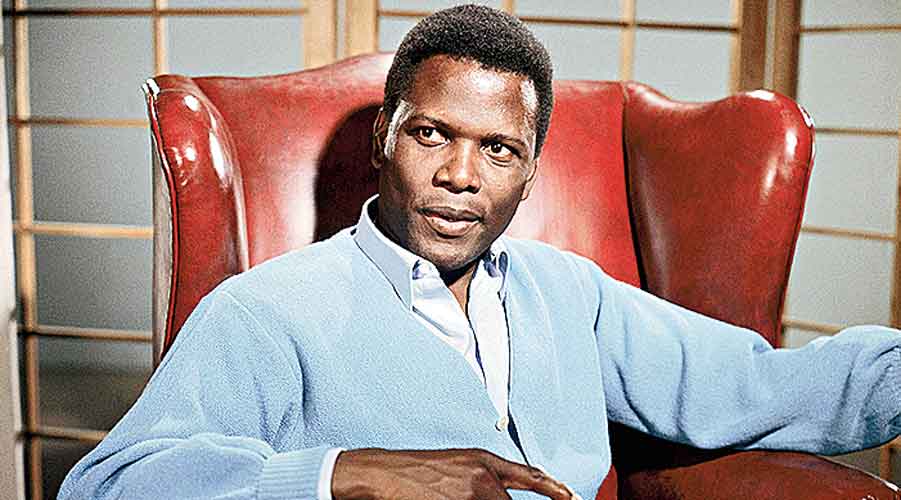 Sidney Poitier
Getty Images
---
Published 10.01.22, 12:51 AM
---
New meanings

Sir — The internet has changed language. Although much has already been said about this, a new study from Lancaster University reveals the impact that technology has had on British English, by making it more informal. Another important aspect to ponder would be how climate change could alter language. Consider, for instance, the word, 'glacial', which the dictionary describes as freezing cold or extremely slow. This will seem like a contradiction to those born or living in the Anthropocene Age, where the alarming pace at which glaciers are melting belies both those dictionary meanings.

Jharna Sanyal,
Nadia

Close the gap

Sir — Prabhat Patnaik has correctly pointed out in his article, "Opposing viewpoints" (Jan 7), that the working classes seem to be losing the fight for equal rights in present-day India. The aggressive privatization by the Central government is leading to a corporatized economy where the workers have no option but to settle for poor wages and dismal working conditions. The rising unemployment in the country is pushing more and more people into the informal economy.
 
Yet, it would be wrong to assume that the working classes can be suppressed for long. The farmers' marches and their spirited, united protest against the three farm laws show that the downtrodden will rise up for their rights. The day when workers organize similar protests is not far.

Tapomoy Ghosh,
East Burdwan

Sir — The article by Prabhat Patnaik makes an excellent observation about the reason for disunity among Indian citizens — namely class divisions. But if the government is counting on the support of the upper-middle class to keep the peasantry suppressed, it should think again. Its deleterious policies are bound to catch up with the class that is now blind in its support of the Narendra Modi government.

Aman Arora,
New Delhi

Unsafe life

Sir — The adage that education brings awareness and eradicates superstitions has been proven wrong by Kerala, the state with the highest literacy rate in India. Bindu Ammini, a 45-year-old college lecturer and one of the women who dared to enter the Sabarimala temple after a landmark Supreme Court verdict allowed women of childbearing age to do so, was assaulted in plain sight by an alleged RSS functionary ("Attack rerun on Sabari crusader", Jan 7). It is clear that women are not safe anywhere in this country.
 
Ammini's caste identity — she is a Dalit — has a significant role to play in her misfortunes. What else explains the fact that the police protection assigned to her was withdrawn after she complained of the security personnel making casteist remarks? Yet, Kanakadurga, the other activist who had entered the sanctum sanctorum of the Sabarimala temple with Ammini continues to have a security detail. The law keepers thus seem complicit in her harassment.

Rabindranath Sarkar,
Calcutta

Costly ride

Sir — Train travel is likely to get more expensive for passengers boarding from or alighting at redeveloped stations as the Indian railways is planning to levy a station development fee ranging from Rs 10 to Rs 50, depending on the class of travel. The common man already has to bear an unfair burden of indirect taxes. People who take the train often do so because it is the cheapest mode of long-distance travel. Adding a burden of taxation on them to redevelop railway stations is unfair. Already, the railways have withdrawn concessions for senior citizens and other such perks. Many trains have been converted into superfast ones and require additional charges. The government should rethink its latest decision.

Sravana Ramachandran,
Chennai

Stellar win

Sir — It is terrific that Bangladesh ended New Zealand's 17-match unbeaten run on home soil with a stunning eight-wicket victory in the first Test of a two-match series. Beating the Kiwis in their own backyard is always a challenging job, but Bangladesh outclassed New Zealand with both the bat and the ball. The magnificent spell by the pacer, Ebadot Hossain, paved the way for this win. Hats off to the captain, Mominul Haque, and his team.

Samir Das,
Cooch Behar


Best choice

Sir — The Supreme Court is right in saying that the examination system in the country needs to be made student-friendly ("Nod for 'better of two marks'", Jan 8). Merit cannot be evaluated on the basis of a single examination. It is prudent for the CBSE to choose the better score from among the Class XII "improvement exams" and the regular board exams. This will also motivate the students.

Biswajit Sharma,
Hooghly


Pioneering role
Sir — It was saddening to learn about the demise of the Hollywood legend, Sidney Poitier ("Hollywood trailblazer Poitier dead", Jan 8). He became the first black artist to win an Oscar for best actor in a leading role. Films like To Sir, with Love, In the Heat of the Night and Guess Who's Coming to Dinner, which dealt with racial discrimination, remain unforgettable.

Kushangkur Das,
Calcutta

Sir — The demise of Sidney Poitier, a Bahamian-American thespian and Hollywood's first, black matinee idol, who appeared in more than 50 films, marks the end of an era. His career was marked by a series of firsts — he was the first black actor to be nominated for and later win an Oscar for a leading role and he was also the first black actor to share an on-screen kiss with a white woman. Poitier created a distinguished film legacy

Buddhadev Nandi,
Bankura