Letters to the Editor: Harry Potter reunion was a missed opportunity
Readers write in from Calcutta, Nadia, Visakhapatnam, Malda, Jamshedpur, Ujjain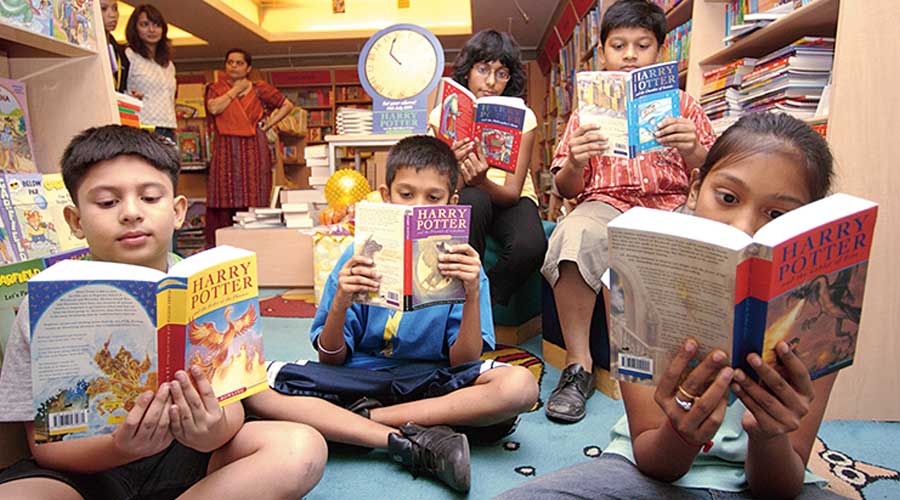 Children reading Harry Potter books at Crossword.
File picture
---
Published 06.01.22, 12:07 AM
|
---
Broken spell
Sir — 'Pottermania' gripped the world, once again, when the franchise released its reunion special, Harry Potter 20th Anniversary: Return to Hogwarts, on New Year's Day. The documentary features members of the ensemble cast reminiscing about their experience of shooting the eight films. However, the creator of the Potterverse, J.K. Rowling, was conspicuous by her absence. She allegedly chose to stay away owing to the controversy surrounding a transphobic comment she had made last year. This was a missed opportunity to address the shadow that has fallen over the legacy of Potterverse — a world that celebrated imperfections and misfits — with Rowling's controversial statement.
Sulagna Biswas,
Calcutta
Lethal shortfall
Sir — The Centre has missed the target of fully vaccinating 94 crore adults against Covid-19 by the end of 2021 ("Slowpoke", Jan 3). According to the CoWIN portal, weekly data show that inoculation has slowed down — daily figures have fallen since September 17, when a record 2.5 crore jabs were administered in the country. Had the September momentum continued, India would have been much closer to the target by now. However, challenges such as supply constraints and vaccine hesitancy disrupted the process. As India faces the third wave, ramping up vaccination is the need of the hour.
S.S. Paul,
Nadia
Sir — Fully inoculating the country's adult population was always going to be a daunting task — at the end of 2021, 34 crore people were yet to receive a second shot of the Covid vaccines. The reason for the failure to meet the vaccination target, however, is not far to seek — the Centre refused to heed sage advice offered by the experts and the Opposition. But the people are equally to blame for the situation. The refusal to follow Covid-19 protocols is responsible, in large part, for the third wave.
K. Nehru Patnaik,
Visakhapatnam
Sir — The Centre has dismissed criticism of its failure to achieve the vaccination target for 2021 and claimed that India's inoculation figures were better than those of developed countries. But ramping up vaccination, and not self-appreciation, is what is needed to save lives.
Gourab Naskar,
Malda
Dangerous deal
Sir — A portal called 'Bulli Bai' targeted Muslim women, especially those who are vocal about socio-political issues, by seeking to auction them ("Toxic mindset", Jan 5). This is deeply misogynistic and reveals an attempt to spread communal hatred. A similar incident had taken place less than six months ago on an application called 'Sulli Deals'. Government inaction in the previous case must have emboldened the culprits this time.
These crimes cannot be seen in isolation. If one takes into account the vandalizing of churches on Christmas and a congregation of sadhus calling for the genocide of Muslims, a larger picture of sectarianism emerges.
Jang Bahadur Singh,
Jamshedpur
Sir — The so-called auctioning of Muslim women on the 'Bulli Bai' portal is an attempt to intimidate and suppress the voices of those who were targeted. Although the portal has been removed and two people have been arrested, this is not enough. Unless exemplary action is taken against the perpetrators, the lives of Muslim women will continue to be in peril.
Nida Jamal,
Calcutta
Sir — It is disturbing that a communally-motivated and sexist portal uploaded pictures of Muslim women for auction. This indicates the dangers posed by cyberspace. In 2020, nearly 2,300 cases of cybercrimes against women were registered in India. There is a need to strengthen legal provisions to curb this menace. The increasing use of smartphones and social media needs to be re-examined in this context.
Khokan Das,
Calcutta
Toxic message
Sir — The editorial, "Teaching the minors" (Jan 2), rightly apprehends that the the hate being spewed by the Hindutva brigade might, in fact, be a poll strategy of the Bharatiya Janata Party for the upcoming assembly elections in five states. Three recent instances of such incitement include schoolchildren in Uttar Pradesh being made to swear an oath to fight to create a Hindu rashtra, the Centre rejecting the Missionaries of Charity's license to receive foreign funds, and a conclave of sadhus in Haridwar calling for a genocide of Muslims. These seem to be part of a dangerous attempt to woo the majority community. Such bids at polarization must be resisted by voters. 
Jahar Saha,
Calcutta
Sir — The silence of the Central government when it comes to hate speeches against the minority communities is telling. It can also be seen as a tacit approval for the divisive message that is being delivered by religious leaders like those at the Dharma Sansad in Haridwar. Could it then be argued that the BJP government uses such fringe elements to send out a message that it cannot voice itself in public?
Nasreen Ferozie,
Ujjain
Winter delight
Sir — Khejurer rosh — the juice extracted from palm trees — is an early-morning drink favoured by many Bengalis in winters owing to its refreshing qualities. It is said to have excellent digestive properties as well. The juice is also boiled at high temperature and turned into jaggery, which is then used to make delicacies like pithe, patishapta and gurer sandesh — winter essentials in every Bengali household. The jaggery or gur can also be eaten in solid form — patali — especially with hot chapattis.
Murtaza Ahmad,
Calcutta