Letters to the Editor: Curly hair in fashion
Readers write in from Calcutta, Bangalore, Chandigarh, Ghaziabad, Hooghly and Navi Mumbai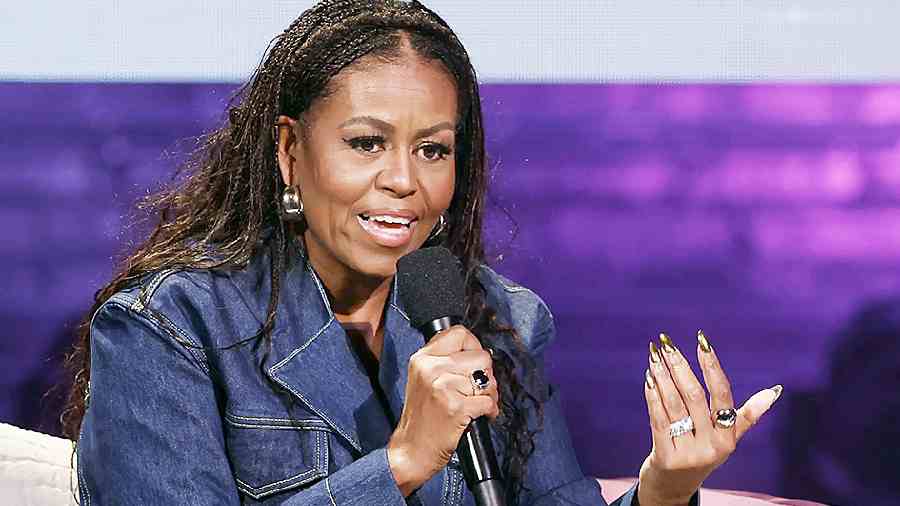 The former American First Lady, Michelle Obama, recently said that she felt pressured into straightening her hair while in office.
File picture
---
Published 16.12.22, 04:56 AM
|
---
Curly tales
Sir — Society has always tried to dictate women's choices, including how they wear their hair. While straight hair has now come to be associated with conventional beauty, in ancient Greece and Rome, curly hair was all the rage. Even in myths, Aphrodite's curls were the envy of the gods. But the woolly curls of people of African descent have always been frowned upon. The former American First Lady, Michelle Obama, recently said that she felt pressured into straightening her hair while in office. But reports show that more and more people are embracing their natural hair. This is encouraging. Taking pride in one's appearance can help root out such prejudices.
Himani Gupta, Bengaluru
Under attack
Sir — A new digital forensics report, prepared by the Boston-based Arsenal Consulting, has suggested that fabricated evidence was planted on the computer of the late priest, Stan Swamy, which led to his incarceration in the Elgaar Parishad case ("Evidence plant trace on Stan's computer", Dec 14). The report also claims that Swamy, along with the other accused, Rona Wilson and Surendra Gadling, were victims of extensive spyware attacks. The findings lend credence to the fact that Swamy, who passed away in judicial custody, was wrongly accused. They also raise serious questions about the credibility of police investigations. A judicial probe into the case must be conducted to set the record straight.
Sandeep Rawat, Chandigarh
Future plans
Sir — The chief minister of Bihar, Nitish Kumar, has announced that his deputy and Rashtriya Janata Dal leader, Tejashwi Yadav, will lead the ruling Grand Alliance in the 2025 state assembly elections ("Tejashwi to lead: Nitish", Dec 14). This is a wise decision. However, given Kumar's political cunning and his tendency to switch sides, the announcement cannot be ruled out as a way for Kumar to stay afloat even if the seven-party coalition government in Bihar fails. Further, with his announcement, Kumar has put an end to speculation about his prime ministerial ambitions.
C.K.D. Ramani Suresh, Ghaziabad
Unethical practice
Sir — Politicians switching their allegiances has become commonplace. Many times, even when a political party receives a decisive mandate, its members are lured away by rival parties, toppling the government voted in by the people. Unfortunately, no political party is immune to this practice. The loopholes in the country's anti-defection legislation make it ineffective when it comes to checking defections. This hurts the democratic structure of India.
R. Narayanan, Navi Mumbai
Ignored lesson
Sir — In the article, "Tools of wisdom" (Dec 12), A. Raghuramaraju rues the fact that Bal Gangadhar Tilak's interpretation of the Gita is "grossly neglected and ignored" by the present political class in spite of the radical role it played in India's freedom movement. Tilak's academic exercise was meant to mobilise Indians to fight against the British raj just as Lord Krishna had urged Arjuna to fight in the Kurukshetra war. Unfortunately, this karma-yoga lesson of the Gita has remained largely underemphasised.
Sukhendu Bhattacharjee, Hooghly
Final bow
Sir — It was disheartening to learn that the Argentine great, Lionel Messi, will retire from international football after the 2022 Fifa World Cup ("Messi sets tune for the last waltz", Dec 15). Messi has played a big role in taking Argentina to the final in the ongoing tournament in Qatar. During the semi-final clash with Croatia, Messi shattered several World Cup records: he became the highest all-time goal scorer for his country, equalled Diego Maradona's record for the number of assists as well as matched Lothar Matthäus's record of most number of appearances in the World Cup. Messi's decision to retire may be premature, especially since he seems to be in his best form. One hopes that Messi is able to avenge Argentina's loss in the 2014 World Cup final and lead his country to victory this time. That will be a fitting farewell for the football legend.
Bidyut Kumar Chatterjee, Faridabad 
Sir — Lionel Messi calling it a day is a wise decision. He will join an illustrious list of sportspersons who quit the game while still in their prime. 
Akashneel Majumdar, Calcutta
Digital distraction
Sir — The editorial, "Digital snare" (Dec 12), highlights the effects of indiscriminate use of digital technology on adolescents. Children these days are introduced to gadgets from infancy, especially during meal times. Gone are the days when parents used to feed their children lunch or dinner while narrating stories, which had a positive impact on the children's psychology. Nowadays, parents resort to mobile phones to distract children while feeding them. This is disconcerting. Limiting screen time and restricting the use of technology can wean youngsters away from digital devices.
Rituparna Mahapatra, Birbhum