Letters to the Editor: Commercialisation of folk art
Readers write in from Calcutta, Nellimarla, Nadia, Visakhapatnam, Chennai, Ujjain and Bangalore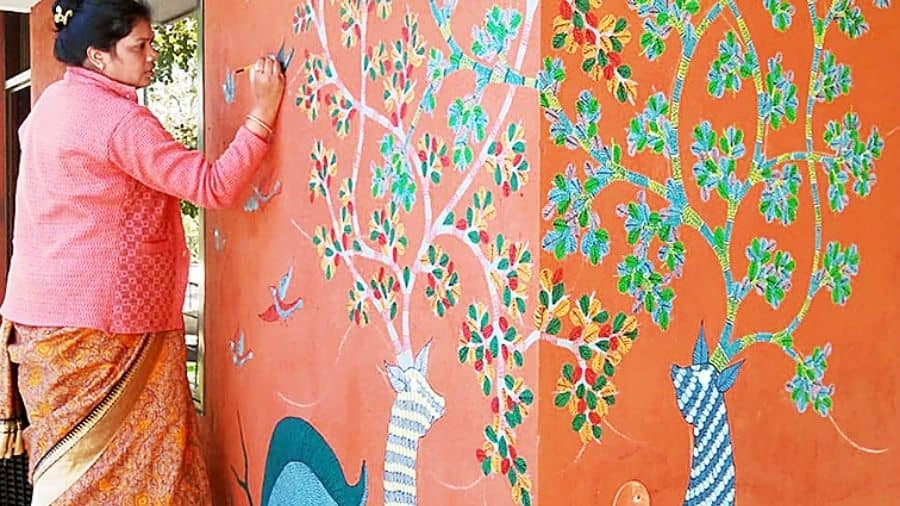 Why should folk art be left out of the ambit of economic considerations?
Sourced by The Telegraph
---
Published 10.05.22, 02:35 AM
|
---
Fair pay
Sir — Folk art and craft are intricately linked to the history and culture of a region. However, they rarely get the respect they deserve. First, they are often kept out of the hallowed precincts of the gallery. Then, folk artists are also accused of commercializing their art. But why should folk art be left out of the ambit of economic considerations? In fact, the survival of such art forms is directly dependent on monetary compensations. No artist can practise art without food in his or her stomach — not even the great masters. Unless practitioners of folk arts can earn a living from their craft, they will switch professions and the arts will die out eventually. That is not all. Most folk artists are duped by middlemen into settling for less than they deserve. This needs to stop too.
Pushpak Biswas, Nadia
Close look
Sir — It is admirable that the draconian Section 124A of the Indian Penal Code, dealing with sedition, has come under the scanner of the Supreme Court ("SC mulls 7-judge sedition law bench", May 6). The law has its roots in the colonial era and was used by the British to suppress Indian voices during the freedom struggle. In 1962, the apex court had upheld the constitutionality of the law, but added the caveat that it should not be abused by the State. Yet the law is often misused. While the conviction rate is low, the offence is non-bailable, which ensures that the lives of those arrested for sedition are wasted in prison. Worse, in most cases, there is no solid evidence against the accused. A thorough examination of the law is the need of the hour.
D.V.G. Sankararao, Nellimarla, Andhra Pradesh
Wrong number
Sir — The figure of Covid mortalities in India released by the World Health Organization — it is almost 10 times the official estimate — has been vehemently opposed by the government ("To honour lives lost, a count", May 6). It has been alleged that WHO's methods and calculations are erroneous. China's relationship with WHO has also been a matter of concern. This whataboutery on such a sensitive issue must stop. Instead of questioning the WHO's data, India should disseminate a more transparent and detailed report of its own calculations. Shrugging off WHO's data will damage India's global image. We need to be more open to scrutiny.
Chiranjib Haldar, Calcutta
Spirited life
Sir — "An Indian conscience" (May 7) by Ramachandra Guha was aptly titled. The tribute to the 95-year-old novelist, Nayantara Sahgal, the daughter of the freedom fighter, Vijaya Lakshmi Pandit, and niece of India's first prime minister, Jawaharlal Nehru, was nostalgic. Guha's article provided insights into Sahgal's relationship with Mahatma Gandhi, her mother and Nehru, her mamu. Sahgal is a true nationalist, having returned her Sahitya Akademi award in protest against the Hindutva agenda of the ruling Bharatiya Janata Party. A cancer survivor, she still lives out her passion for writing in her home in Dehradun. One could also tell from the article that Guha's writing and thinking are deeply influenced by both Gandhi and Nehru.
K. Nehru Patnaik, Visakhapatnam
Sir — It was heartening to learn from the article, "An Indian conscience", that Nayantara Sahgal is still actively writing even at the advanced age of 95 years. She takes pride in her patriotic parents, who were active participants in India's freedom struggle. How dare Hindutva goons verbally attack such a personality without knowing her contributions towards the country? Such attacks show that her literary works need to be publicized more widely among people. I was deeply impressed by her reply to Ramachandra Guha when he asked her to take care of her health: "I have no time to be unwell. This is no time to be unwell." What wonderful words from the nonagenarian.
Alok Ganguly, Nadia
Dubious claim
Sir — The former Union minister and dissident BJP MLA from Karnataka, Basanagouda Patil Yatnal, has levelled some serious allegations against unnamed leaders from Delhi, who allegedly offered to make him chief minister if he could arrange Rs 2,500 crore. Allegations made without concrete proof are weaponized by the Opposition to demand unnecessary probes, making a huge issue out of nothing.
K.V. Seetharamaiah, Bangalore
Harmful noise
Sir — The Uttar Pradesh government recently restricted the use of loudspeakers at places of worship irrespective of religion. The guidelines say that the sound emanating from these places should not go beyond the premises where the loudspeaker is used. Other states should follow suit. The use of loudspeakers during religious festivals has been a long-standing problem. Noise pollution is more than just a nuisance; it can cause real danger to people's health. Long-term exposure to loud noise can adversely affect cardiovascular and metabolic systems, and cause sleep disorders and other ailments. People do not take noise pollution seriously even though the World Health Organization recognizes that noise pollution can be dangerous for health. 
Ranganathan Sivakumar, Chennai
Sir — The Supreme Court, while speaking about loudspeakers in 2005, had said that its decision to restrict their use was not based on considerations about any particular religion or religious practice. A few days ago, the Allahabad High Court, too, dismissed a petition seeking the use of loudspeakers for azaan at a mosque. Everyone has the right to pray but there is no need to use loudspeakers — a quiet prayer is just as effective.
Ishita Patidar, Ujjain