Letters to the Editor: Children's bags being confiscated in Bengaluru schools
Readers write in from Calcutta, Mandi, Birmingham, and Mumbai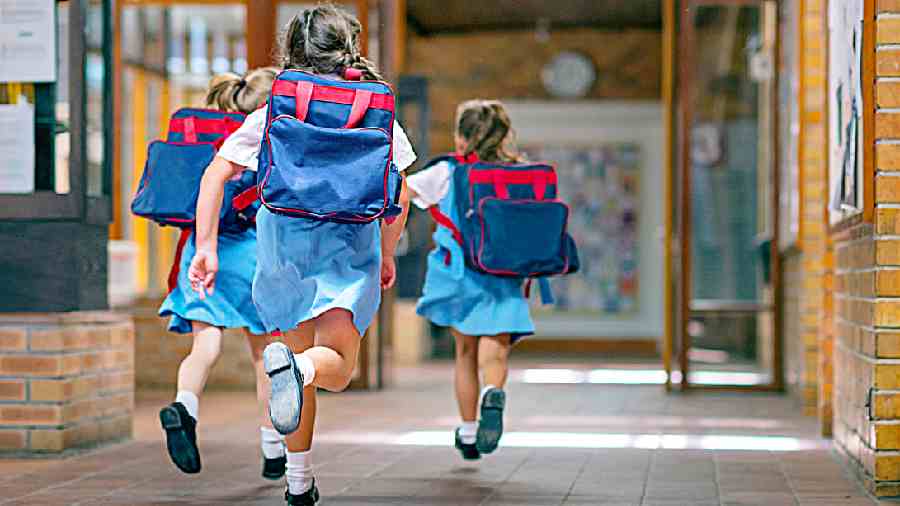 While none can argue that 13-16-year-olds should be smoking or drinking, the invasion of their privacy involved in going through their personal belongings should not be condoned.
---
Published 26.12.22, 03:49 AM
|
---
Invasive discipline
Sir — Students in several Bengaluru schools were recently surprised with bag checks, with the authorities confiscating condoms, cigarettes, contraceptive pills and alcohol, among other things, from them. While none can argue that 13-16-year-olds should be smoking or drinking, the invasion of their privacy involved in going through their personal belongings should not be condoned. Such confiscation will only make children hide what they are doing. Children should be encouraged to be free and fearless about their activities and counselled when they are doing something wrong.
Yashodhara Sen, Calcutta
Divided house
Sir — Weeks after the Congress won the assembly elections in Himachal Pradesh, the state still does not have a cabinet. While the party was quick to resolve infighting over the top post by anointing Sukhvinder Singh Sukhu as the chief minister, the delay in cabinet formation indicates that the road ahead could be bumpy. Fissures appeared in the Congress's state unit before legislators met in Shimla to choose their leader. In the race for the top post was Pratibha Singh, the widow of the late Virbhadra Singh, who dominated Congress politics in Himachal Pradesh for decades. The Congress picked Sukhu as he has experience in leading different units of the party. However, the tasks ahead for him at the organisational and governance levels are daunting and will put to test his ability as a leader.
Manjeet Juneja, Mandi
Sir — There can be a maximum of 12 ministers in Himachal Pradesh, including the chief minister. The Bharatiya Janata Party has already started cornering the new government, pointing out that all is not well within the Congress. Sukhvinder Singh Sukhu has dismissed these allegations, although he has accepted that there was conflict at the time of selecting the chief ministerial candidate. The Grand Old Party should not let infighting get in the way of government formation. People have reposed their trust in it and the Congress should respect it.
S.K. Saha, Calcutta
Hasty passage
Sir — The expeditious passage of the wild life (protection) amendment bill, 2021 in the Rajya Sabha this winter session — this followed its passage in the Lok Sabha during the monsoon session — is worrying for more than one reason. The criminal legal framework of the law has casteist underpinning and must be examined in depth. A study by the Criminal Justice and Police Accountability Project found that persons from oppressed caste communities such as scheduled tribes and other forest dwellers form the majority of accused persons in wildlife-related crimes. This raises questions about the nature of policing.
Ramesh Sawant, Mumbai
Threat perception
Sir — Artificial Intelligence these days is capable of writing competent code, producing protein structures as well as product strategies, jotting down screenplays, reimagining our sorry selves as ripped superhero avatars, generating film, playing music and so on. It does all this in a fraction of the time it would take a semi-competent professional with proper tools. Does this mean that fears about the domination of the machines are true? Rarely does technology eliminate entire jobs. In practice, technologies only automate tasks and reduce the labour involved in a job. A farmer and his oxen used to plough an acre of land per day. With a tractor, the same farmer can now plough 15 acres in the same time window. Generative AI tools will introduce a similar rate of increase in productivity.
Tathagata Sanyal, Birmingham, UK
Fame game
Sir — The Harry & Meghan documentary made quite a splash with media outlets picking apart each statement made by the two erstwhile royals. The first round of reactions painted Harry and Meghan as victims. Now stories are circulating about the Prince and Princess of Wales feeling betrayed by the revelations. While there is no garnering the truth of these reports, one thing that can be said for certain is that both sides are using the media — the enemy both have rallied against in the past — to get their 15 minutes of fame.
Archana Minz, Calcutta
Lost charm
Sir — If all sections of society cannot sit and watch movies together in multiplexes, where ticket prices are beyond the reach of a vast section of the populace, it can safely be said that cinema-going is on the wane. Moreover, the price of food at these multiplexes is too steep for comfort. Instead of the hot popcorn in plastic packets of yore, people are served stale and soft popcorn in huge tubs that cost nothing less that 150 rupees. Even the humble samosa is above that price. Bingewatching films and OTT series on mobile screens or other gadgets has taken over and this cannot replace the joy of viewing in theatres. I am nostalgic about the days when watching movies in single-screen theatres was a national pastime.
Shipra Lahiri, Calcutta