Be kind
Readers' speak: Birds and animals at risk of dying from thirst; Covid vaccination; Vladimir Dementiev, the director of Russian Cultural Centre, Gorky Sadan, who passed away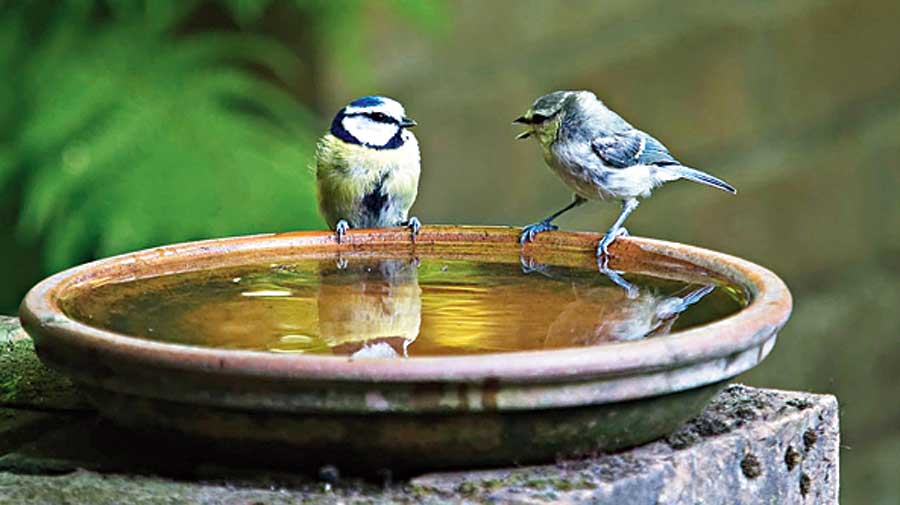 As temperatures continue to rise outside with little to no sign of respite in the form of summer storms, birds and animals are increasingly at risk of dying from thirst.
Representational image/Unsplash
---
Published 25.04.21, 12:44 AM
|
---
Sir — While we grapple with the coronavirus, we must not forget the plight of other creatures this summer. As temperatures continue to rise outside with little to no sign of respite in the form of summer storms, birds and animals are increasingly at risk of dying from thirst. With many people working from home, it takes the smallest of efforts to help them out. Leaving out small bowls of water and food for birds, feeding local stray animals or allowing them to rest in the shade of our homes can go a long way towards alleviating their troubles. They can also be an oasis for us amidst this chaos.
S. Banerjee,
Calcutta
Badly managed
Sir — The fact that the introduction of spot registration for Covid-19 vaccines increased crowds outside hospitals in Kerala is proof that many people are unable to handle the technology involved in pre-registering for the vaccine on the CoWIN portal. It is unfortunate that Kerala has stopped spot registration because it could not manage crowds and is also short on vaccines. This will allow the virus to spread further and put more pressure on our already beleaguered healthcare system.
The country is gasping for medical oxygen and is likely to run out of stocks soon. If nothing is done to check the spread of the virus, more people will lose their lives. At such a time, it is imperative that the government ramps up the vaccination drive. Unfortunately, the Centre is trying to pass the burden of vaccinating the populace on to the states.
To make matters worse, the financial pressure on the state exchequer to procure vaccines will be considerably higher than it was on the Centre. Evidently, nothing will deter the Centre from trying to line the pockets of businessmen, not even a fatal pandemic that is leading to mass pyres being lit in places across the country.
Sonika Goswami,
Serampore, Hooghly
Sir — Vaccination against Covid-19 for those aged above 18 years opens up on May 1. But individuals in this age group will have to pay for the vaccination, even at government-run vaccination centres. Those above 45 got their vaccines for free at government-run vaccination centres and will continue to get them for free. This raises questions about claims made by the government and by individual ministers.
In her budget speech, the finance minister, Nirmala Sitharaman, had said she has set aside Rs 35,000 crore for vaccination in this financial year's budget estimate and was committed to increasing this sum if necessary. If those between the ages of 18 and 45 have to pay to get vaccinated, where will this money go? Moreover, the prime minister is routinely offering free vaccines as a poll sop. Does this mean that he values the lives only of those citizens who vote for the Bharatiya Janata Party? The government has failed the people in every way possible.
Rishi Thanvi,
Jaipur
Parting shot
Sir — Vladimir Dementiev, the director of Russian Cultural Centre, Gorky Sadan, who passed away in Calcutta on April 21, was a great friend of India. He also served as the head of the Russian cultural centre in Mumbai. In both cities, he acted as a dynamic cultural ambassador between India and Russia. He revived the two centres with tireless efforts, organizing regular activities focused on arts, culture, literature, music, cinema and the popularization of the Russian language. I had the pleasure of knowing Dementiev closely. Participating in numerous events at the centre in Mumbai — located in a tranquil, tree-lined lane — made me aware of both Russia's vastness and the depth of its heritage.
Sadly, the Russia that its doyens — Tolstoy, Dostoyevsky, Gorky and Mayakovsky in literature; Nicholas Roerich and Vasily Vereshchagin in painting; Eisenstein in cinema; and Shostakovich in music, to name a few — represented is no longer familiar to the contemporary Indian. Yet, Russia matters to India. This is why the devoted work of diplomats like Dementiev assumes importance. As I passed by the Russian Cultural Centre the morning after his demise, I saw a veil of sadness over the building.
S. Kulkarni,
Calcutta