Leading light
Raja Rammohan Roy's focus on English education could be more pertinent, given today's prioritisation of the vernacular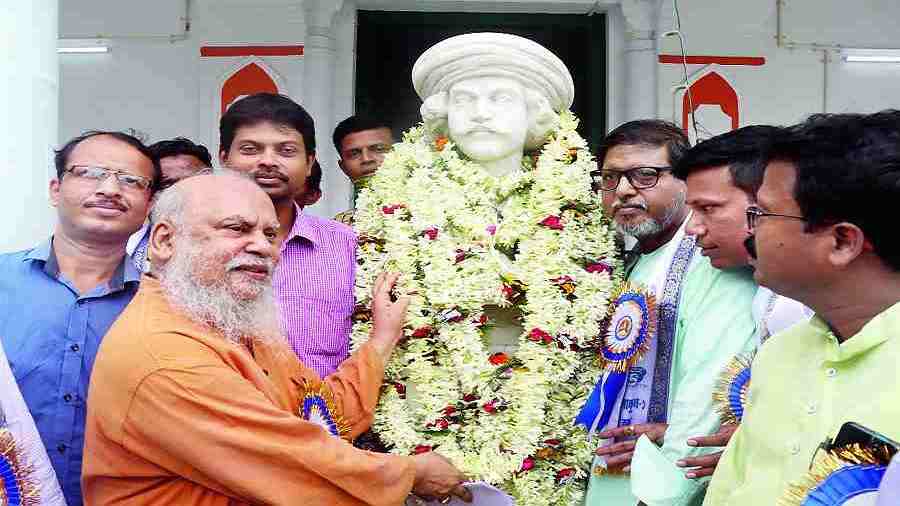 Shuvaprasanna garlanding a statue of Rammohan Roy on the occasion of his 250th birth anniversary at Radhanagar.
File Picture
---
Published 04.07.22, 03:34 AM
|
---
The celebrations of Raja Rammohan Roy's 250th  birth anniversary have highlighted his social and religious reforms. But his focus on English education could be more pertinent, given today's prioritisation of the vernacular. Only recently, there was a call for the 'Indianisation' of education by rejecting what Thomas Macaulay did when he introduced English as a medium of instruction. Its proponents favour the stress on regional languages outlined in the National Education Policy.
This necessitates a historical perspective on Lord Macaulay's Minute on Education, a treatise offering reasons for the promotion of English-language education and European learning in India. In 1835, the teaching of English was officially sanctioned by the British colonial government. But what happened a couple of years prior to this is germane to the role that Rammohan played in the matter. He never did abjure the vernacular — on the contrary, he played a pioneering role in the easing of the Bengali prose to widen its reach.  Yet, when he opposed the formation of Sanskrit College and wrote to Lord Amherst, the governor-general, stating his disillusionment with the priority that was to be accorded to Sanskrit over English, he was offering a pragmatic reason. He feared that a Sanskrit education would be didactic and without practical benefit as it would "be best calculated to keep this country in darkness" and also keep Indians away from the "modern" world. Rammohan wanted English education introduced with a scientific temperament as it would aid in establishing a "more liberal and enlightened system of instruction". The enlightenment of the populace, he believed, was contingent upon the study of a range of scientific subjects. Interestingly, Lord Amherst took no action on Rammohan's plea. Macaulay's Minute came after Rammohan's death.
Rammohan was not one to break institutions, but rather build new ones. He started the Vedanta College that combined traditional Indian learning with Western scientific studies. He also assisted David Hare in setting up the Hindu College. It had two sections — a  pathshala to impart instruction in English, Bengali, Grammar and Arithmetic and a  mahapathshala, which had in its curriculum the teaching of languages as well as of History, Geography, Chronology, Astronomy, Mathematics, Chemistry and other sciences.
For someone who employed English to set out his views on a range of religious and cultural issues, it is interesting to note that his own familiarity with the language came only when he was in his twenties. He invested a certain diligence in his learning of English as has been corroborated by John Digby, a Company official who introduced him to Western culture and literature and told Rammohan that he could improve his English by reading newspapers and talking to Europeans. 
Rammohan's scholarship was immense: he was regarded as a polymath given his mastering of Persian, Arabic, Sanskrit, Hebrew and Greek,  apart from English, Bengali and Hindi as also his deep knowledge of the Vedas and the Upanishads. He was also a pioneer of Indian journalism, starting, in the early 19th century, one of the first Bengali weekly newspaper,  Sambad Kaumudi, which helped shape people's opinions on such issues as the abolition of suttee. The other journal was  Mirat-ulAkhbar in Persian, which Rammohan closed down while protesting against the restrictions on press freedom. He published several journals in Bengali, Persian, Hindi and English to propagate social reforms. Notable among them was the Tuhfatul-Muwahhidin in Persian with an introduction in Arabic. Between 1803 and 1832, there were more than 40 publications on varied subjects, including an appeal to the Christian public in defence of the Precepts of Jesus, a defence of Hindu theism, the revenue and judicial systems in India, the Trust Deed of the Brahmo Samaj, the rights of Hindus over ancestral property and an appeal for "famine smitten natives" in South Deccan. Many of these treatises have contemporary relevance but are read today largely for their historic certitude. 
Rita Bhimani is an author who has produced a film on Raja Rammohan Roy