Land of abundance
Post-Covid despatches from America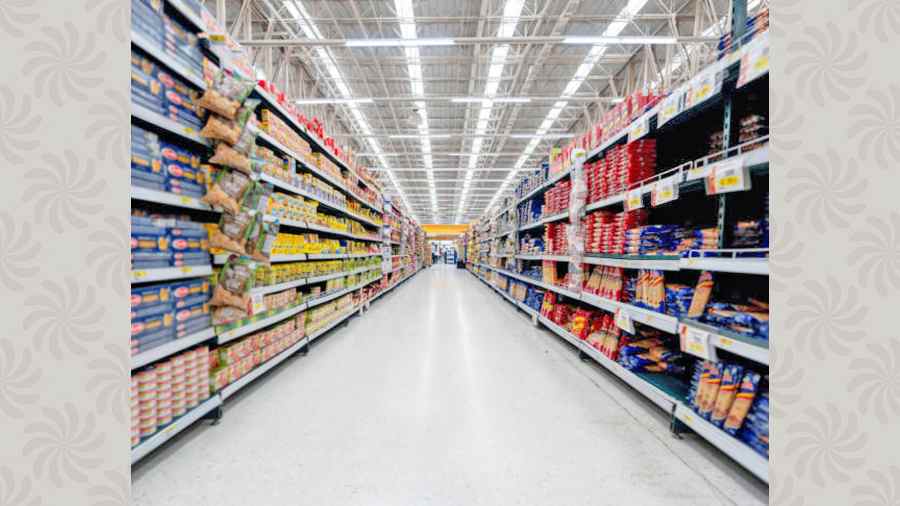 To navigate their aisles with the familiarity of habit, to beep your way through self-checkout as if to the manner born, to own the credit instruments that make this magic possible, that's the promise of America.
---
Published 31.07.22, 03:36 AM
|
---
To fly from Delhi to Washington D.C. is to swap a state of urban rage for a state of civic good nature. After Air India's uneventful fourteen-hour flight landed, I managed to quarrel with a compatriot while exiting the plane but the moment we cleared immigration we entered a world of consideration and politesse. It seemed to infect the other passengers because even the confusion at the carousel and the six dollars we had to pay for a baggage trolley didn't provoke the effing and blinding you'd expect at a desi airport. Americans acknowledge thank yous with an off-handed 'nh-hnh' which leaves otherwise entitled Indians feeling tentative and the world knows that an uncertain desi is a well-behaved one.
In these post-Covid despatches from the West, I can report that cash has disappeared in America. I tried to pay for croissants in a Georgetown bakery with a twenty-dollar bill and was briskly told that the shop didn't accept cash unless the customer made exact change. I haven't managed a single cash transaction in more than two weeks. Even the trolley-dispenser took a card. These frictionless transactions that don't require a pin are enabling but also alarming as you feel your substance being silently hoovered up. After the first half-a-dozen transactions, I began to enjoy this swift magic; it was around the time I stopped multiplying by eighty.
For the middle-class Indian tourist, the most striking thing about America is the superabundance of food. I accompanied my brother and nephew to a football match. The local team, DC United, was playing a friendly with Bayern Munich. When we got to Audi Field (named after the German car brand), we entered a section of the stadium reserved for season-ticket holders. This was a giant air-conditioned food court where people ate and drank before they carried more of the same to their reserved seats and then constantly returned for more. All of this was included in the price of the season ticket; it was paid for but free at the point of delivery, so to speak. At the receiving end of this bounty, I marvelled at its limitlessness. The match itself was one-sided; Bayern won 6-2 but the local side showed heart. The last competitive football match I had watched in a stadium had been a draw between JCT Phagwara and Leaders Club Jullunder at Feroz Shah Kotla fifty years ago. For what it's worth, this was better than that. 
An American friend took us driving through Rappahannock County in Virginia, which he said was Trump country. We scoured the landscape for yard signs that said 'Biden Is Not My President' and didn't find them. It felt like the time a ranger took us on safari three days running in Kruger promising us lions without delivering any. Despite the missing yard signs, it was a lovely drive through a landscape so lushly green that it seemed unreal. And empty. We travelled miles without seeing people. We spotted a Michelin starred restaurant in a tiny town called Little Washington, a young woman on a bicycle, a cheerful family at an excellent diner in Flint Hill where we stopped for lunch and no one else. On the strength of the emptiness of Rappahannock County, the fence on the Mexican border is a mistake. America needs all the people it can get. 
The unwavering good nature of Americans was on display when we boarded our plane to Miami. It was an hour late to start with and after we boarded we spent another three hours on the runway, inching away from the gate and then, inexplicably, returning to refuel. At one point, the captain announced that we were too heavy to fly. We were then disgorged at the gate so we could get something to eat and then ushered in again. We reached Miami well past midnight and the bags took an age to arrive. I turned to my neighbours, hoping to feed off righteous rage and indignation and encountered patient, rueful calm instead. "Never happened before with American," said one. "This is nothing," said another. "United's much worse." Instead of looking for someone, anyone, to blame, they gave the airline the benefit of the doubt, and, inexplicably, denied themselves the consolation of rage. 
Miami is blazingly hot and cheerfully Hispanic. It feels like a Latin American city whose citizens have taken the trouble to learn some English. People are welcoming, eccentrically turned out, and flamboyantly tattooed. No one stares. Except me. I stare all the time. Delhiwallahs carry their gaze with them. The habit of looking at people and then defaulting to Hindi to comment on them has to be self-consciously unlearnt. I'm a much better tourist for having done that because it frees me to look at the Art Deco buildings and the art in the city's many museums.
In spite of Little Havana and sounds of spoken Spanish, Miami is a thoroughly American city. Walking through Target, a store that sells everything, from luggage to stationery to clothes to food, it's clear that the American dream is the promise of secure, air-conditioned, superabundant retail for that stretchable cohort, the great American middle-class. This is obvious to a tourist from Delhi where shopping is a fragmented, incoherent business and the very concept of a megastore like Target is impossible given the acute shortage of affordable retail space.
Ever since Clarence Saunders opened his first Piggly Wiggly store in Memphis in 1916, the figure of the empowered consumer pushing her grocery cart through a self-service store, finding things for herself, choosing between brands, has been an icon of American freedom. Thirty years ago, a supermarket in D.C. used to be called the Soviet Safeway because its shelves didn't carry every last kind of orange juice available. It seemed a decadent sort of joke then but it said something important about being American, something that speaks directly to tourists who aren't. These massive, climate-controlled hangars, stacked with endless variations on similar things, are fundamentally awesome. To navigate their aisles with the familiarity of habit, to beep your way through self-checkout as if to the manner born, to own the credit instruments that make this magic possible, that's the promise of America.
An Uber driver in Miami, who had escaped Castro's Cuba in 2004, greeted me with the affability that I've come to expect in America. Inside five minutes of the ride, he proceeded to denounce China because he could tell I was Indian. I asked if he had visited Cuba since leaving. "Si", he said, his face falling. "My son, my mother… No food in the shops. Cuba good," he said emphatically. "Castro bad. Socialismo, no, no! Capitalismo!" He punched the air. He was the cartoon Cuban émigré, but there he was, in flesh and blood, driving my Uber. He barely spoke English but he was fervently American. Coming from scarcity, he felt the gravitational pull of plenty, the draw of America as a reliably air-conditioned cornucopia.