It's daggers drawn between allies JDU and BJP over spiralling crime
DELHI DIARIES: Kamal Nath acquires centre stage in Congress, BJP unease over farmer protests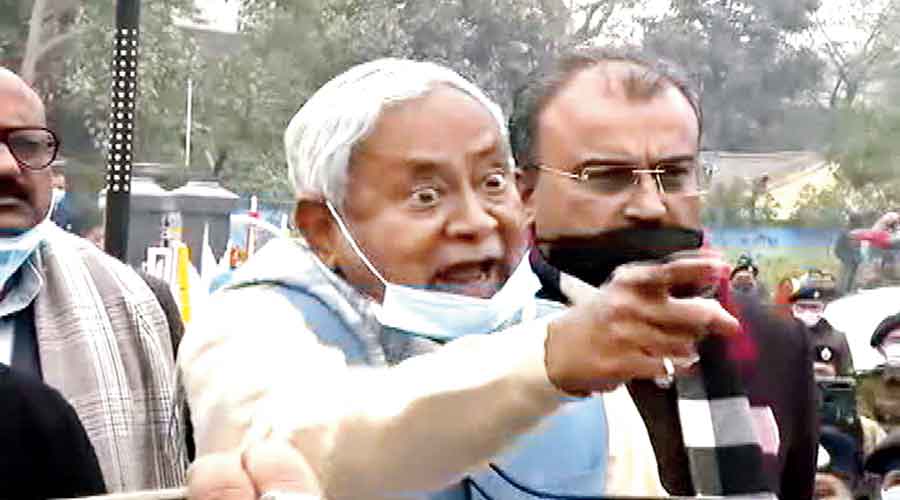 Nitish Kumar
File picture
---
Published 17.01.21, 12:12 AM
|
---
Law and order are in a free fall in Bihar. The government led by the chief minister, Nitish Kumar, is unable to control the accelerating pace of heinous crimes and daggers are out between the allies, Janata Dal (United) and the Bharatiya Janata Party. A few leaders of the saffron party have been taking regular potshots at Kumar, who also heads the home ministry in the state. However, when Nitin Navin, the BJP member of legislative assembly from Bankipur demanded that Bihar should adopt the Uttar Pradesh model of encounters — a method personally approved by the CM, Yogi Adityanath — to tame criminals, it drew sharp reactions from several JDU leaders. They expressed displeasure within their own circles without going all out in public. A senior JDU leader, who is also a minister in the present cabinet, said that actually it is Kumar's model that has been adopted by Adityanath. He pointed out that a large number of encounters and arrests of known history-sheeters during Kumar's first full term between 2005 and 2010 did much to tame crime and criminals who had wreaked havoc during the previous years. However, the minister had no answer when asked what was stopping the CM from taking a similar stand this time around. One JD(U) leader guessed that it was the high incidence of corruption in the police force and their preoccupation with enforcing prohibition that is stopping Kumar. But neither ally seems to be worrying about the actual sufferers — the common people.
Patience pays
After Ahmed Patel's demise, there was much curiosity and speculation within Congress circles about who would emerge as the trusted trouble-shooter for Sonia Gandhi. Patel was the political secretary to Sonia and enjoyed her trust for over two decades. He was also the principal political manager in the party, resolving internal conflicts and advising the party chief on complex organizational issues. Although it is difficult to predict who will take Patel's place since Sonia has mostly withdrawn from party matters and Rahul Gandhi now controls the organization, the veteran Congressman, Kamal Nath, is being viewed as a key player in the party now. Sonia met him twice, and nobody else, to discuss internal strife and assigned him the critical job of negotiating with the disgruntled senior leaders, known as Group of 23, and restore unity of purpose in the party. 
The former Madhya Pradesh CM has no doubt acquired a greater stature than other important players like Ashok Gehlot, P Chidambaram and even the old loyalist, AK Antony. Nath was always very close to the family but deliberately kept a low profile, keeping himself away from organizational matters. Close to Indira Gandhi and Sanjay Gandhi, Nath has never fallen out of favour because of his aversion to throwing tantrums and the politics of blackmail. In spite of being the most suitable person to lead the Congress in the Lok Sabha in 2014, Mallikarjun Kharge was chosen instead of him. But Nath did not create any trouble for the party. He was finally rewarded in 2018 when Sonia and Rahul chose him to be the CM of Madhya Pradesh over the more entrenched, Digvijaya Singh, and the impatient, Jyotiraditya Scindia.
Missed treats
Come Makar Sankranti political parties in Bihar would vie with each other to throw feasts of dahi-chura (curd-flattened rice) and tilkut (a sweet made by pounding a mixture of sesame and semi-solid sugar or jaggery) in Patna. These would continue well after the festival, and were occasions to hobnob, show solidarity, express annoyance and indulge in politics while gorging on the delicacies. It would also set the political trends for the year. But this time neither the ruling nor the Opposition party has organized them owing primarily to the raging pandemic. 
But there is another peculiar factor at play — there is no warmth between the ruling allies, while the Opposition, too, is apparently having a dialogue with them in order to become a part of the government. They do not want to damage the delicate balance of power, fearing that ruling coalition leaders currently doing the tightrope walk may trip. A few leaders, though, are organizing dahi-chura-tilkut festivals privately and the Rashtriya Janata Dal has asked its leaders to feed the poor instead of throwing parties.
Double-edged sword
The farmers' protest has put the Centre in a tight spot. Both the government and the protesting farmers look equally determined not to give in. Accepting the farmers' demands shatters the prime minister's image as a strong leader; yet standing his ground too is damaging his image. The farmers are repeatedly exhorting that the laws are meant to benefit big corporates like Adani and Ambani. Recently, students of Panjab University held a puppet show and depicted Narendra Modi as a puppet of these two business houses. 
Internally, the BJP is worried by this campaign. A similar jibe — "suit-boot ki sarkar" — by the Congress leader, Rahul Gandhi, had led the government to shelve some measures. Modi would not want that image to be scarred again. Even the BJP's own member, Subramanian Swamy, levelled his guns against corporates saying that their wealth has been growing under Modi. This double attack may be worrying for the ruling party.
Footnote
The Karnataka CM, BS Yediyurappa, is surrounded by dissidents who are unhappy at being overlooked for ministerial berths. Yet to fulfil his promise to the 17 defectors from Congress and Janata Dal (Secular) who helped him back to power, the Lingayat strongman has been juggling BJP loyalists and newcomers who will not settle. Yediyurappa has now warned everyone not to take him lightly. In a clear indication that he will not take things lying down, he has bluntly asked dissenters to go to the Centre with their complaints.