India must break free of Houston's embrace
It will become harder for major Democratic leaders to be seen as overly chummy with prime minister Narendra Modi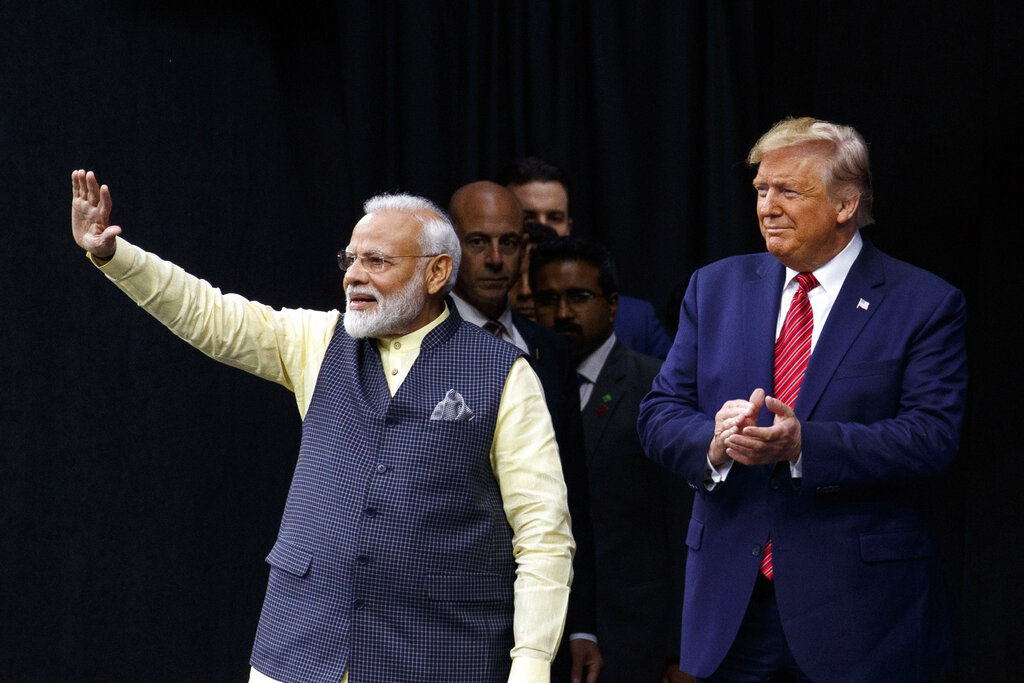 President Donald Trump stands on stage with Prime Minister Narendra Modi at NRG Stadium, in Houston, Texas, on Sunday, September 22, 2019, at an event titled "Howdy Modi: Shared Dreams, Bright Futures"
AP
---
Published 24.09.19, 07:01 PM
|
---
Let's forget that President Donald Trump has reportedly mocked the accent of Prime Minister Narendra Modi, or that his recent offer to mediate between India and Pakistan on Kashmir left New Delhi red-faced. When the two leaders embraced in Houston at Modi's diaspora extravaganza — 'Howdy Modi!' — on Sunday, they each had a clear agenda.
For Modi, it was a chance to signal to his support base back in India that the leader of the world's most powerful nation is ready to court him. For Trump, it was an opportunity to woo a Democratic-leaning Indian American voter bloc ahead of the 2020 elections. Yet, for India, it was an embrace studded with warning signs.
For sure, in general, it increases India's negotiating power with the United States of America when Modi showcases his support among the influential Indian diaspora —America's wealthiest ethnic community — to policymakers there. It tells them that working with New Delhi could — at least in theory — bring them Indian American votes.
But these aren't ordinary times, in the US or globally. India has historically enjoyed bipartisan support in Washington. But with campaigning picking up for the 2020 elections, it will become harder for major Democratic leaders to be seen as overly chummy with a prime minister who, for the first time in India's international relations history, appeared to publicly pick sides ahead of a foreign vote. "Abki baar Trump sarkaar" — Modi openly advocated for the US president on Sunday. The critical global coverage of the Indian government's crackdown in Jammu and Kashmir hasn't helped.
The first signs are already visible. The Democratic Congresswoman from Hawaii, Tulsi Gabbard, one of the BJP's favourite American politicians, turned down an invite to the Houston event, although she claimed that was because she had pre-scheduled engagements for her floundering presidential campaign. In the past, she had campaigned for the US to lift visa restrictions that were imposed on Modi following the 2002 Gujarat riots; has appeared at multiple RSS events; and had gifted Modi her childhood copy of the Bhagavad Gita.
The California Congressman, Ro Khanna, another traditionally ardent advocate of better India-US relations, is also distancing himself from the Modi government. "It's the duty of every American politician of Hindu faith to stand for pluralism, reject Hindutva, and speak for equal rights for Hindus, Muslims, Sikhs, Buddhist & Christians", Khanna wrote on Twitter in late August. In 2013, Khanna, too, had sought a reversal of Modi's visa ban.
Nancy Pelosi, the House of Representatives Speaker, and the California Congressman, Brad Sherman, also cited prior engagements to turn down invitations — after Trump's appearance at the Modi event was announced by the White House. India needs to stay careful that Modi's public bonhomie with Trump at such a taut moment in American politics doesn't lead to cracks in its support inside the Beltway.
There are also global reasons to worry. The Houston event took place just eight days after 10 drones struck Saudi Arabia's biggest oil refineries, instantly plunging the global oil economy into turmoil and sparking a whodunnit that Sherlock Holmes would have been proud to tackle.
Iran-backed Houthi rebels in Yemen claimed responsibility. But the US secretary of state, Mike Pompeo, said Iran was directly behind the attacks. Trump and Saudi Arabia only belatedly blamed Tehran, after refusing to do so initially. Iran has rejected any role in the strikes.
So far, India has formally maintained neutrality on this crisis. It has condemned the drone strikes but hasn't blamed Iran. The foreign secretary, Vijay Gokhale, made a scheduled visit to Tehran on September 15 despite the attacks the previous day.
Maintaining that balance won't be easy though. Trump had initially suggested that America's response to the drone attacks would be dictated by what Saudi Arabia wanted. But amid growing signs that Riyadh is cautious about a military conflict with Tehran, it's clear that the US appears more eager than Saudi Arabia to keep tensions with Iran high — even if a military strike is avoided.
That would make sense. The US under Trump has systematically pressurized India, China and other oil-guzzling nations to buy its crude over the past two years. India has reluctantly ramped up its purchase of American oil, partly to offset the absence of Iranian oil following economic sanctions on Tehran. New Delhi is also under pressure from the US to reduce the trade imbalance. Yet, the sheer distance from large markets in Asia and Europe makes American oil less attractive for these nations. With Saudi Arabia's supplies hit and tensions in the region high, these countries may have little option but to turn even more to US oil. Trump has already ordered the release of extra oil from US reserves to calm crude markets.
Given that Modi just asked Trump for a favour in requesting him to attend the Houston event, it won't be easy to resist pressure from Washington that India edge closer to its line on Iran. Already, on the margins of Modi's Houston visit, the Indian public sector LNG giant, Petronet, committed to investing $2.5 billion in the American firm, Tellurian, even though New Delhi has long relied principally on Qatar for gas.
Yet, playing along and allowing tensions in the Middle East to rise would ultimately hurt an oil-dependent economy like India. Just as India has chosen to overlook Trump's slights, it must now break free from the Houston embrace.