India and Pakistan need to think about the future of their younger generations
Instead of giving our youth hope, we have only given them hate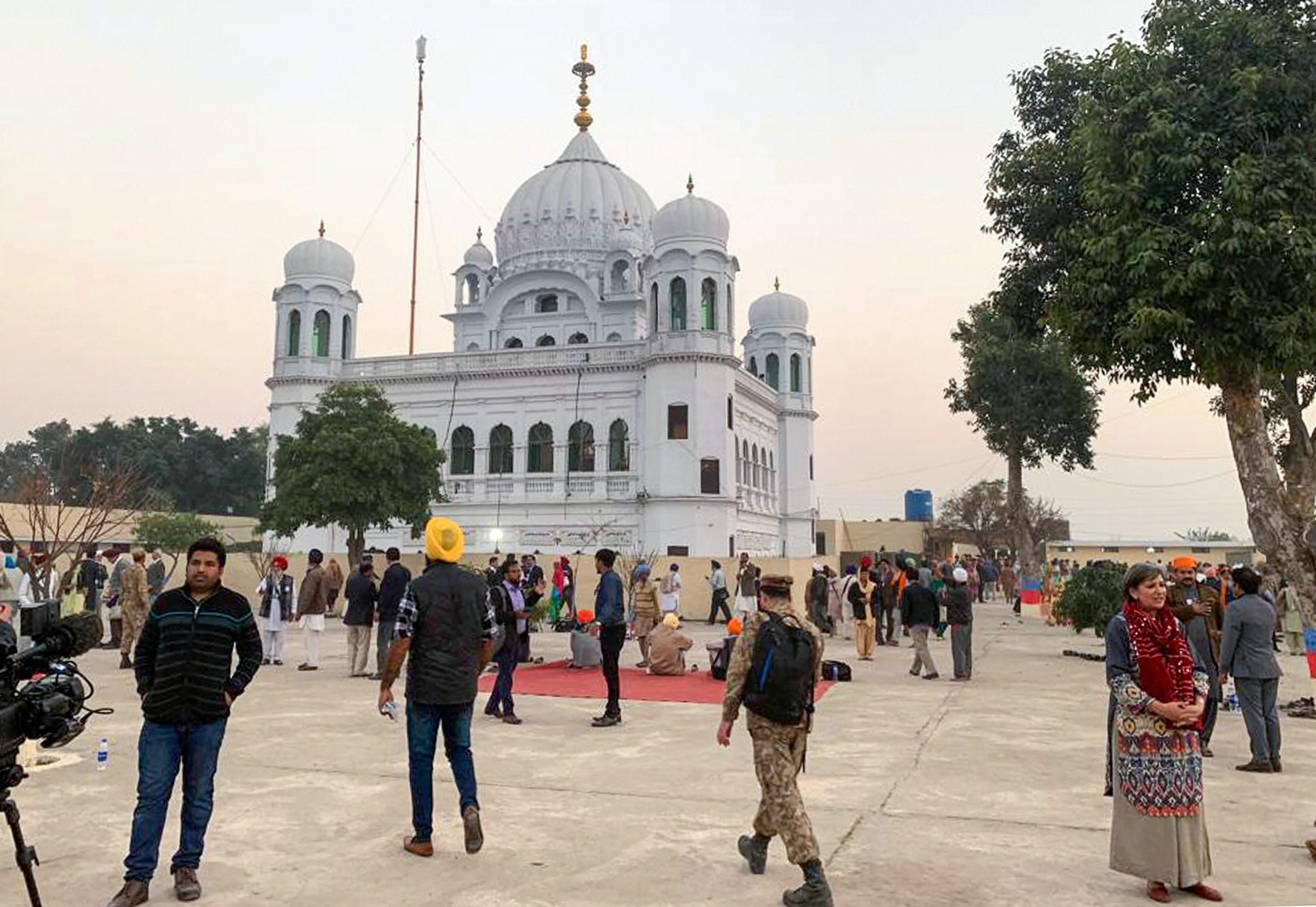 Sikh pilgrims visit the shrine of their spiritual leader Guru Nanak Dev in Kartarpur, Pakistan, on Wednesday, November 28, 2018. Pakistan Prime Minister Imran Khan launched the ground-breaking ceremony of the religious corridor between India and Pakistan.
AP Photo
---
Published 06.12.18, 03:07 AM
|
---
Indo-Pak relations have their fair share of ups and downs. In recent years, these relations have mostly had their 'downs'. While all political parties in Pakistan are inherently pro-peace and want good relations with India, the Pakistani Establishment is considered to play the role of a 'spoiler'. This time, though, the Narendra Modi government is probably playing the role of a spoiler on account of the upcoming general elections that are just a few months away.
In his victory speech, the Pakistan prime minister, Imran Khan, had extended a hand of friendship towards India and went on to say that if India takes one step forward, Pakistan will reciprocate by taking two. One thought that the Indian side would respond positively to these words, but the fiasco regarding India's decision to cancel the foreign ministers' meeting on the sidelines of the United Nations general assembly made one think otherwise. We witnessed an undiplomatic response from the ministry of external affairs and then Khan's scathing tweets. They made one think that things had taken a turn for the worse. Then came the Kartarpur corridor announcement.
'Pakistan has outmanoeuvred India' is how some Indians put it. Apparently, India was left with no choice but to send two federal ministers to the Kartarpur groundbreaking ceremony after Pakistan decided to go ahead with it. At the groundbreaking ceremony, one could see domestic Indian politics also at play. The Punjab minister, Navjot Singh Sidhu, was given a royal welcome. Sidhu is a star in Pakistan because of his television appearances. His Punjabi sense of humour is quite a hit on our side of the border. His reception at the groundbreaking ceremony overshadowed that of the two official delegates from the Indian side. One could see that Ms Badal wasn't very happy about it. To be honest, there was no sinister plan by the Pakistani side in this regard. Sidhu and General Bajwa's 'jaadu ki jhappi' at the swearing-in of the prime minister, Imran Khan, had paved the way for the opening of the Kartarpur corridor. Thus, Sidhu was given centre stage and VVIP protocol at the ceremony.
The government of Pakistan had also invited 22 Indian journalists to cover the event. Khan met these Indian journalists and held an open and frank discussion regarding several issues, including terrorism and Kashmir. The bigger takeaway from this interaction was that the Pakistani Establishment and Khan's government are on the 'same page' when it comes to relations with India. Among other things, Khan talked about trade with India, resolving the Kashmir issue, not allowing terrorists from Pakistani soil to operate in India and ending proxy wars. Sceptics would say that this is something that has been said before by Pakistanis on different occasions but for peaceniks and optimists, this seems like a good opportunity for India and Pakistan to move forward. Khan understands Modi's domestic compulsions till the elections. He is willing to wait. Khan says he will wait till a new government is in place in India next year.
The baggage of history in the Indian subcontinent is something one cannot do away with easily but for our future generations, both India and Pakistan should try to move forward. At a dinner hosted by the chief minister of Punjab, Usman Buzdar, in honour of the Indian delegates, the federal information minister, Fawad Chaudhry, made the pertinent point that the two neighbours have three options: one, fight a war; two, keep following the doctrine of weakening each other through asymmetrical warfare; three, sit on a negotiating table and try to resolve the issues. Chaudhry pointed out that the first option is really not an option given that both are nuclear-armed nation states. He said we can continue to weaken each other through proxy wars but that is not really a viable option. The third option is the only option that can help both states.
I believe that while the states are weighing their options, the media can play a positive role in bringing the two nations to the negotiating table. Unfortunately, we see our media (especially the electronic media) playing a negative role. Admittedly, we have our fair share of jingoism on screen in Pakistan but I still haven't seen the kind of negativity vis-à-vis India that we see on Indian television whenever Pakistan is being discussed. It is one of the main reasons why I have stopped appearing on Indian television as often as I used to in the past. It is unfortunate that the Indian electronic media — honourable exceptions aside — are playing the role of judge, jury and executioner when it comes to Pakistan. As a media practitioner, it is quite painful to see media ethics being flung out of the window just to settle some scores. Instead of questioning our states' flawed policies, they are turning into mouthpieces for the states. The role of the media is to question, to reason, to have checks and balances; it is not to spew venom in the name of nationalism. We don't need certificates of patriotism from our respective media. This is certainly not the media's domain.
One hopes that after the 2019 elections in India, both countries would finally sit together and resolve their issues. Bigger issues like Kashmir and cross-border terrorism cannot be and will not be resolved overnight. They will take some time. But smaller issues can and should be resolved in a short span of time.
India and Pakistan have a huge youth bulge. Seeds of hatred sown in the hearts of the next generation can be very dangerous for the entire region. Instead of giving them hope, we have only given them hate. India and Pakistan need to think about the future of their younger generations. Clichéd as it may be, but giving peace a chance is the only option for the two neighbours. We cannot change our history or geography, but we can certainly change our future.
The author is a journalist based in Lahore.