The other path: Majoritarianism and its remedy
The federal idea, with deep roots in regional cultures, has a renewed urgency today as an alternative to majoritarianism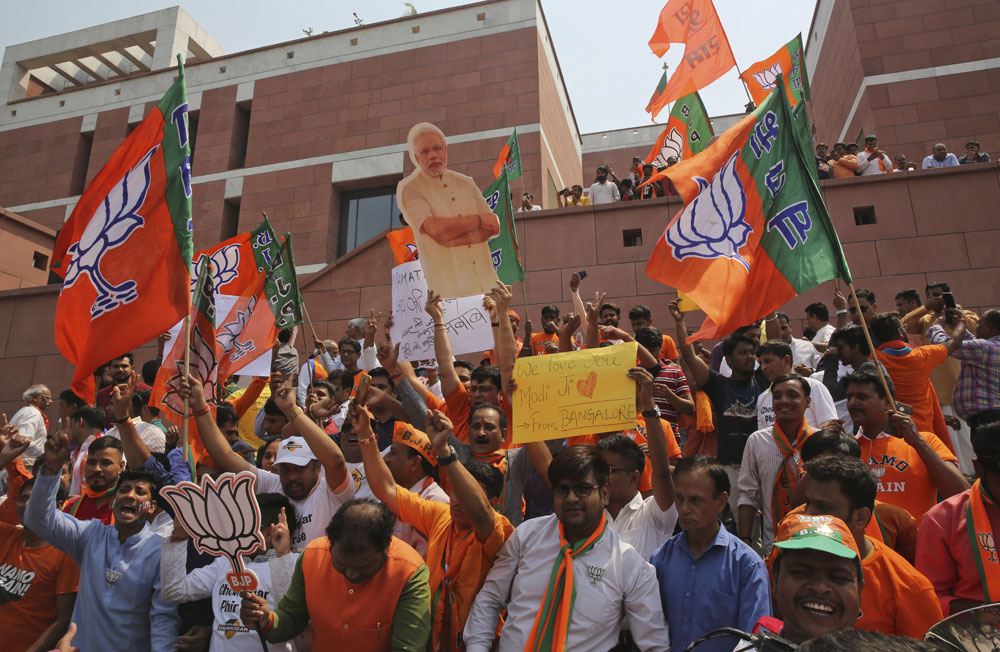 BJP supporters celebrate their party's victory in New Delhi on Thursday, May 23, 2019. This is the time for active citizenship in order to put forth another national vision for a humane and united India
(AP)
---
Published 24.05.19, 03:41 AM
|
---
A bitterly fought, gruelling general election for the 17th Lok Sabha is over. Narendra Modi has won the contest hands down for the Bharatiya Janata Party and the National Democratic Alliance. Once he made belligerent nationalism and national security his major election plank alongside rattling off a catalogue of his government's welfare programmes in every speech, the Opposition parties struggled unsuccessfully to make unemployment and agrarian distress the focal points of the campaign. The results are nothing short of a catastrophe for the Congress and should be of grave concern to an array of regional parties, including the Trinamool Congress, which needs a serious course correction. They have paid dearly for failing to present a coherent and credible national alternative before the electorate. What does Modi's second decisive electoral victory portend for the larger battle over the idea of India? Will he appreciate the distinction between an inclusive India and a unitary India?
Speaking in the 16th Lok Sabha on August 9, 2017 as prime minister, Narendra Modi proclaimed that the five years from 2017 to 2022 would replicate the extraordinary journey of 1942 to 1947 from sankalp to siddhi, from resolution to realization. Outside Parliament, Modi had remarked that the next five years would be transformative because the president, vice-president and Speaker all subscribed to the same ideology. We could not but infer that he had resolved to realize the ideological project of political Hindutva by building the edifice of a Hindu rashtra. Now that he has been re-elected prime minister for a second term, Modi will spearhead the attempt to redefine the idea of India in the religious majoritarian mould by the time of the 75th anniversary of our Independence.
Responding to Modi, Sonia Gandhi had rehearsed the well-worn history of the contributions to nation-building by the Congress without articulating any clear roadmap for the future. The deputy Speaker, M. Thambidurai, caused a flutter, but nothing more, by beginning his speech in Tamil with no arrangements in place for simultaneous translation into English and Hindi. I had the opportunity to speak fourth in that momentous debate. To the ruling configuration's determination to have the untrammelled dominance of one community and one language, I tried to counterpose an alternative vision of a federal India based on cultural intimacy among all of India's different communities.
Indian political discourse on secularism versus so-called religious communalism has often obscured the other key dynamic — the interplay of Centre and region. Centralism initially donned the cloak of secularism and socialism before changing in recent decades to its saffron garb. The tide of majoritarianism rampant cannot be turned back by resort to the old and tired dogma of Nehruvian secularism. The theme of the federal unity of India that respectfully accommodated the myriad internal differences of language, region and religion was a general characteristic of the most sophisticated political thought in India during our freedom struggle. Bharata, from whom the name Bharatvarsha is derived, had been described in ancient texts as rajchakravarti. The Swadeshi leader, Bipin Chandra Pal, explained in his book, The Soul of India, that the "literal meaning of the term is not emperor, but only a king 'established at the centre of a circle of kings'. King Bharata was a great prince of this order." His position was "not that of the administrative head of any large and centralized government, but only that of the recognized and respected centre" which was the "general character" of all great princes in ancient times. Under Muslim rule, according to Pal, Indian unity, "always more or less of a federal type," became "still more pronouncedly so". In a major speech to the Maharashtra Political Conference in 1928, Subhas Chandra Bose envisioned India of the future as "an independent federal republic" even as he called for "cultural intimacy" among India's different communities.
The federal idea with deep roots in India's regional cultures has acquired renewed urgency today as an alternative to religious majoritarianism. Federalism is not just about the states' rights or regional autonomy. It is about an equitable sharing of power and voice in decision-making at an all-India Centre. Against the majoritarian conceit of imposing uniformity from above, it represents a better way of forging unity from below.
It is majoritarianism masquerading as democracy that undergirds the authoritarian turn in contemporary global politics. Democracy and authoritarianism have been historically bound in a complex, and sometimes, intimate relationship. The global emergence of quite a few democratically elected authoritarian leaders has made explicit what had always been an underlying feature of the history of democratic practice. In that sense, Modi is not unique and is of a piece with Erdogan, Trump and Bolsonaro in the manipulation of religion or race-based majorities. He certainly precedes and rivals Trump in the use of the language of citizenship and illegal immigration to mask virulent anti-minority prejudice.
Rabindranath Tagore's book, Nationalism, contains a passage that sounds like an uncanny foretelling of the social and political crisis besetting both America and India today. Tagore criticized the "anti-Asiatic agitations" in America "for depriving the aliens of their right to earn their honest living on these shores". "Either you shut your doors against the aliens or reduce them into slavery," Tagore said in his rebuke. He had something even more perceptive and far-sighted to say about India. "The social habit of mind," he wrote, "which impels us to make the life of our fellow beings a burden to them where they differ from us even in such a thing as their choice of food is sure to persist in our political organization and result in creating engines of coercion to crush every rational difference which is the sign of life. And tyranny will only add to the inevitable lies and hypocrisy in our political life."
Having quoted these lines from Tagore, I had looked straight at our prime minister across the aisles of the Lok Sabha and asked him to stop the engines of coercion in their tracks. It is the ethical imperative of accommodating and embracing multiple identities that must engage us today. The emotive force of religious majoritarianism cannot be combated by pure intellect alone. That is where the politics of affect emanating from India's regional cultures matters in the continuing battle for the soul of India.
Time was when the iconic image of the nation as mother evoked a spirit of public service and inspired creative faculties among Indians suffering the abjection of colonial rule. Now vigilantes beat up people who refuse to shout "Bharat Mata ki Jai". Faith in India's destiny rooted in cultural diversity rescues us from debilitating pessimism in the face of ferocious assaults on the expression of rational difference. Later verses of Tagore's song — whose first verse serves as our national anthem — offers homage to the "Janagana-aikya-bidhayak" — the One who crafted unity out of India's myriad religious and regional diversity. The "janaganadukhatrayak" — the one who sweeps away sorrow — appears in feminine form: "duhswapne atanke raksha korile anke snehamayee tumi mata". The maker of India's destiny gives solace in the darkest of times and offers hope that the terror of a nightmare will pass.
A part of the coming battle for the soul of India will be fought in the realm of ideas rather than just the trenches of party politics. This is the time for active citizenship in order to put forth another national vision for a humane and united India. Should we follow the narrow path prescribed by Golwalkar or travel on the broad highway illuminated by the halo of Mahatma Gandhi? Surely an overarching sense of Indian nationhood can happily coexist with multiple identities of our diverse populace. We should be able to celebrate and respect our differences to rise above them. To move from that resolution to realization, that sankalp to siddhi, we need peace. To ensure peace we must avoid temptations to be chauvinistic and jingoistic. To build a truly great 'new' India by the 75th anniversary of our freedom, we must be inspired by a broad, generous and imaginative conception of India's nationhood, our place in the world and our contributions to the cause of humanity. Let us keep the faith and never surrender.
The author is Gardiner Professor of Oceanic History and Affairs, Harvard University. He served as a Member of Parliament in the 16th Lok Sabha elected from the Jadavpur parliamentary constituency