BJP feels it is on safer ground with reinforcing chauvinism
Any talk on economic content would remind voters of the mirage of Rs 15 lakh, 20 million jobs and flagship programmes like Make in India and Stand Up India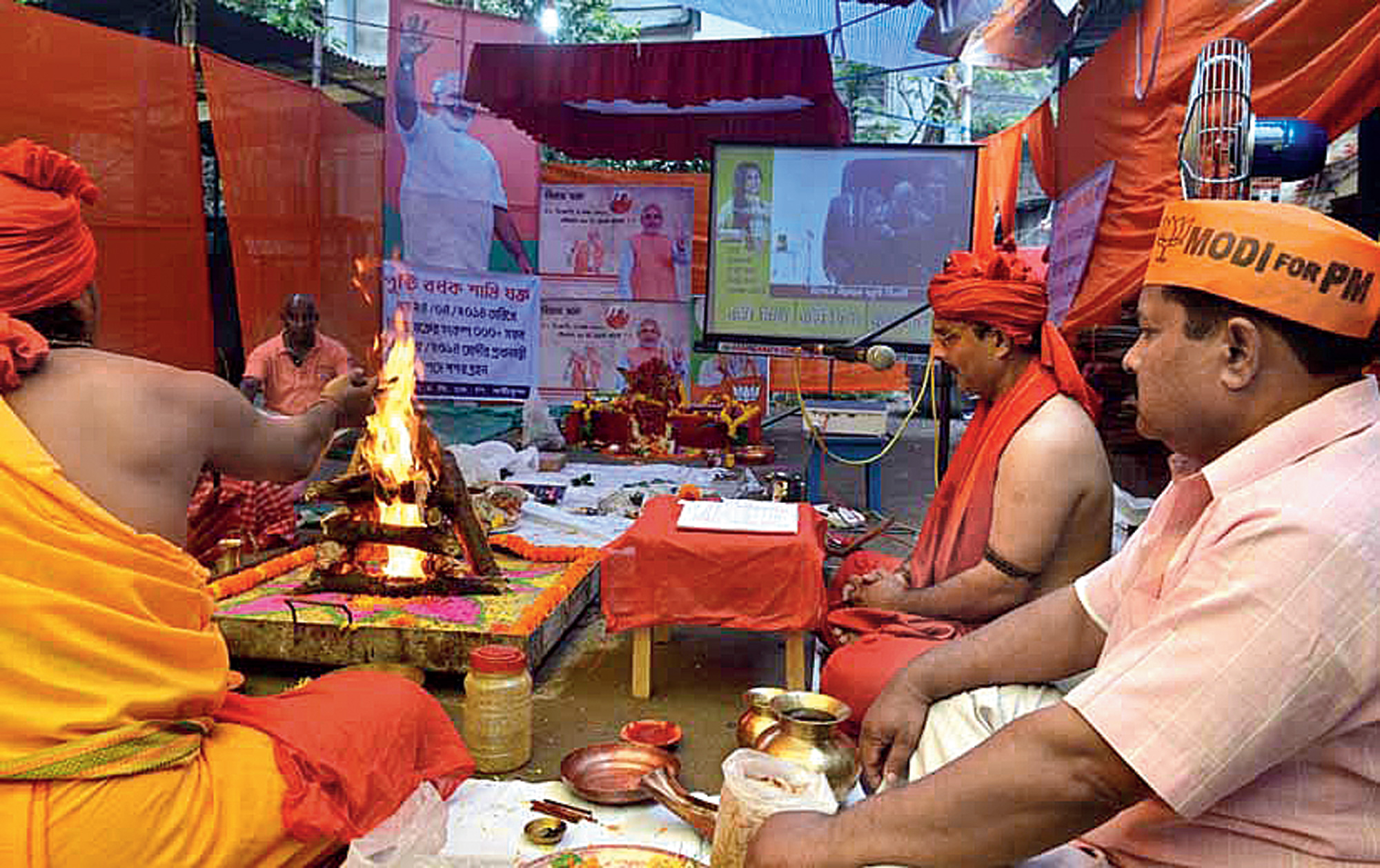 BJP supporters offering prayers.
The Telegraph picture
---
Published 06.04.19, 04:04 AM
|
---
If the Bharatiya Janata Party were not so desperate to pose as India's only patriots, it might have accused the Congress of stealing its clothes once again. It did so with some justification on the eve of the 1996 election when, fearing that a change of regime would mean a return to autarky, Singapore's Lee Kuan Yew arrived hotfoot in Delhi. "If your party comes to power, you will also waste four or five years discovering that socialism doesn't work!" he scolded Atal Bihari Vajpayee at a lunch at Hyderabad House. Denying the charge, Vajpayee pointed at P.V. Narasimha Rao whom Lee had hailed two years earlier as India's Deng Xiaoping, and said, "He has stolen our policies!"
Perhaps it isn't really surprising that BJP warriors like Nirmala Sitharaman have not gone to town this time round on the fact that there's more than a whiff of "Achche din aane waale hain" and "Sabka saath sabka vikas" about the Congress manifesto's promise of wealth with welfare or that Rahul Gandhi's Nyuntam Aay Yojana parallels Narendra Modi's Pradhan Mantri Kisan Samman Nidhi scheme. Exposing Congress imitativeness would have enabled the BJP to boast of the success of some of its own projects and programmes — housing and rural electrification for instance — even if they are overshadowed by the extravagant hype of abortive campaigns like the Swachh Bharat Abhiyan. No doubt all this will receive its full share of publicity when the party gets round to releasing its own election manifesto. Meanwhile, the areas the BJP has chosen to highlight indicate that when it isn't engaged in childish slanging matches (as with Mamata Banerjee on Wednesday) or vulgar banalities (like the sharaab/sarab acronym 'joke'), the party is most comfortable in the self-appointed role of national saviour.
Everyone — especially the BJP with its trail of unfulfilled promises — knows, of course, that manifesto pledges matter somewhat less than the action the authors take. Instead of being trumpeted in any charter of intent, the Narasimha Rao-Manmohan Singh reforms sought legitimacy in a scattering of casual phrases dug out of the platitudinous prose of Rajiv Gandhi's 1991 election manifesto. Nuggets like a promise to eliminate wasteful expenditure, encourage banks to raise offshore funds, expand and strengthen the service industries, invite foreign investment and technology, and construct toll highways and bridges were salvaged from that forgotten document to sanctify the revolution to which the government was already committed. A reference to replacing a "lethargic, inefficient and expensive" public sector with one that was "leaner, more dynamic and profit-oriented" was seized upon as the death warrant of nationalization with the enigmatic Narasimha Rao airily dismissing any suggestion of conflict between the free market reforms he was introducing and the Fabian socialism he had inherited. As the presiding deity of peaceful transformation, he was also the high priest of continuity who initiated a process that ensured a viable platform for a series of reforms that continues to the present day.
Those epochal initiatives did not, however, set a precedent for what looks like deliberate breaches of the election code of conduct to give the ruling party a decided advantage in proclaiming its virtues. Nor was there anything in any past campaign to justify the selective application of the sub judice rule. As for the Modi biopic, the actor, Vivek Oberoi, didn't beat about the bush of objectivity when he wondered if Congress was "scared of the film or [the] chowkidar's danda". His other comment — "We are not projecting Modiji as larger than life... he already is larger than life. We are not projecting him as a hero, he already is a hero" — was even more candid about the film's unashamed sycophancy. The Election Commission's ambivalence about such blatant propaganda suggests that Indira Gandhi's disqualification in 1975 for using government employees as election agents marked a zenith of moral rectitude that will never again be reached in this country. This further distortion of a Westminster system that is under acute strain even in Westminster itself is not the only danger that India faces. What may damage society most in the long run as institutions are crippled, the media muffled and conventions flouted is the social climate engendered by the sectarian slant of the BJP's electioneering.
Two reasons can be guessed at to explain why, ignoring job creation which enjoys pride of place in the Congress manifesto, it prefers to join battle instead over emotive matters like the reputation of the armed forces, amending the Armed Forces (Special Powers) Act, human rights, sedition, Jammu and Kashmir, Pakistan and the pending citizenship (amendment) bill. First, any comparison of economic content would again remind voters of the mirage of Rs 15 lakh in each bank account, 20 million jobs and flagship programmes like Make in India and Stand Up India. Second, the BJP feels it is on much safer ground with reinforcing chauvinism and encouraging the continued exploitation of primeval passions further to polarize society. If the process reminds some readers of Winston Churchill's grim prophecy that India would "fall back quite rapidly through the centuries into the barbarism and privations of the Middle Ages", they are more likely to be members of the infamous "tukde-tukde gang" than righteous sangh parivar roughs and toughs.
What seems like the trivialization of governance is of deadly importance at this rewarding level. Mayavati's justification of the proliferation of graven images of her own immaculately coiffed self by citing the 182-metre figure of Vallabhbhai Patel which cost Rs 3,000 crore, Adityanath's proposed Rs 300-crore statue of Rama in Ayodhya and a host of other such monuments illustrates how the entire climate has been vitiated. There is no place in this milieu for theorists who might genuinely feel like the Meghalaya judge, Sudip Ranjan Sen, that the logic of numbers demands India "should have been declared a Hindu country". They might turn to models of Hinduism defined by savants and scholars like Sri Aurobindo and Sarvepalli Radhakrishnan but not the hordes of Bajrang Dal and Sri Ram Sene militants. A culture that draws no distinction between enemy and adversary and dubs all those who disagree as anti-national interprets religious fervour as ghar wapsi and lynching, attacks on bars and discos, desecrating churches and investing fortunes in cattle and cattle sheds. Meanwhile, scholastic independence is confined in the straitjacket of bigotry, and absurd fantasies derived from myths and legends make India the laughing stock of the world.
The party's degeneration which Lal Krishna Advani laments, and consequent estrangement from political respectability, is one of the most destructive developments of recent years. It's impossible to imagine today's poisoned rhetoric including the admiring claim by a large-hearted BJP general secretary (Govindacharya) that Narasimha Rao and Manmohan Singh had "taken more radical steps in one month than past governments in 43 years". It is also impossible to imagine the mutual respect and confidence that enabled Advani to rise to the occasion 27 years ago when Narasimha Rao and Manmohan Singh invited his views on their package of economic reforms even before they had been disclosed to the cabinet. Having already blessed liberalization, Advani alone wasn't surprised by the finance minister's parliamentary bombshell, "Let the world hear it loud and clear. India is now awake."
Perhaps there are still elements in the BJP that might wish to return to the maturity of the past. If such people do exist and have not sold themselves for a mess of pottage, they can have little influence with the party's two rabble-rousing demagogues who alone matter. With the rabble waiting to be roused, many Indians are nervously waiting to see how far they will go. Much will depend on the election outcome.