How much do election manifestos matter?
The literacy rate is 74 per cent but do literate citizens really understand the manifestos' discussion of complex issues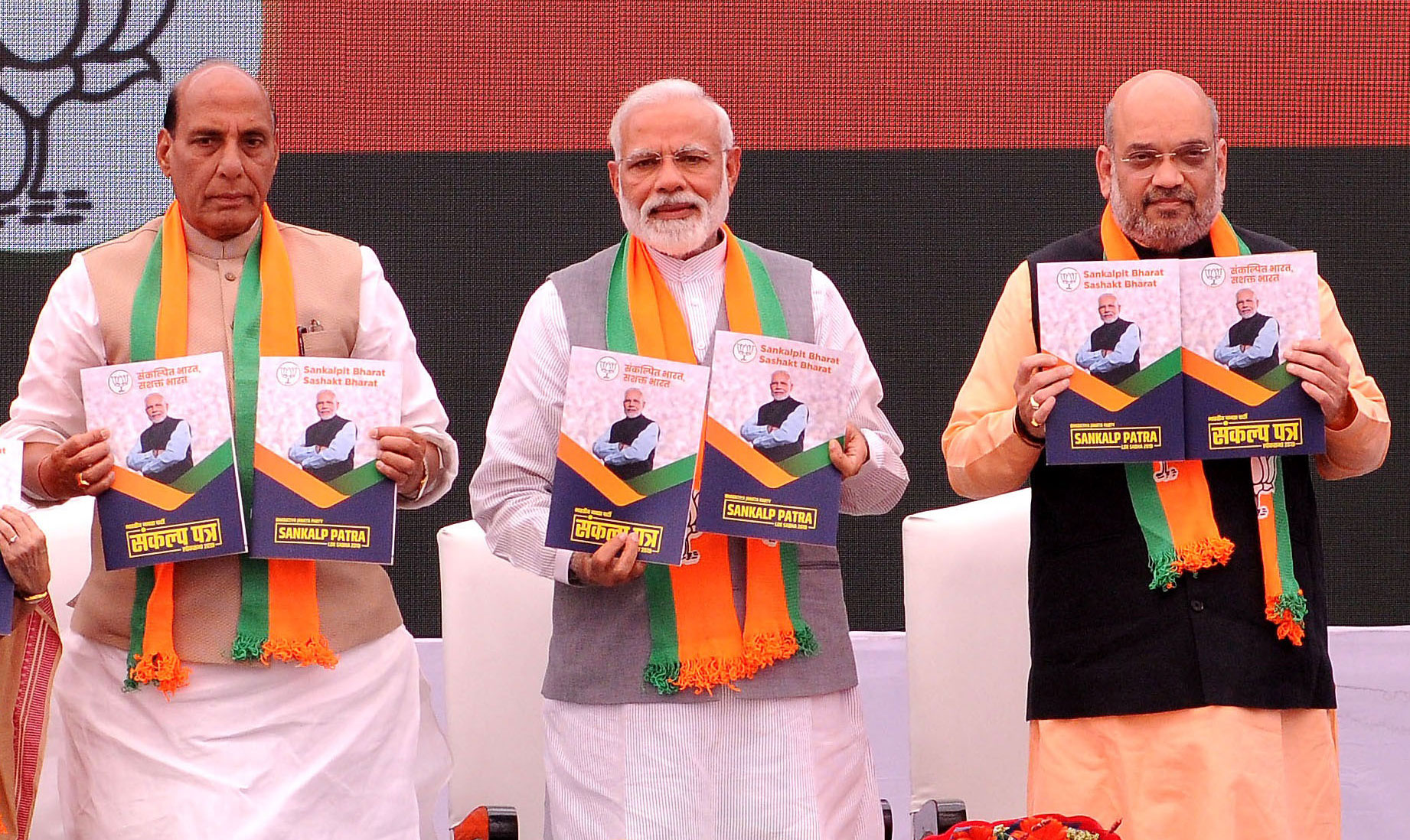 Prime Minister Narendra Modi, Amit Shah (right) and Rajnath Singh (left) during the release of BJP's manifesto (Sankalp Patra) for Lok Sabha elections 2019, in New Delhi on April 8, 2019.
Picture: Prem Singh
---
Published 11.06.19, 12:41 PM
|
---
In an opinion piece in a leading daily, Varun Gandhi had asserted that instead of helping parties swing voters, political manifestos often morph into an intellectual and ideological exercise at best. He wrote, "... manifestoes should be considered as a legal contract enshrining a country's purported development agenda. For the health of India's democracy, ensuring accountability for manifestoes remains a key reform to be pushed." While this is an ambitious project, we may be interested to see the current impact of political manifestos on our democracy.
Electoral manifestos play a crucial role in presenting the visions of parties in a democracy. They are a compendium of valid positions of parties on varied issues of importance to the country and to the electorate. They delimit issues and present a larger framework as campaign material. The power of written words carries more authority than unwritten, vague, oral promises. However, have the manifestos lost their relevance to personalities that often play a dominant role in how people vote? How many people actually read these documents containing thousands of words? An average voter would need several weeks to read the manifestos of the major political parties. Do voters have the time or the intention to even glance through them? India's literacy rate is around 74 per cent. But is the literate citizen capable of understanding political manifestos that focus on complex socio-economic issues? How important are these documents then?
People don't have to depend on manifestos to learn about poll promises. Consider the following example: unlike other political parties, the Bahujan Samaj Party does not issue an election manifesto. Yet it got an absolute majority in Uttar Pradesh in 2007. In 2014, the BSP chief had declared manifestos to be "hollow claims which are never realized".
There have been only a handful of studies examining the impact of electoral manifestos. In a CSDS survey on assembly elections in Kerala and Tamil Nadu in 2016, a number of respondents had claimed that they read manifestos: 43.3 per cent for the United Democratic Front, 43.9 per cent for the Left Democratic Front and 30.3 per cent for the National Democratic Alliance. The corresponding figures for Tamil Nadu were 41 per cent for the All India Anna Dravida Munnetra Kazhagam and 40 per cent for the Dravida Munnetra Kazhagam. Is there a case for cross-checking the figures of those who claimed to read manifestos?
Another question in the CSDS study was as follows: "While voting in an election how much importance do you give to the promises which parties make in their manifestos?" In Kerala's case, 13 per cent replied, "A lot"; 38.8 per cent said "Somewhat" and 21.9 per cent stated "None at all". In the United Kingdom, a poll in 2010 had found that just 27 per cent of voters read political manifestos.
An interesting study by Nikolaus Eder, Marcelo Jenny and Wolfgang C. Müller was published in the journal, Electoral Studies, holds relevance in this context. The authors conducted a candidate survey after the Austrian general elections in 2013 in which 962 candidates across seven political parties were surveyed. The study revealed that 374 candidates had "Carefully read the complete manifesto", 392 had "Carefully read parts and glanced over the remainder", 180 "Skimmed through the manifesto", while the remaining 116 had "Not read the manifesto".
Some such study should be conducted in the Indian context as well.