Congress focuses on becoming the alternative
With the tagline 'Congress Hai Na', the party intends to assure voters on farm distress, jobs, security, health and educational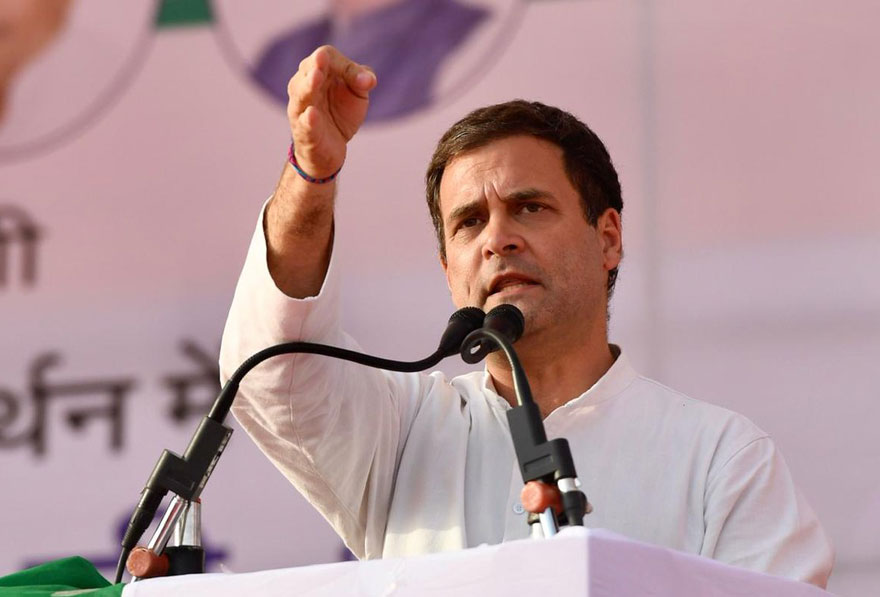 Congress chief Rahul Gandhi in Jaipur on Monday.
Source: @INCIndia
---
New Delhi
|
Published 30.04.19, 01:09 AM
|
---
The Congress has shifted focus to matters related to governance amid mounting popular concern about the alternative to Narendra Modi.
Polling is over in more than two-thirds of the constituencies and Rahul Gandhi, who built his campaign on the "chowkidar chor hai" slogan, is now spending most of his time explaining his party's manifesto to convince voters the Congress can offer a credible alternative model of governance.
On Monday, the Congress chief's focus at rallies in Rajasthan was the minimum income guarantee scheme Nyay, which the party has promised if voted to power.
The Congress has tried to evolve a constructive narrative through its manifesto, but a sharper focus has emerged with feedback suggesting that people were concerned about the absence of an alternative.
While the Opposition cannot address the handicap of not projecting anyone as the PM-in-waiting, Rahul has been explaining policies like the right to healthcare, removal of the necessity for government permission for starting businesses and not jailing farmers for loan defaults.
"Nyay will repair the economy, scarred by demonetisation and a faulty GST. Money in the poor's pocket — Rs 72,000 a year — will act like petrol to the engine and kick-start economic activities. As people start buying goods, industrial activity will resume and that will generate jobs," Rahul is telling rallies.
Not that Rahul has jettisoned the "chowkidar" theme and the Rafale scandal. Both found mention in his campaign on Monday.
New publicity material the Congress has released deals with the concerns about a viable alternative. With a tagline — Congress Hai Na — it intends to assure voters on matters such as the farm distress, jobs, women's security and the health and educational infrastructure.
The new jingles are based on the theme of justice for all aggrieved sections. A short film — titled Vote nahin, maafi mango — questions the BJP's right to seek votes. It shows men and women asking: "Vote, again for you? For what? For sitting at home despite having a degree? Do you know the price of (an) LPG cylinder, petrol? Did farmers' income double? For allowing frauds to fly out?"