Greta Thunberg: The girl on a boat
The expanding aviation industry does not reflect the true environmental costs of flying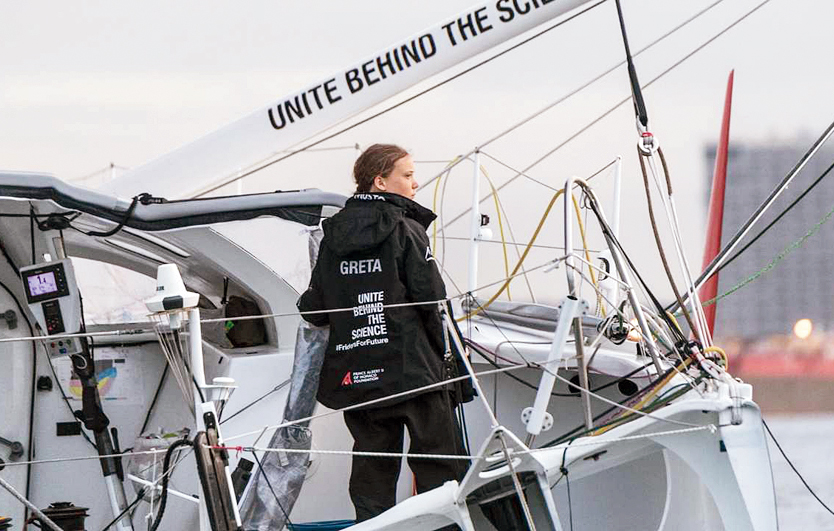 ---
---
Eight years before Charles Lindbergh's epic non-stop, solo flight from New York to Paris, the British aviators, John Alcock and Arthur Brown, made the first transatlantic flight in June 1919, from St John's in Newfoundland to Ireland. It was a milestone in the history of aviation. Alcock and Brown were honoured by King George V. There is a statue of the duo in Heathrow airport.
A hundred years on, in 2019, when the Swedish teenage climate activist, Greta Thunberg, travelled to New York City from Plymouth in the United Kingdom, in the course of a two-week-long journey on a racing sailboat to attend the United Nations Climate Action Summit, there was a lot of enthusiasm for and media coverage of the trip. Interestingly, Thunberg moved in the opposite direction of Alcock and Brown (and of Lindbergh), not only geographically but also in terms of the mode of transport. Her voyage was towards the direction of saving the planet.
Thunberg's activism began in August 2018, when the then 15-year-old student sat outside Riksdag, the Swedish Parliament, holding a sign that read, 'Skolstrejk för Klimatet (School strike for Climate)'. Over 16 lakh people from 135 nations joined the strike by March this year. Since then, Thunberg has gone on to become an important figure; she has been nominated for the 2019 Nobel Peace Prize.
Among other issues, Thunberg has drawn attention to greenhouse gas emissions caused by air travel. She spread the concept of 'flygskam (flight shame)', to encourage people to shun air travel. Thunberg herself did not want to fly to the United States of America. She was offered a ride on the Malizia II, a 60-foot vessel designed to be emission-free and equipped with solar panels, hydro-generators and an onboard lab for measuring carbon dioxide levels. Thunberg's journey generated severe criticism as well.
It was criticized for being symbolic and an utterly imperfect solution to the problem caused by air travel. What's more, two members of the crew of Thunberg's sailing team were scheduled to fly across the Atlantic to bring the boat back. It would not be possible for millions of ordinary commuters to undertake such dramatic journeys.
Yet, it is also true that there has been a sharp increase in air travel in recent years. Several low-cost airlines are in operation and the number of air- passengers is increasing too. However, the expanding aviation industry does not reflect the true environmental costs of flying. Compared to other modes of transportation, air travel has a greater climate impact per passenger per kilometre. In order to meet the ambitious carbon reduction targets for 2020 and beyond, in 2011, the European Chemical Industry Council and the European Chemical Transport Association had outlined the targets for different types of freights in the unit of 'gram CO2 per tonne-kilometre'. The figures were as follows — road 62; rail 22; barge 31; short sea 16; intermodal road/rail 26; intermodal road/barge 34; intermodal road/short sea 21; pipelines 5; deep-sea container 8; deep-sea tanker 5; airfreight 602. These figures indicate the seriousness of the environmental problems caused by air travel.
Significantly, countries with national emissions targets under the Kyoto Protocol are only required to account for emissions from domestic flights — emissions from international flights are not counted. Again, airplanes use fuel, and commercial aircraft powered by solar panels, batteries, biofuels or hydrogen are not expected anytime soon. The situation will not improve unless there are radical changes in the design and development of airplane systems.