Good news: Editorial on Pakistan with a new PM
For a new equation between the two neighbours, much of the onus lies on Islamabad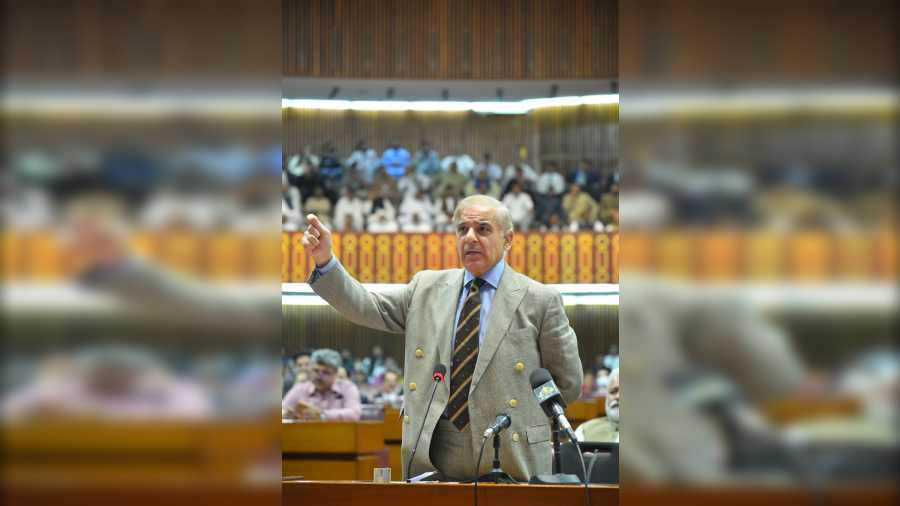 Shehbaz Sharif
File Picture
---
Published 19.04.22, 01:27 AM
|
---
Pakistan has a new government, and murmurs of peace with India are once again drifting across the Indus. The new prime minister in Islamabad, Shehbaz Sharif, has written to India's prime minister, Narendra Modi, stating a desire for "peaceful and cooperative" relations with New Delhi. Earlier, Mr Modi had written to the new leader in Pakistan, congratulating him on his appointment as prime minister. Any opening for the resumption of a bilateral dialogue between the nuclear-armed subcontinental neighbours is to be welcomed. But it would be prudent to temper expectations of any major breakthrough in ties and keep in mind the motivations that might drive relations in the coming months. In their correspondence, including an exchange on Twitter, Mr Modi and Mr Sharif iterated the fundamental gulf in their priorities towards peace: India insists that Pakistan stop terrorism targeted at its eastern neighbour, while Islamabad treats Kashmir as the central dispute between the nations. That is unlikely to change.
Mr Sharif faces fresh elections within the next year, as does Mr Modi in 2024. Far too often, at least in India, chest-thumping, anti-Pakistan rhetoric pays greater political dividends than peace: the 2019 Lok Sabha election, soon after the Balakot attack, is an example.
Still, there is reason for hope, ironically, because of Pakistan's economic and diplomatic challenges at the moment. Relations between Pakistan and the United States of America plunged under Imran Khan, Mr Sharif's ousted predecessor, who has accused Washington of conspiring to remove him from power. While in office, Mr Khan frequently locked horns with the US while deepening already strong ties with China and edging closer to Russia. Mr Sharif has signalled a pivot, with his office saying he wants to positively and constructively engage with Washington. While Islamabad is unlikely to risk its ties with Beijing, any weakening of its nascent bond with Moscow would be to New Delhi's advantage. With the US less dependent on Pakistan than before following its pull-out from Afghanistan, a slight improvement in ties between Islamabad and Washington will not bother New Delhi. Pakistan is also restarting talks with the International Monetary Fund on a loan package to try and revive a struggling economy and needs a stable neighbourhood. It might, therefore, be less incentivized to engage in cross-border adventurism. For a new equation between India and Pakistan, much of the onus lies on Islamabad. But New Delhi must be quick to respond: a world battered by a war and a virus can do with some good news.