Goddunnit
Finance minister Nirmala Sitharaman said soon after the 41st meeting of the GST Council that an act of God 'might even result in a contraction of economy'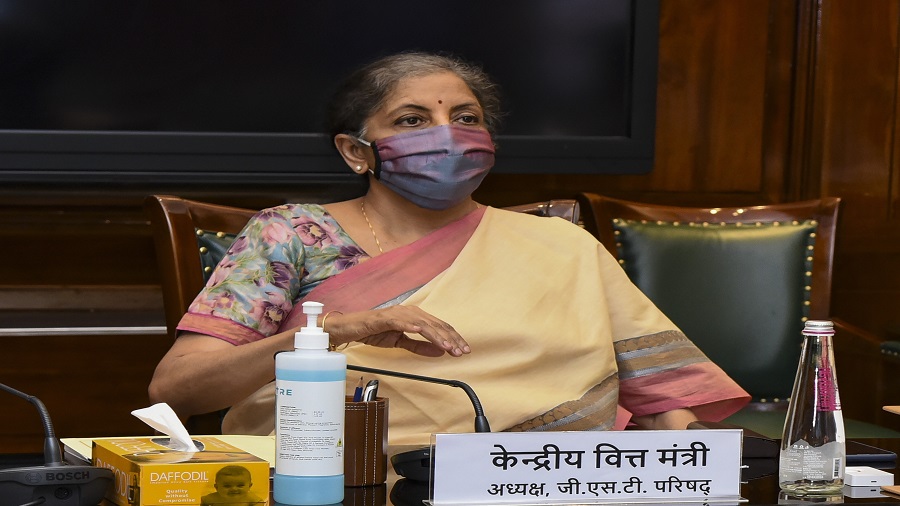 ---
---
The Centre cannot help the states with the shortfall in Goods and Services Tax (GST) revenues. Finance minister Nirmala Sitharaman said, soon after the 41st meeting of the GST Council, that an act of God "might even result in a contraction of economy". Now, if a layman were to hear that speech, a god-fearing citizen with little knowledge of legal terms would you blame him for thinking the FM was shifting blame on to God? Would you blame him for having assumed this government is on good terms with the Maker? Good enough to make good promises of achchhe din come what may?
Name-dropping
The God-talk unravelled like this. In 2014, while campaigning for the general elections Narendra Modi said, "I think God has chosen me to do this work." While moving a parliamentary resolution in 2016, the then Union parliamentary affairs minister M. Venkaiah Naidu described Prime Minister Modi as "God's gift to India". Naidu, who has since become Vice-President of India, is not the one to lead this chorus though. That would be Shivraj Singh Chouhan, the current chief minister of Madhya Pradesh. "He is God's divine gift to India. He will make India vishwa guru by 2022," he once said while addressing a convention of the Bhartiya Janata Yuva Morcha. In 2017, Modi himself said in his concluding address at a two-day BJP national executive meeting, "Serving the poor is serving God." He also said that he neither coveted power, nor heaven nor second life, only wanted to end people's sufferings.
You don't say!
By 2018, there was a perceptible shift in narrative. BJP spokesperson Avadhut Wagh tweeted, "PM Narendra Modiji is the 11th Avatar of Lord Vishnu." In 2019, following weeks of intense political campaigning, Modi paid a visit to Uttarakhand's Kedarnath Temple. Photographs of him swaddled in saffron robes, meditating, were omnipresent. Later he said, "I never seek anything from God." End-May, after the 2019 election results were out, Chouhan said, "He is blessed with God-like powers." Uttarakhand BJP party workers came up with a Modi aarti. BJP MLA Ganesh Joshi spoke of plans to build a temple with Modi's idol. In June, BJP president JP Nadda said in a reprimand to Rahul Gandhi, "Narendra Modi is not just the king of nar (humans) but also sur (gods)." And in August, Delhi BJP chief Adesh Gupta said of his boss-in-chief, "Insaan ke roop mein bhagwan hai." Meaning, Modi is God in the guise of a mere mortal. But the FM said all this economic misery, present and impending, this inability to help the states all trace back to an act of God? Of course this is all legalese, but would you blame the layman if he got the wrong idea?