Glare on David Beckham for promoting Qatar World Cup
EYE ON ENGLAND | There are suggestions that the Manchester United legend has lost his chance of ever getting the knighthood he apparently craves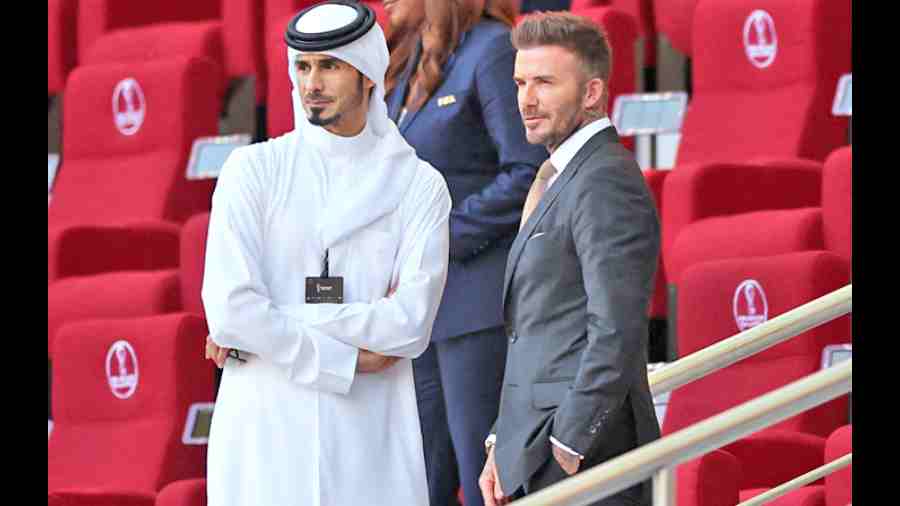 Image makeover?
Sourced by The Telegraph
---
Published 26.11.22, 04:41 AM
|
---
Tarnished image
It is ironic that David Beckham is under attack from the British media for signing a £150m deal to promote the football World Cup in Qatar even as Gurinder Chadha celebrates the 20th anniversary of her landmark film, Bend It Like Beckham. When Beckham took a free kick, he could magically 'bend' the ball through the air. But Chadha used the word to mean football could be used to bend the rules on everything, from race to sexuality. "Back when I made the film, David Beckham was... a young player at Man United living the dream... We chose him because he was really cool and doing adverts for Calvin Klein and had become a gay icon," said Chadha. Now every newspaper is savaging Beckham for "selling out".
Sacha Deshmukh, Amnesty International UK's CEO, expressed concern about Qatar's "longstanding mistreatment of migrant workers, to its curbs on free speech and the criminalisation of same-sex relations". A Times article asks typically: "Will the Qatar World Cup tarnish David Beckham's brand?" It says the deal "to be the face of and an ambassador for its World Cup has made him a pariah in certain circles".
There are suggestions that Beckham has lost his chance of ever getting the knighthood he apparently craves. To be sure, as one reader pointed out, there is an element of hypocrisy about the anti-Beckham campaign: "UK deals with Qatar at all levels and has deep business links. Qatar has major investments in London. UK govt and Plc have significant interests in Qatar and tons of expats live and work there."
Diversity matters
The Labour leader, Sir Keir Starmer, has promised to get rid of the House of Lords and replace it with an elected second chamber. He accuses Tory leaders, notably Boris Johnson, of filling it with undeserving cronies. But I have always had a soft spot for it ever since PG Wodehouse introduced me to Lord Emsworth and his prize pig, Empress of Blandings. Today, the Lords has a diverse membership. Abolishing it would put quite a few Indian peers out in the street. Meghnad Desai, Shreela Flather, Navnit Dholakia, Karan Bilimoria, Dolar Popat, Jitesh Gadhia, Kamlesh Patel, Bhikhu Parekh, Ajay Kakkar, Tariq Ahmad, Sandip Verma, Rami Ranger and others have enriched British public life.
Battle for freedom
Sometimes you come across a book which is so good that you read it again and again. Such a book is Jeremy Hutchinson's Case Histories by Thomas Grant, which was first published in 2015. The book lists the famous trials involving Jeremy Hutchinson (1915-2017), the most famous defence barrister of his day. As one reads about the celebrated cases in which he appeared one realises that the book is an utterly brilliant social history of England. The best chapter, "Virtuous and puritanical", starts: "Of the many obscenity cases which Jeremy defended, the most celebrated is R (Regina) v Penguin Books Ltd. The prosecution of Penguin for the publication of D.H. Lawrence's novel Lady Chatterley's Lover attracted vast publicity at the time, and remains perhaps the most famous English trial of the twentieth century." Hutchinson introduced many expert witnesses who vouched for the novel's literary merit despite — or possibly because of — its explicit sex. His historic victory ushered in a more liberal literary world. Christmas publications are yet to arrive but in a competitive field, this has to be my best book for 2022.
Royal therapy
Caroline Phillips, a freelance journalist, has offended Dr Issac Mathai with a disobliging 2,200-word article in The Times about the Soukya Holistic Health Centre in Bengaluru which he founded. This attracts many celebrity clients, including Queen Camilla, a regular visitor who is said to have stayed there recently for 10 days. Phillips accuses Mathai of being money-minded and being indiscreet about his connections with Camilla and King Charles.
The latter went to Soukya for his 71st birthday and had "ayurvedic and naturopathic rejuvenation therapies, including shirodhara" and "also did meditation and yoga". Phillips says she was also admonished because "your tip of £80 is too low" —"other guests tipped around £300 to £500 per person for only a 14- day stay". Mathai's spokeswoman, Mary Faife, dismissed the criticisms. She tells me that Phillips stayed for free twice, in 2018 and 2019, and had asked for advice on tips. She also previously wrote "good articles" in the Financial Times and Spear's Magazine "where she talks of returning on both occasions".
Footnote
Lord Swraj Paul always dreamt of establishing a dynasty. Now 91 and not in good health, he is lucky to have his children help him run his businesses. His twin sons, Akash and Ambar, are responsible for India and America, respectively, while his daughter, Anjli, looks after Dubai. Akash is, in turn, being helped by his son, Arush, who was recently appointed vice-chairman and CEO of Caparo India Operations. Akash tells me he and his journalist wife, Nisha, are "super-thrilled" that Arush has become engaged to Lucy Sadana, a University of the Arts London graduate."