Germany after Merkel
Uncertain prospects for the future of Europe work to validate the legacy of the outgoing German chancellor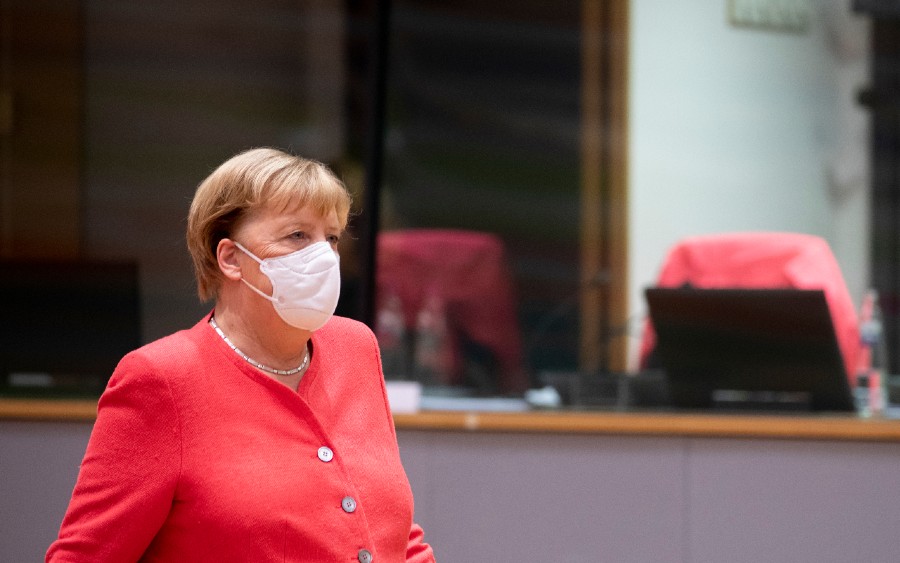 Angela Merkel.
File photo
---
Published 18.11.21, 02:08 AM
|
---
Europe today is beset by xenophobia and far-right populism. That is why Germany's stewardship of the European Union is essential as Europe's economic engine remains a bastion of humanitarianism and tolerance. The complex process of coalition formation might not be complete till Christmas, when Olaf Scholz will most probably assume office as chancellor, heading a 'traffic-light government' of his own Social Democrats, the Green party, and the liberal FDP.
Scholz follows in the footsteps of a very successful statesman. Angela Merkel's political success, however, did not prevent an electoral defeat for the Christian Democrats, whose political set-back vividly illustrated how Merkel's retirement has left a vacuum, causing a succession crisis deftly exploited by challengers to Christian Democracy in Germany.
Merkel's departure occurs at a time when European voters quite often signal a loss of confidence in globalization, embracing bigoted nationalism instead. In neighbouring France, the popularity of Marine Le Pen, the right-wing populist politician, indicates the troubling rise of illiberal and Islamophobic forces across the continent. Le Pen, who could emerge as the key challenger to the president, Emmanuel Macron, in next year's polls, leads the National Rally, a political outfit with a history of hostility towards immigrants and the EU, with particular emphasis on targeting Europe's largest religious minority, Islam. In addition to Le Pen, Eric Zemmour, a far-right television pundit, is surging in popularity, potentially upsetting the French presidential polls, which would pit Macron against two avowedly Islamophobic presidential aspirants. The child of Algerian Jewish immigrants to France, Zemmour says Islam has no place in France and channels populist outrage against France's Muslim minority communities, making the far-right Le Pen appear moderate by comparison. The likelihood that he will eat into Le Pen's vote share could, however, work in Macron's favour.
Uncertain prospects for the future of Europe work to validate the legacy of the outgoing German chancellor. When Merkel took office as Germany's chancellor, iPhones were yet to be released and George W. Bush was president of the United States of America. Sixteen years later, many younger Germans can recall no other chancellor. When Vladimir Putin, Russia's authoritarian president, annexed Crimea from Ukraine, he underestimated Germany's leader, Merkel, who organized EU sanctions against Russia in response. When one million Syrian asylum-seekers sought refuge in Europe, Merkel made the politically courageous and morally inspired decision of refusing to close Germany's borders. Germany emerged as a beacon of compassion towards outsiders, even as many preferred xenophobic populism. The experience of life as a former citizen of the authoritarian German Democratic Republic, which had forcibly prevented defecting citizens from leaving, may well have contributed to Merkel's compassionate attitude towards refugees. Merkel faced a series of challenges in Europe, ranging from the economic crisis of 2008, the sovereign debt crisis in Greece, Brexit and, now, the pandemic. She weathered these storms, remaining a reliable advocate of 'European values', championing the institutions of the EU, albeit a little hesitantly at times, and intervening only when there was no other alternative.
A criticism levelled at her style of leadership was that she preferred to let issues fester instead of taking them head on. Faced with a sovereign debt crisis in the eurozone, Merkel orchestrated a strict austerity programme for Greece as well as rescue measures for several southern European countries. Although it was a collective European decision to impose these measures, no one had any doubt about who was its guiding light.
After Merkel, Italy's prime minister, Mario Draghi, has emerged as Europe's principal statesman. Credited with having saved the euro and the eurozone member countries, Draghi was requested by the president of Italy to lead the government once the previous ruling coalition broke down. It is probable that he will perforce assume the mantle of a significant leader in Europe, even though Merkel has ensured that Germany will remain the beating heart of Europe.
Ravi Shankar Jayaram has a doctorate in politics from King's College London