Forced shot in the arm
Dissenters argue that the compulsory Covid vaccine jab infringes upon an individual's rights and civil liberties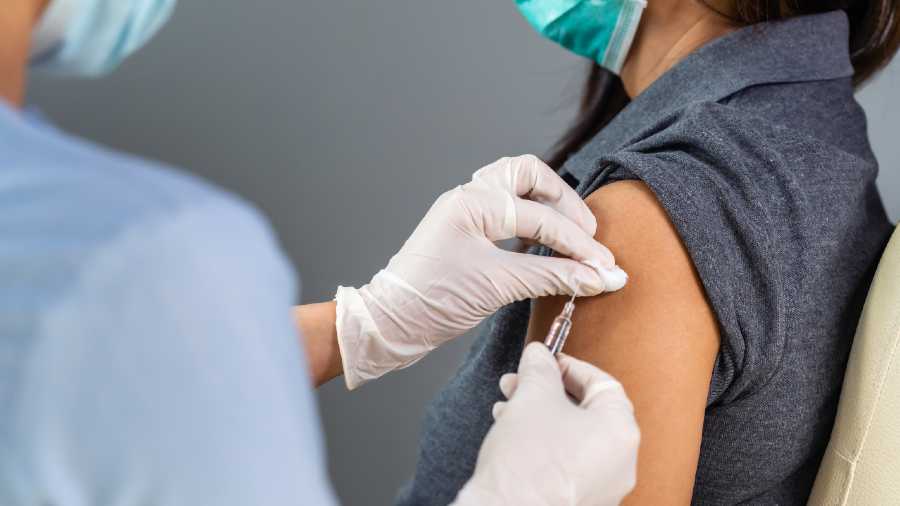 In the last few months, the world witnessed a sudden withdrawal of these vaccine mandates.
Representational picture
---
Published 24.05.22, 02:27 AM
|
---
In 2021, companies and governments announced new vaccine policies, requiring people to get vaccinated against Covid-19 in order to attend office, dine out, shop at malls or attend gatherings. In the last few months, the world witnessed a sudden withdrawal of these vaccine mandates. While the policies seemed to have persuaded some people to get their shots, dissenters argued that they infringed upon an individual's rights and civil liberties. Researchers suggest that the policies will have a spill-over effect on vaccines for years to come. How these policies are designed and applied are questions worth pondering.
Covid-19 poses a major public health risk. These vaccine mandates are usually looked at for their positive effects. However, we fail to consider the large number of people losing their jobs, ignoring a central feature of these policies that affect individual liberty and public good. Vaccine mandates are devised to slow the spread of the virus. But they have also increased social inequalities and reduced access to healthcare. Earlier this year, the American Supreme Court struck down the Joe Biden-led administration's controversial mandate for large businesses. The ruling provides a false sense of relief as the law is clear on vaccine mandates — employers and states can legally mandate the Covid19 vaccine. Interestingly, the United States of America has a legal precedent for mandatory vaccination for over a century. The Supreme Court famously upheld, in Jacobson v. Massachusetts, the State's authority to mandate vaccinations (in this case, for smallpox) as protecting public health is a State power. 
In a statement, the American Civil Liberties Union disagreed that vaccine mandates violate civil liberties. It mentioned that the mandates protect the most vulnerable, including people with disabilities and fragile immune systems, and communities of colour hit hard by the disease. This legal opinion has been consistent throughout American history, regardless of an individual's feelings toward the shots or mandates. 
Various Indian states enforced vaccine mandates through administrative orders. These were observed to be violative of an individual's personal liberty and the right to livelihood by various high courts across the country. On January 16, 2022, the Centre informed the apex court that it has ruled out mandatory vaccines and that 'no person can be forced to be vaccinated against their wishes'. On May 2, the apex court ruled that restrictions imposed on unvaccinated individuals by various states are not proportionate. India's stance is in conjunction with the World Health Organization's opinion on mandatory vaccinations: vaccine mandates should be imposed only after exhausting all other options. 
Why are mandates enforced in the first place? When a State is confronted by hesitancy — here vaccine resistance by a group/section of people — mandates are enforced to tackle/slow the spread of the virus. Are mandates the only way to deal with vaccine resistance? No. In fact, they are the last resort that the State must look at. In India, vaccine hesitancy has been identified mostly amongst lower-income groups who fear side-effects like infertility.
How can we decrease the gap that vaccine hesitancy creates? First, by educating people about the pros and cons of vaccines through awareness campaigns. Second, by mobilising community leaders to talk to people, along with a healthcare worker. Interestingly, this has been done in India, where Asha workers are reducing the vaccine uptake gap. Third, by devising policies and measures for the affected population instead of enforcing a universal mandate that does not focus on targeted populations.
Vaccine mandates are tricky, drawing valid debates from both sides. They also undermine public support and reduce vaccine uptake. The aim of the State should be informed decision-making, while respecting individual choice. Mandates fundamentally alter the dynamics of personal bodily autonomy. But limited mandates along with public support in special high-risk situations can be a part of a comprehensive healthcare intervention. The State must make policies that do not clash with personal autonomy and have no collateral damages.
Sanskruti Yagnik is a final year law student at the University of Mumbai