Filmed fictions
The nature of multi-season serials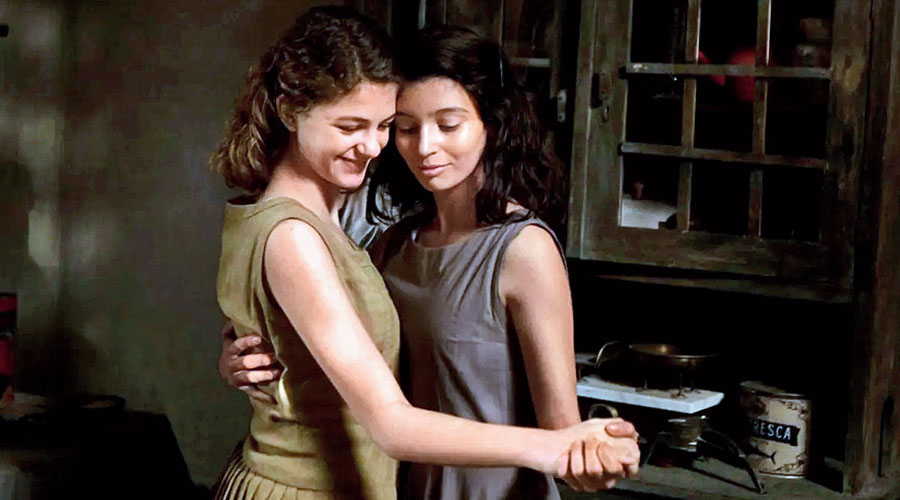 My Brilliant Friend
YouTube screengrab
---
Published 10.04.22, 12:26 AM
|
---
When I watched the first two seasons of Breaking Bad, I thought video had found in serialized shows a form to match the long immersions of the novel. There is something about the relative shortness of even the longest movie that compresses the experience of absorbing fiction. This is not to say that novels are better than films; merely to observe that movies are stories generally consumed in a single sitting which rules out inhabitation, the most singular pleasure of novel reading.
Breaking Bad and The Wire seemed to make some headway in that direction. Watching Walter White go from nondescript schoolteacher to meth-making monster in the sunlit, swimming-pooled suburbs of New Mexico was oppressively immersive. So was The Wire's detailing of Baltimore's drug-dealing streets and the life stories of the young black men who kept the trade ticking over. But these shows flattered to deceive. By the time Breaking Bad's blockbuster fifth season ended, the suburban reality that had anchored the wickedness of its characters' doings had been shredded by stylized mayhem. The show's climax felt like it had been cut and pasted from a Guy Ritchie special. This wouldn't have mattered (many fine novels end disappointingly) if Breaking Bad had inspired a new wave of shows as interesting as the story of Walter and Skyler White. It didn't; we got Ozark instead, which showed how quickly an eccentric epic could be mined for its generic parts.
Indian shows that told long stories over several episodes were a mixed bag, ranging from bad to worse with a couple of exceptions. Sacred Games, which had the advantage of being an adaptation of a successful novel, started well and then tapered off. Paatal Lok, loosely based on a novel by Tarun Tejpal, brought to life Delhi's peripheral badlands and the brutal police force that patrolled them as vividly as The Wire dramatized Baltimore's inner city.
Notice that all the serials mentioned above are centred on crime and criminal violence. These are, without exception, sagas of the underworld. Policemen, criminals, their victims, their families make up the central cast of characters. Such insight as the audience gets about the world in which these cops and robbers are embedded is a by-product of the main story which is tightly focused on men being violent. These films affect a dirty realism with great flair but it's in the service of a genre, namely crime fiction. This is also true of the other saga that regularly tops the best-ever television show charts, The Sopranos.
Successful shows that depart from the crime fiction formula do so by piggybacking on some other genre: fantasy, with Game of Thrones, and dystopian science fiction with those great reworkings of twentieth-century American history: The Man in the High Castle and The Plot Against America. Or else like Mad Men and The Marvelous Mrs. Maisel, they seduce us with glamourous retro worlds full of hats and boxy suits, trading on our secondhand nostalgia for worlds we never knew.
The point I'm trying to make is that it's hard to think of a show that isn't propped up by a genre of one kind or another. The main conceit of literary realism, the idea that 'proper' novels are about normal people going about their everyday lives, untouched by the stylized conventions of genre fiction, seems notable by its absence in serialized video fictions. It's true that mainstream literary fiction has its own conventions. In The Great Derangement, Amitav Ghosh shows how the literary novel disciplines its fictional world into a fixed time and place by rigorously excluding the unexpected and the uncanny, the better to narrate the inner worlds of settled bourgeois lives. Still, it seemed odd to me that the exploding OTT industry of serial video fictions hardly ever attempted to narrate the everyday bourgeois world in a way that has been commonplace in literary fiction for two hundred years.  
Then I saw My Brilliant Friend (picture), the HBO serial that is three-fourths of the way through translating Elena Ferrante's great Neapolitan quartet onto the screen. Each novel is told chapter-wise through a whole season's episodes and there have been three seasons so far, so the concluding novel is yet to be filmed. It's a masterpiece; the only serial fiction I've ever seen that annexes its viewers in the way in which great realist novels swallow their readers.
My Brilliant Friend is the story of Lenu and Lila and their passionate, conflicted friendship over a lifetime. Lenu is both narrator and protagonist; the story is told in self-conscious retrospect as an unsettling event in age prompts Lenu to set out the story of their friendship in rapt, cumulative, chronological detail. While the heart of the novel is this intense female friendship, made up in equal parts of love and frustration, loyalty and rivalry, it is never essentialized into mere femininity. The nature of this friendship is shaped by the great moulds of modern life: location, class and gender. Lenu and Lila are provincial, plebeian and female and their lives are lived trying (and often failing) to escape the orbit prescribed for these beginnings.
It begins with the education of two girls in a desperately poor neighbourhood in Naples made up of shabby walk-up apartment buildings. Set in the Fifties in a post-war Italy where black marketers thrive and young fascists and communists clash to control the streets, Lenu and Lila are like a trade union of two, taking on the world. Lenu, the diligent student, is used to being the best in her class but then one day their Maestra (teacher) realizes that Lila, the daughter of a shoemaker, can read whole words even as the others in class can just about recognize single letters. Who taught you to read, asks her teacher, in the presence of her illiterate mother? I did, says the self-contained little scrap, and in that instant we're sucked into her story.
And it is Lila's story, even though Lenu does the telling. Lila is the brilliant friend whose stubborn wilfulness is the flint that strikes sparks in Lenu's life that pushes her to make the most of herself through education that fuels her escape from her squalid Neapolitan neighbourhood to the rarefied sophistication of literary and intellectual Milan. All the while, Lila is thwarted by poverty and patriarchy from realizing her potential. I think there is one male character, in three whole seasons, capable of empathy and tenderness. The rest are variously predatory, selfish or pompous and all of them are wife-beaters. The remarkable thing about the telling is that never does this misogyny seem programmatic or reductive; we are eased into a patriarchal world where the disciplining of women is the natural order of things.
 
While the series employs the very literary device of a voice-over, it doesn't just tell, it shows. There is a scene in a sausage factory where Lila works which should be taught in classrooms as a lesson in how to render the gross physicality of manual work. As the primary school girls become young women, they are replaced by actresses who embody their older avatars so perfectly that it's uncanny. The fourth season will see them swapped out for older actresses again and we'll see if they manage that transition as seamlessly.
Meanwhile, even without the fourth season, it's clear that this is filmed serial fiction's greatest achievement. But even as you suffer along with Lenu and Lila as a rotating cast of self-absorbed men routinely let them down, you can't help thinking that they might have been spared much if Ferrante had just allowed them to fall in love with each other.