Different figures: Editorial on ageless stars of Hollywood and Bollywood
Actors who have proven to be the greatest successes in stories that remind the viewers of past delights are preferred over younger entrants to the industry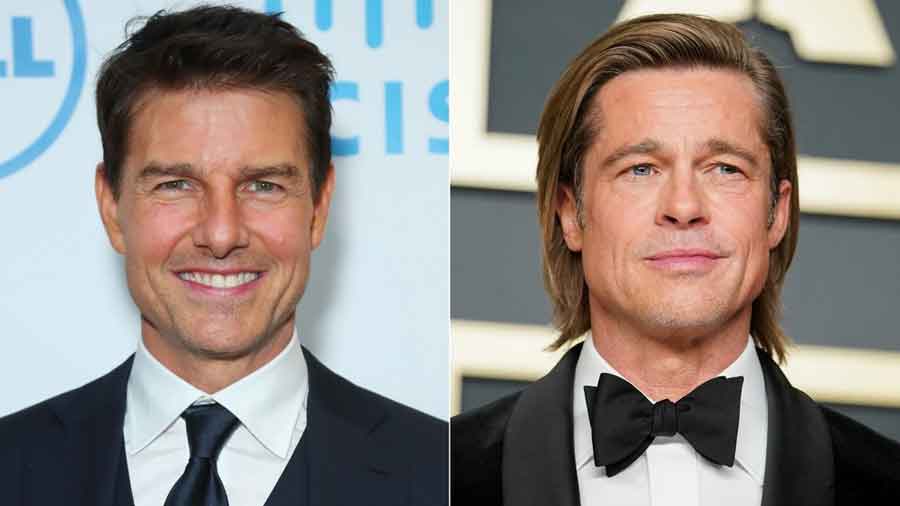 Tom Cruise and Brad Pitt.
Twitter
---
Published 30.07.22, 03:16 AM
|
---
Leonardo DiCaprio is quite the baby. Not in the sense of Benjamin Button though, once ably represented on screen by Brad Pitt. Mr Pitt is now an un-babyish 58, but Mr DiCaprio is just 47 years old, one of the youngest among the men that the world loves to see in Hollywood movies. Meanwhile, Tom Cruise touched the magic age of 60, which India treats as the mark of a senior citizen and which many Indian organisations consider to be retirement age. But the box office is bursting with the ticket sales for Mr Cruise's Top Gun: Maverick this year: 60 is quite clearly the prime of life. In Hollywood, age is the new cool. Anti-ageing techniques may revitalise skin but not brilliance. And it is not just the heroes who are defying the expectations of age, some heroines are too. From Meryl Streep and Nicole Kidman to Julia Roberts and Angelina Jolie, women inhabit their stardom with ease, whatever their age. In 2022, the average age of a leading man is 46.8 and of the best-known women stars is 41.8. The women have almost caught up.
A productive seniority is considered particularly desirable in a world witnessing longer lives. But the danger of a top-heavy set-up — age-wise — is conservatism, as Indian society knows only too well. One aspect of conservatism is the tendency to cling to the safety of tried-and-tested formulae of the past. That seems to be happening in Hollywood. Too many films are reviving old hits or backstories of characters who have become legendary, prequels and side stories — not new ground but the old one seems popular. Stars who have proven to be the greatest successes in stories that remind the viewers of past delights are preferred over younger entrants to the industry and new kinds of work. The star system is conservative at its core: it has never been easy for star aspirants to get the first break. And those who do are the very few among many, whether in Hollywood or in the Bombay film industry.
But Bombay is not quite so single-minded. The most popular heroes may be over 50, even 60 and above, but younger men get a lookin too. But the big screen still prefers the youthful woman star; it is here that the conservatism of the industry reveals itself. As in its hero-centric films. There are exceptions too, but the rule remains. It is OTT platforms, unlike in the Hollywood environment, that seize on mature women stars as central to their new narratives. Does this show a changing perception of women in India? After all, success at the box office and OTT viewership are a testament to the preference of audiences. Does India allow a greater variety of responses than Hollywood or its associated OTT productions? That is difficult to believe these days, but maybe the Indian silver screen does offer a silver sliver of hope.