Err-dogan?
According to Orhan Pamuk, to convert the Hagia Sophia back to a mosque 'is to say to the rest of the world unfortunately we are not secular anymore'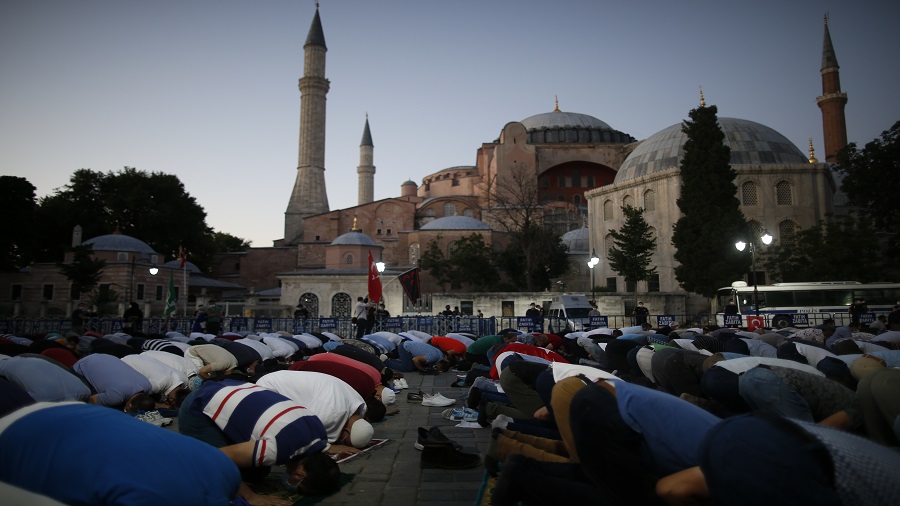 People offer the evening prayer outside the Hagia Sophia on July 10
AP
---
Published 12.07.20, 01:26 AM
|
---
Err-dogan?
By announcing that Istanbul's Hagia Sophia should go back to being mosque from museum, did president Recep Tayyip Erdogan turn the clock back on Turkey? Or was he merely continuing the march of faith and power the monument has been so used to since birth? And though the order comes from the country's highest administrative court, is it just another flailing statesman's last-ditch indirect attempt to win favour with a lately displeased people? After all, though the next national election is due only in 2023, Erdogan's popularity rating has fallen to its lowest level since October 2018, according to a new survey.
Three churches, a mosque
The Hagia Sophia was turned into a museum by Mustafa Kemal Ataturk, the first Turkish President, in 1934. The site on which it stands had first birthed a church in 360 CE. There was a fire and a second church came up in its place. Another fire and destruction, and thereafter, came up what is known as the Hagia Sophia today. Built by Emperor Justinian I between 532 and 537 CE, it was an Eastern Orthodox Church. Somewhere along the way, it became a Roman Catholic cathedral and then Orthodox church once more. In 1453 CE, after the fall of Constantinople, an Ottoman Sultan turned it into a mosque. Erdogan said last week, "The revival of Hagia Sophia is the harbinger of freedom of Al-Aqsa and the footsteps of Muslims emerging from the era of interregnum."
And a museum
Ataturk had modernised Turkey. He had the Constitution amended in 1928 to remove the declaration saying that the state religion is Islam and introduced secularism instead. Long before Erdogan turned politician, he played football and was even hired by the Istanbul's city government team, but reportedly had to quit because of the ban on Islamic beards. The founder of "New Turkey", as he seems to have positioned himself, has been in power these 17 years, but avoids direct references to the founder of the Republic of Turkey. And when he does, he refrains from referring to him as Ataturk, which means Father of Turks. He has also, bit by bit, distanced himself from Ataturk's ideology and reforms. Erdogan has restored the headscarf for women, revived religious education and pushed for the use of Ottoman, an old form of Turkish using Arabic script, instead of the Latin alphabet Ataturk had popularised. All of it in the name of Turkish pride and heritage. And in 2018, after his re-election, he had the country's parliamentary system replaced with a presidential system. After last week's decision was announced, Turkish writer and Nobel Prize winner Orhan Pamuk said, "To convert it (Hagia Sophia) back to a mosque is to say to the rest of the world unfortunately we are not secular anymore." Any resemblance to anyone is purely coincidental.