Essence of life
During a lockdown, conventional ideas about essential and non-essential goods cannot work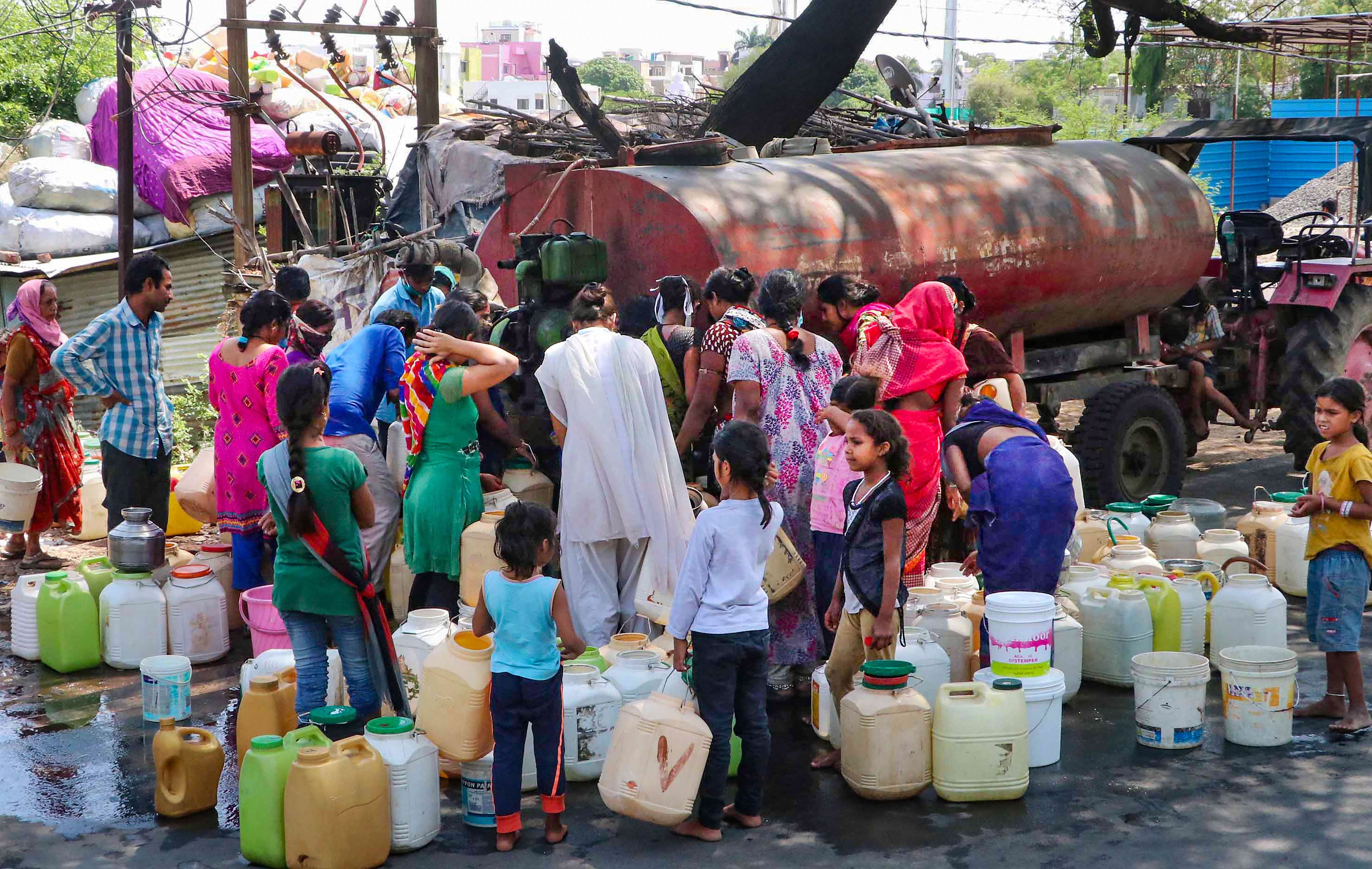 People violate social distancing norms as they fill their vessels with drinking water from a BMC water tanker, during the nationwide lockdown to curb the spread of coronavirus, in Bhopal, Wednesday, April 22, 2020.
PTI
---
Published 24.04.20, 08:08 PM
|
---
An overwhelming anxiety about health brought about the lockdown as a means of protection. But the state of lockdown itself brings on a different set of anxieties, not all of which can be articulated without charges of neurosis. Women — and now men, optimistically speaking — running on the hamster's wheel to keep up with cooking, cleaning, washing, sweeping, organizing trips to the shops or ordering online, looking after children and the elderly, while also, in numerous cases, working from home, may be having rather unexpected fears. What happens if the gas cooker stops working? Or the fan just stops? How to manage seven days' worth of fresh provisions when the fridge is barely big enough to hold three days' worth? Suddenly, people are acutely aware of the everyday objects that make their lives, even under lockdown, manageable. If something happens to these, in a world devoid of workmen, they may need immediate replacements. With the increase in washing as an intrinsic part of the hygiene routine made necessary by Covid-19, for example, washing machines have acquired a special value. An induction cooker, a fan, a bigger fridge can become essential items in a middle-class household, not to make life easier, as had been their role, but to make life under lockdown sustainable.
The line dividing essential and non-essential items is becoming blurred in these abnormal times. Some recognition of this is to be found in the disappointed responses of sellers of non-essential goods through online markets when the government revoked permission for such sales. Its attention was focused more on items that it felt were necessary for sustaining 'work from home': mobile phones, laptops, webcams and so on. Additionally, there could be sanitizers, soap, disinfectants and wipes, perhaps even closed bins, in much larger quantities than before.
But there is a far larger segment of Indians who lack the snugness of middle-class systems. They would know at once that the truly indispensable item in the fight against Covid-19 is water. It is an 'essential' that is now too late to deliver, online or off. In 2018, 163 million people in the country had no access to clean water. Ironically, inadequate access to safe water kills 2,00,000 Indians every year according to a 2018 Niti Aayog report and, in the drier parts of the country, it is estimated that women in villages walk three to 12 miles a day to fetch water. Government and non-governmental aid to the more vulnerable sections of the population — in theory at least — sometimes includes soap, even sanitizers. But the whole thrust of the rules of protection against the virus is based on the repeated use of water. There is not much sign that governments are thinking about delivering this essential item.
As the virus rages, will governments and the people reflect on what is essential to whom? The 'non-essentials' will disappear anyway when survival — each kind in its own place — becomes a matter of everyday awareness.