Forgotten isles
Can majoritarianism function as a mnemonic crutch?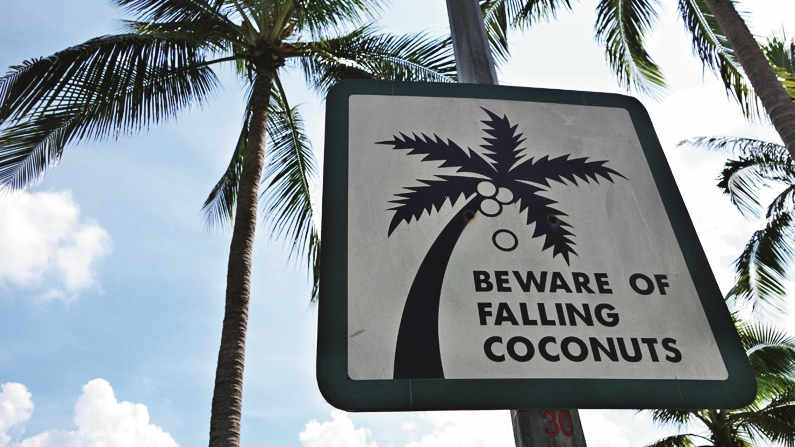 Representational image.
Getty Images
---
Published 30.06.21, 12:54 AM
|
---
Curiously, the Goonda Act, a seemingly draconian piece of legislation that empowers Lakshadweep's administrator to detain an accused for a year for acting in a manner that is prejudicial to public order, has been unleashed on an archipelago whose security was threatened by the occasional coconut dropping from the skies till only a few years ago. There is empirical evidence against the rogue fruit. In Borderlands, an account of a journalist's sojourns across India's final frontiers where the Mainland — the phrase is far from ideal — intersects with its nebulous hinterlands in complex, but illuminating, ways, Pradeep Damodaran recounts meeting an IAS officer aboard the MV Lakshadweep who "dished out statistics to prove… that this hard-shelled fruit posed the most serious hazard to pedestrians and motorists on Minicoy". The isles' benign security situation has not deteriorated since Damodaran's visit. One hundred and fourteen crimes were recorded in 2017, say data from the National Crime Records Bureau: the figures were 77, 182 and 89 for the next three years. It is not known how many of these criminals are coconuts.
Yet, the Wise Man of Lakshadweep insists that things must change, and has unleashed a set of legislations whose penal provisions have stoked controversy. The Lakshadweep Prevention of Anti-Social Activities Regulation — the Goonda Act — has been accompanied by the Lakshadweep Animal Preservation Regulation and the Lakshadweep Panchayat Regulation, 2021. The second criminalizes the slaughter, consumption, sale, storage and transportation of beef and beef products in a region with a Muslim-majority population, while the third prohibits those with more than two children from contesting panchayat elections. The legislations have, understandably, been met with spirited public protest and at least one protester, a film-maker from Lakshadweep, had been slapped with sedition for her critical remark. The Kerala High Court has quashed the charge and restored chicken and beef in school mid-day meals.
Indian democracy has demonstrated the shameful phenomenon of development — the administrator's pet phrase — being antithetical to prevailing public sentiment or even public welfare. What is, however, singular in Lakshadweep's case is that this template of development echoes an element that is integral to models of disruptive ideological transition in totalitarian polities. Political tabula rasa endorses a new beginning — a Naya Lakshadweep if you will — a supposedly pristine slate purged of preconceived ideas. What is necessary to attain this proverbial 'clean slate' is the erasure of a liberal, humane ethos. History bears conclusive evidence of this kind of 'cleansing'. The rise of Nazism was predicated upon the annihilation of liberal democracy, parliamentary politics and capitalism; Mao Zedong's Cultural Revolution sought to rid China of traditional thought and praxis; New India, of course, is on its way to exorcizing the spirit of accommodating republicanism. What is fundamental to such totalitarian purges is the crafty replacement of, as Theodor Adorno put it, historical memory with a manufactured amnesia.
That majoritarianism — totalitarianism's sibling — is anti-memory is a position that the public discourse has vigorously believed in and defended. Yet, could it be that creeping majoritarianism, such as the stain that is spreading across India's body politic, can serve as, albeit inadvertently, a mnemonic crutch? This proposition, in spite of its challenges, merits a closer examination.
In an engaging article in the Journal of Contemporary History, Geoff Eley refers to Fredrick Jameson's interpretation of the notion of 'nostalgia for the present' — a collective "anxiety about the loss of bearings" — to argue that all that is familiar, all that is predictable, even mundane in their fixity, can be productively used as capital to spawn a desire, a resistance, to protect all that is being threatened. This nostalgia, writes Eley, "spells the desire for holding onto the familiar, for fixing and retaining the lineaments of worlds disconcertingly in motion, of landmarks that are disappearing and securities that are unsettled". Given the scale and the nature of the implosion that a majoritarian project entails — incursions on land, politics, food in Lakshadweep's case — it stands to reason that the attendant trauma of this kind of discrimination and its consequence, the kindling of a collective nostalgia of a besieged people, could well serve as a fuel to light the lamp of dissent.
That nostalgia need not be inert, that it can feed resistance, has led to considerable scholarly interest in the field of memory studies. But it must also be borne in mind that the moral rehabilitation of post-War societies — Germany is a productive example here — has been made complicated by the intriguing phenomenon of 'memory conflicts'. Writing on the occasion of the 75th anniversary of the liberation of Auschwitz in Time, Jacob S. Eder spotted an interesting difference in the rituals of commemoration between, say, urban metropolitan hotspots — Munich, Berlin — and the German countryside. An hour's drive from Munich, in a quiet cemetery, Eder writes, stands a cenotaph honouring Alfred Jodl, a high henchman of the Wehrmacht, even as German towns and cities fill up with anti-Nazi memorials.
Old India's ability to utilize memory as capital for resistance against a majoritarian enterprise is beset with its own challenges too. The Mainland's amnesia when it comes to borderlands such as Lakshadweep is not insubstantial. The erosion in the archipelago's local way of life — Damodaran documents the disappearance of community skills, the resultant spike in migration among the youth, the waning authority of indigenous systems of arbitration and so on — caught liberal India's attention only after the Administrator unveiled his disquieting futuristic vision for the islands. India's amnesia, in turn, has turned the islanders' memory insular. Word on Indian Independence, Damodaran notes, reached Minicoy in 1951.
The nation and its frontiers must renegotiate past and present — memory and the nostalgia for now — on more equitable, representative terms. But the onus to remember its compact with the borderlands is greater on the Mainland. 
Perhaps a sudden knock from one of Lakshadweep's rogue coconuts would go a long way in jogging India's memory in a necessary direction.
uddalak.mukherjee@abp.in