Bombings rekindle painful memories in Sri Lanka
PM Modi condemned the barbarism that unfolded there, but at home there is no place for conscience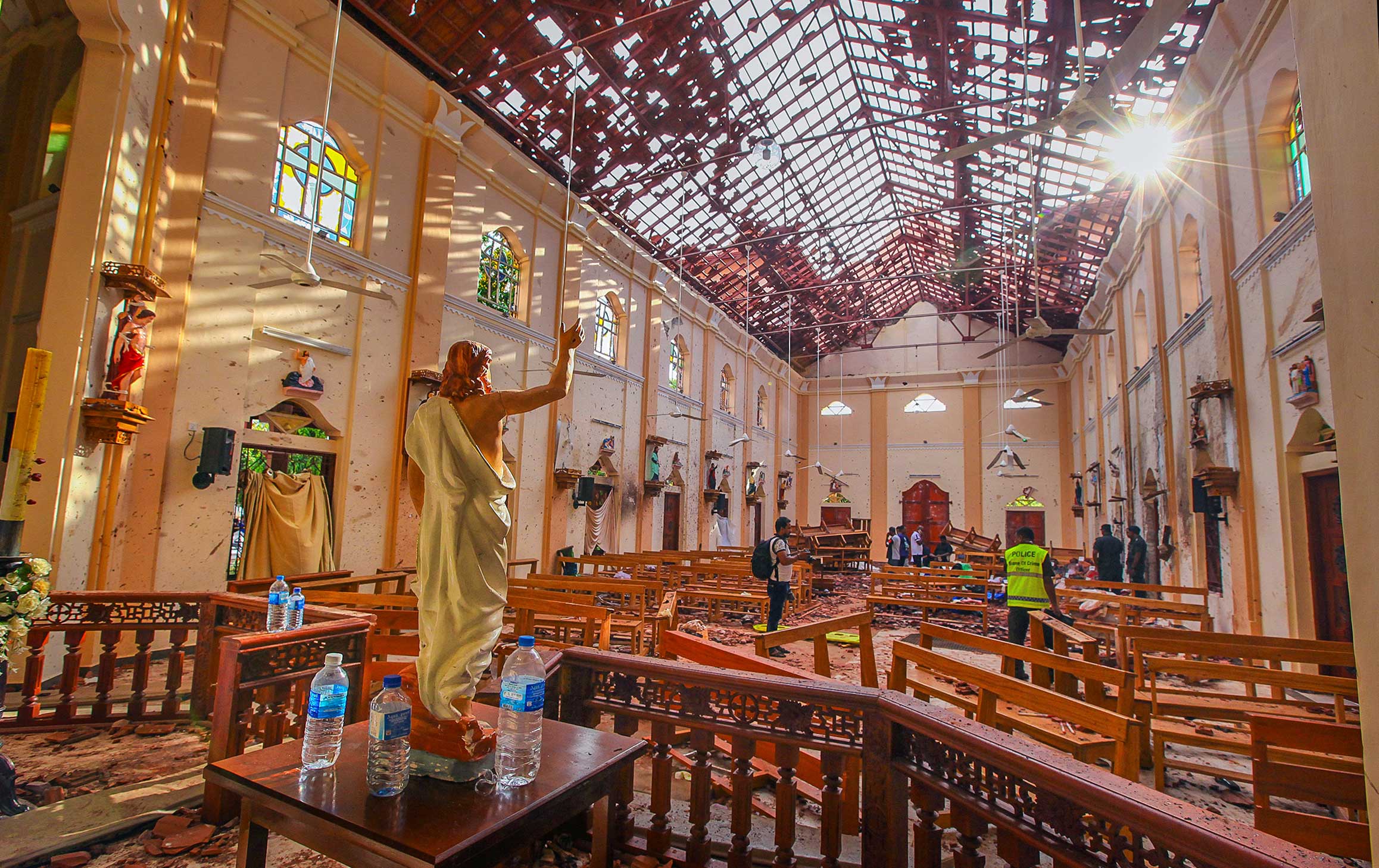 A view of St. Sebastian's Church, which was damaged in a bomb blast in Negombo, Sri Lanka, on April 21, 2019.
(AP)
---
Published 23.04.19, 03:13 AM
|
---
Irony can be cruel. The spirit of terror was resurrected on Easter Sunday — the paradox is unmistakable — in Sri Lanka, claiming the lives of over 200 people. Among the dead were Indians as well as visitors from other nations. Scores have been injured; churches and hotels, teeming with people at the time, were the primary targets of the bomb attacks that appear to be coordinated. Events on the island nation seem to have unfolded in keeping with a script that is now common to heinous acts of international terrorism — an ever expanding list. There were warnings of an impending strike, but intelligence agencies failed to prevent the mayhem, which is being blamed on the Islamic State. If these speculations turn out to be true, it would go to show, once again, that the global community's battle against the IS remains unfinished even though Iraq and Syria have been liberated from its shadow. Colombo is likely to experience the tremors for a while. The bombings have rekindled painful memories of the civil strife that devastated Sri Lanka for decades. Tourism, a rich source of revenue, is likely to suffer. Calming the nerves of the people — islanders and tourists — and improving security are the twin challenges that the prime minister, Ranil Wickremesinghe, must confront. A divided political leadership — Mr Wickremesinghe's ties with the president, Maithripala Sirisena, are not exactly smooth — could, in fact, strengthen the hands of terrorists.
While condemning the bloodshed in Sri Lanka, the Indian prime minister, Narendra Modi, declared that such barbarism has no place in the region. There is no place for conscience during poll season either. Mr Modi did not think twice about milking the spectre of terrorism for electoral gain, urging voters to re-elect him since he, apparently, can defeat the hydra-headed monster. Unfortunately, this is yet another of Mr Modi's claims that will be taken with a generous pinch of salt. Some of the biggest instances of terror attacks — Pulwama being one — have taken place on Mr Modi's watch. Neither Mr Modi nor his party batted an eyelid before giving an electoral ticket to 'Sadhvi' Pragya Singh Thakur, an accused in the Malegaon terror attack, who spewed venom at a decorated police officer martyred by terrorists. Is Mr Modi's comprehension of terror as narrow as his understanding of patriotism?