Those lucky women
The demand of a representative of the majority party for an International Men's Day to establish equality with women is riddled with ironies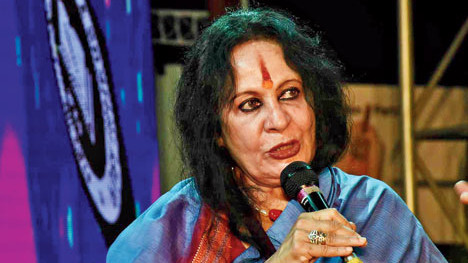 Sonal Mansingh.
File picture
---
Published 13.03.21, 12:14 AM
|
---
Celebrating men is undoubtedly a laudable programme. History may not have done enough for them — and society, especially Indian society, seems to have run out of ways to accommodate their importance. A special day may be needed. So on International Women's Day, Sonal Mansingh, a Bharatiya Janata Party member of parliament for the Rajya Sabha, demanded in the upper House that an International Men's Day be celebrated too. Since the BJP MP mentioned equality as the reason behind her demand, she obviously feels that men are hard done by. It takes a courageous lady to put this out in these days of women's assertiveness. Perhaps the BJP MP feels that the hullabaloo about rape, female foeticide and infanticide, domestic violence, trafficking, exploitative domestic labour, discrimination in the workplace, especially in the informal sector, the overall insecurity of women in every sphere and other such phenomena is a fuss over quite natural events — why should society be different? Confusingly, she also read from her own work to the effect that women still do not have enough rights. The whole exercise showed that she is a model representative of her party — 'demanding' a man's special day for the sake of 'equality' and paying lip service to women's lack of rights.
The 'demand' may have been pushing a point about excessive female ranting over men's violence and oppression — irritating for the ruling regime — because Ms Mansingh's apparent ignorance about International Men's Day on November 19 celebrated in many countries is odd. Besides acknowledging men's achievements, the day focuses on issues such as the health of men and boys — they can be prey to sexual violence too — or even the effects of toxic masculinity, for 'being a man' can be a painful burden for many. It is not a competition with women for a special day based on some silly idea of equality that can make a men's day meaningful, but renewed attention for those human beings whose deeper problems are concealed behind a traditional veneer — and expectation — of strength and domination.
In India, however, sexual crimes against women, political and social attitudes to and interventions in these, threats and violence against complainants and witnesses, the astonishingly poor conviction rate, caste and class equations affecting perceptions and outcome as well as other factors suggest that an International Men's Day here, whatever its theme, would be perceived less as being concerned with men's problems and more with their glorification. Ms Mansingh's demand refers to equality, presumably with women who have their own 'day', but it is doubtful that Indian men would enjoy being equal with women on their special 'day' even for the sake of merry-making. A men's day in this country should be dedicated to ways in which men's training and values can be changed to create a less sexually oppressive and violent society. That would be unlikely to please Ms Mansingh.