Goodwill hunting
Bengal, unbelonging and the BJP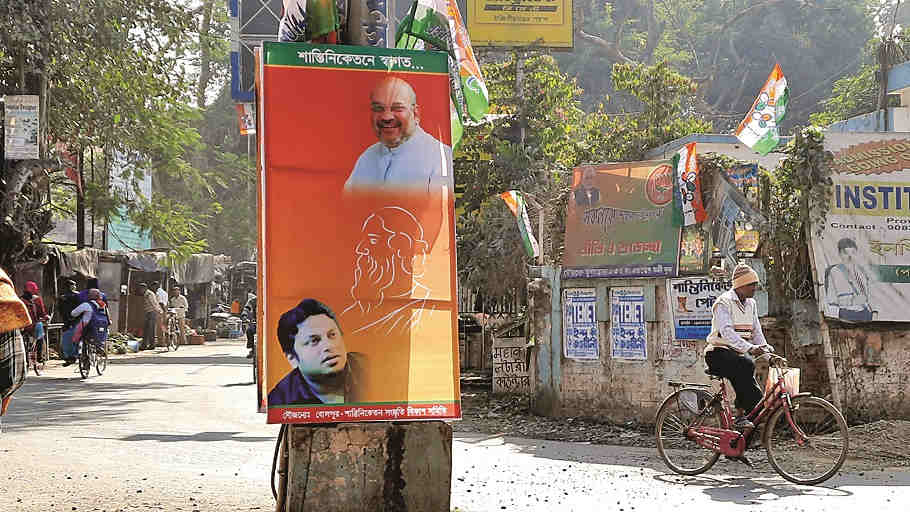 ---
Published 30.12.20, 01:03 AM
|
---
The Bharatiya Janata Party is on the hunt for icons in Bengal. It cannot be faulted for stalking Bengal's manishis, even though men and women of learning and wisdom have not been known to win elections for political parties. The BJP's pursuit then must have something to do with the Sons of Soil Doctrine that has an undeniable political appeal for a party battling the perception of being rooted in territory — geographical and cultural — that is distant from Bengal's borders in spite of its electoral ascendancy in the rest of India. Bengal, therefore, must be made to believe that the 'B' in BJP stands for 'Bengali' — even if it is only for a while.
The hunt began well. Shyama Prasad Mookerjee has been safely tucked inside the saffron jhuli (for years now), even though in Sixteen Stormy Days Tripurdaman Singh identified the founder of the Bharatiya Jana Sangh as one of the earliest champions of civil liberties, individual freedoms and a liberal India. Mookerjee and several other luminaries, Singh writes, took the battle to Jawaharlal Nehru over the maiden — and controversial — amendment to the Constitution. Having slipped 17 places on the Human Freedom Index this year, New India, now ranked 111 among 162 countries, may have rejected Mookerjee's libertarian legacy comprehensively.
Swami Vivekananda, however, is sticking out like a sore thumb from Hindutva's Bag of Appropriation. Even a cursory reading of the Swami's electrifying speech in Chicago in 1893, to cite just one example, would reveal it to be an unambiguous rejection — condemnation — of bigotry and dogmatism, the poisons that are now flowing through the veins of a sectarian polity ("Sectarianism, bigotry, and its horrible descendant, fanaticism, have long possessed this beautiful earth... But their time is come; and I fervently hope that the bell that tolled this morning in honor of this convention may be the death-knell of all fanaticism, of all persecutions...").
Rabindranath Tagore is resisting the siege too. During his recent address on the occasion of the centenary celebrations of Visva-Bharati, the prime minister managed to spot — he, as is the wont of visionaries, sees things that others cannot — the contours of his Atmanirbhar Bharat within the Tagorean vision. Narendra Modi's remark apparently left beads of perspiration on the visage of the university's old-timers. Was the message of self-reliance, they reportedly wondered, a cipher for a further cut in funding for Visva-Bharati by its chancellor? Those engaged cerebrally with Tagore may have been perspiring too — but with indignation. Tagore's visceral opposition to shrill nationalism, the kind that the BJP is fanning eagerly, is well-documented. "India has never had a real sense of nationalism," Bengal's foremost icon had written in "Nationalism in India" (1917). "Even though from childhood I had been taught that the idolatry of Nation is almost better than reverence for God and humanity, I believe I have outgrown that teaching, and it is my conviction that my countrymen will gain truly their India by fighting against that education which teaches them that a country is greater than the ideals of humanity." This passage may not be palatable to an India that is being taught to demonize critics and dissenters as unpatriotic savages. The BJP's IT cell getting Tagore's birthplace wrong — the Nobel laureate, the state party unit had tweeted, was born in Visva-Bharati! — may have been a perfectly understandable Freudian slip. The vilification of Bengal's second Nobel laureate, another manishi committed to the idea of Old India, by Visva-Bharati's present vice-chancellor, an official who supposedly has the Centre's ear, appears to be a conscious choice. 
How has the BJP fared with some others?
There are too many pieces of Vidyasagar for the BJP to gather after that shameful desecration of his statue inside a college in the city last year.
Birsa Munda, the freedom fighter revered in Bengal's tribal pockets, was won — and, alas, lost. The Bharat Jakat Majhi Pargana Mahal let Bengal know that the statue that the Union home minister garlanded solemnly was that of an anonymous hunter. History in the BJP's hands is seldom set in stone. Dilip Ghosh, the state BJP president, decreed that his party would henceforth consider the figurine of the anonymous adivasi to be that of Munda. The home minister, evidently, has been blessed with Kafkaesque hands.
Another departed icon slipped from the BJP's eager hands the following month. This time, ignorant party workers, it has been reported, went to meet Jahar Ganguly, not knowing that the actor had died in 1969.
None should doubt the doggedness of the BJP's chase. Cold shouldered by flesh-and-blood icons, the party may well scour Bengal's literary firmament for the stars that it needs. But even fictive heroes may prove to be elusive for India's ruling party. Feluda looks best holding a Charminar, not the lotus. Professor Shonku is a man of science. And science — a realm lit up by reason, rationality, facts — is the least favourite of the BJP's subjects. There is a line of thought that says Ghanashyam Das, quintessentially Bengali in his love for food and leisure, may hold out some hope. In his 75th year of existence, Ghanada remains Bengal's beloved chronicler of tall tales. Now the BJP, uncharitable opponents insist, knows a thing or two about spinning a yarn. Its stories, about the economy, about sabka vikas and, now, about an impregnable border, have been just that — one tall tale piled neatly upon another. But then Ghanada is certain to fail the parivar's ideological test. An intelligent reading of his adventures would reveal that this literary hero is emblematic of harmony, effortlessly fusing such competing forces as empiricism and imagination, myth and history. Harmony as a synonym for hegemony — is that not the grammar of politics that dominates India today? — would have not got a single tale out of a sullen Ghanada's mouth.
Of course, the BJP is responding energetically to the barb of being an outsider in Bengal. The prime minister attempted to counter such insinuations with homilies of shared associations. The Tagores, Mr Modi said in his address, had spent time in Ahmedabad, adding that Jnanadanandini Devi, the wife of Satyendranath Tagore, may have learnt to drape the sari in a particular way from Gujarat's women. But the Trinamul Congress is in no mood to share the icons that it believes are its sole possession: a senior functionary retorted that Parsi women must be given a share for Jnanadanandini's sartorial revolution.
These bizarre exchanges would have been mildly comical had it not been for the greater unfolding tragedy in which the TMC is complicit along with the BJP. Regional identity has been made vulnerable to political weaponization with electoral adversaries keeping the sub-national pot and its narratives on the boil. Modi has special use for Gujarati asmita. He has repeatedly invoked this template of parochial pride — in effect, an indigenous version of the identitarian sensibility — to project a sense of solidarity with a people who are made to believe in slights, real or imagined. The TMC may have simply taken a leaf out of Modi's book, forcing the BJP to cry wolf.  
The chief contenders for Bengal's political crown are relying on two different kinds of divisive insularities — one majoritarian, the other ethno-cultural — to win an assembly election in a country that is meant to uphold — politically, philosophically and constitutionally — the notion of wholeness.
But that is not the only irony. The ingenious application of provincialism in the defence of the fraying ethos of pluralism is indicative of a larger regression that would have made Bengal's icons shudder.
uddalak.mukherjee@abp.in