Foreigner until proven Indian
In a fortnight, we will know how many lakhs will be catapulted into a maelstrom of trauma thanks to the NRC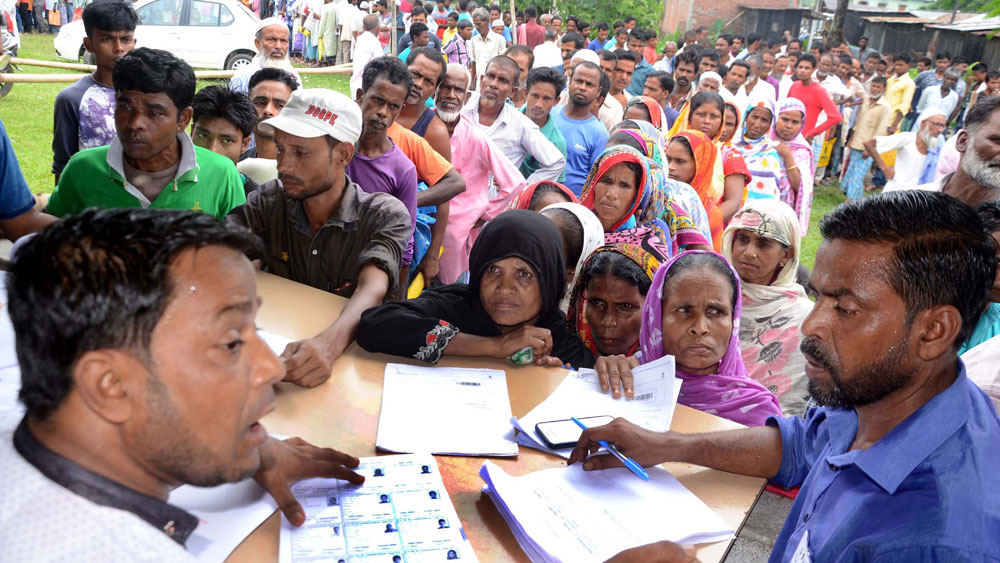 Residents line up for checking the final draft of NRC in Tengabasti, Assam. On July 30, 2018, the complete draft of the NRC was released, with the names of nearly 40 lakh people missing. On June 30 this year, an additional draft list was published with names of another 1.02 lakh excluded names.
Telegraph file picture
---
Published 16.07.19, 12:52 PM
|
---
What does it take to prove one's identity (read citizenship) in a sovereign, socialist, secular, democratic republic?
Ask nonagenarian Amar Upadhyay, whose daughter, Baijayanti Devi, was the first woman martyr of the Assam Agitation, and who contested the assembly elections. Ask Kargil veteran, Mohammad Sanaullah. Ask Manju Devi, the great-granddaughter of the freedom fighter, Chabilal Upadhyay. Ask Sahitya Akademi award winner, Durga Khatiwada. Ask Mamud Ali, a CISF jawan for 25 years. They or their families have been denied inclusion in the National Register of Citizens, which is being updated in Assam.
The register contains names of Indian citizens based on the 1951 census. Although the exigencies of enrolment have been in place from 2013, when Assam launched the process of updating the NRC on the directive of the Supreme Court to weed out 'foreigners', the July 31 deadline for its final publication has galvanized the process. And how!
On July 30, 2018, the complete draft of the NRC was released, with the names of nearly 40 lakh people missing. On June 30 this year, an additional draft list was published with the names of another 1.02 lakh excludees. Names of residents (or their descendants) in the NRC of 1951, or any of the electoral rolls or those with admissible documents up to the midnight of March 24, 1971 will be included. When the NRC was first prepared in Assam in 1951, the state had 80 lakh citizens. The 2011 census put the state's total population at over 3.11 crore.
One of the ministers of state for home affairs, G. Kishan Reddy, told the Lok Sabha that 63,959 people had been declared foreigners by tribunals in Assam between 1985 and February 28 this year. As on June 25, there are 1,133 persons in Assam's six detention centres. "Free legal aid is being provided to detainees... who are in need of it," Reddy said.
I tried to reach such detainees to fathom their plight. Kumud Ram Das, 66, returned home on a Gauhati High Court bail after spending over two years in the detention camp in Silchar Central Jail. A farmer from Mohankhal village in Cachar district, Das was arrested in December 2016 and lodged in the camp after being declared a "foreigner". His family spent over two lakh rupees to re-establish his identity as an Indian citizen. They sold their cattle, land and crops, mortgaged their trees and took a bank loan of Rs 50,000 to get him released. "I'm out on bail," said Das, over phone last week. His wife, Kamakhya Devi, said she still lives in dread that he will be relegated to a camp. Their daughter, Jhuma, said that she was turned back from the NRC Seva Kendra when she went there to deposit her father's papers for the second time on the pretext that the documents did not prove he was an Indian. His son, Kishan, however, is considered Indian.
I got in touch with the daughters of Dilip Biswas, a vendor from Murkata village in Morigaon district, who, along with his family members, was named "foreigner"; losing their right to education. In 2010, Biswas and his elder brother, Sukumar, were sent to the Goalpara detention camp while his wife Rumani, 40, and two daughters, Kalpana and Archana, now 19 and 11, were sent to the Kokrajhar detention camp. The family was released following a high court order this February.
The predicament of such detainees is quite horrifying. On June 26, Madhubala Mandal walked out of the Kokrajhar detention camp after over two years, a victim of "mistaken identity". She was picked up in 2016 on the suspicion of being Madhumala Namodas.
In just a fortnight, we will know how many lakhs of Madhubalas and Mamuds will be catapulted from a comfort zone into a maelstrom of trauma termed "give-proof-of-citizenship".