With defections, the logic of democracy is breached
The dissidents are as much to blame as any party that rewards their desertion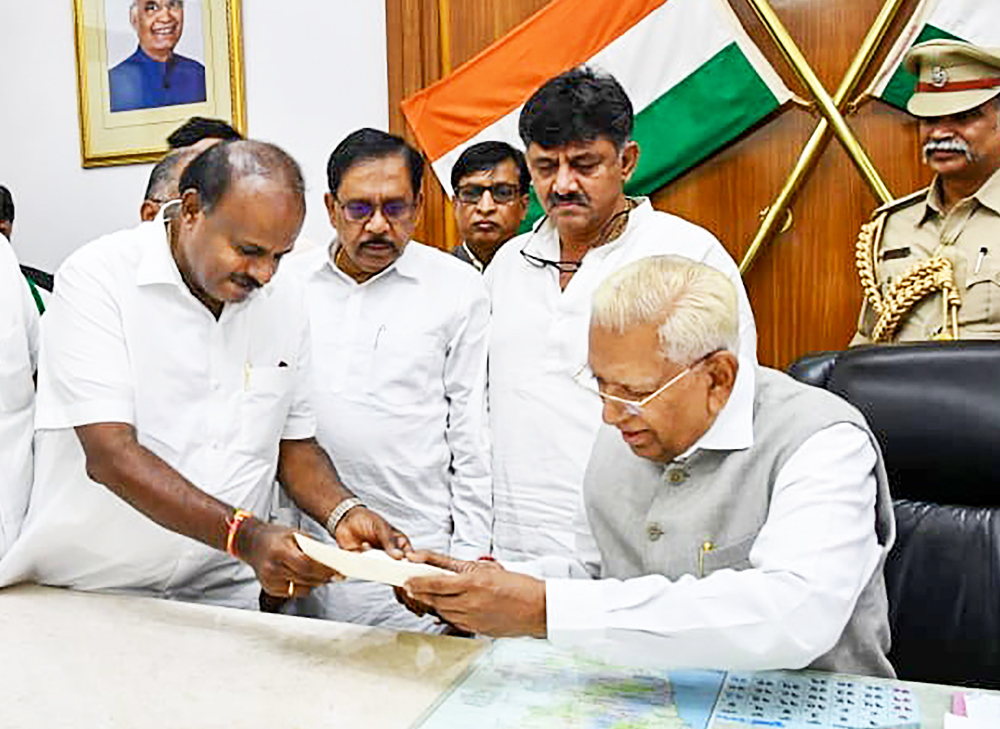 Karnataka Chief Minister H.D. Kumaraswamy submits his resignation to Karnataka Governor Vajubhai Vala after losing the vote of confidence, in Bangalore, Tuesday, July 23, 2019.
(PTI)
---
Published 25.07.19, 03:30 AM
|
---
There was little doubt about the way events in Karnataka were going to turn out. The coalition government of the Janata Dal (Secular) and the Congress lost to the Bharatiya Janata Party in the confidence motion after a prolonged tussle during which the JD(S)-Congress alliance was presumably trying to get the 16 dissident members of the legislative assembly back to the fold. The Supreme Court's decision freeing the dissidents from the obligation to be present during the floor test had more or less ensured the ending; the JD(S)-Congress coalition was disappointed that they were not going to be hauled up under the anti-defection law.
Defections are not new in Indian politics; the rate of jersey changes has not only been increasing but also becoming more open. There is obviously nothing but ethical considerations to stop politicians from changing sides en masse immediately after the elections endow any one party with overwhelming dominance. As in the case of the BJP, particularly after the 2019 Lok Sabha polls. Besides, it is not as if legislators have not changed parties earlier for material considerations, but the BJP is far better endowed in this sphere than its rivals. A democratic polity being the least of its concerns, the BJP makes no secret of its hunger to occupy the entire Opposition space. For that it is also reputed to be using methods other than crude material ones; regular raids by various investigative agencies on the houses of Opposition leaders, for example, are suggestive of its other strategies. Ethics are the same for everyone: the dissidents are as much to blame as any party that rewards their desertion. The fallen Karnataka government is only 14 months old, and the BJP had been targeting the ruling position since the assembly elections in 2018. Then the party had been called first by the governor to form the government, but had failed to beat the numbers of the JD(S)-Congress coalition. The invocation of ethics, however, must be put in the context of democratic procedure. A democracy is a government formed by the people's will. After people vote a party to power, their will is overturned when their elected leaders change sides. The logic of democracy is breached. It had been occurring off and on, not without protest, but since 2014 the erasure of Opposition space by foul means or fair has grown into a steady corrosion of democratic process and practice. Ethics in this case, therefore, is not only pertinent to the actions of individuals or parties, but also, and more acutely, to the future of the country.