Arms and the men
India undoubtedly needs the US, but not as a client state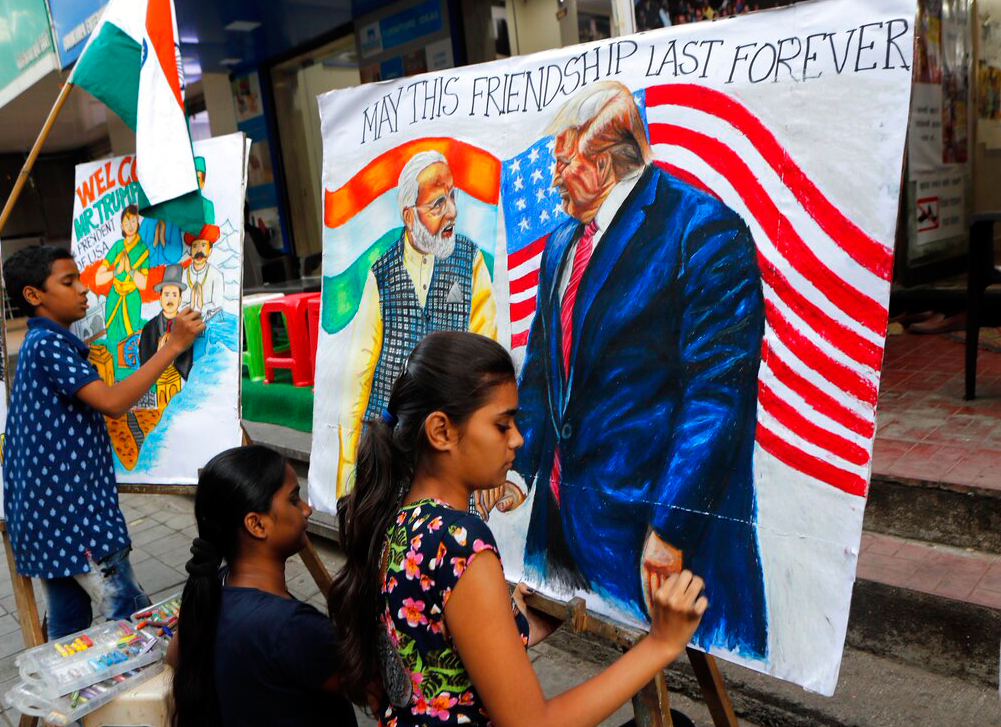 ---
---
New Delhi was exultant in 1985 when a memorandum of understanding with the United States of America promised sophisticated American military technology in return for India in effect renouncing the bomb. Fred Iklé, the defence expert who crafted it, was a brilliant advocate of US nuclear supremacism who spoke "with the tongue of angels but [wa]s drawn back in every argument to the same devilish conclusion", according to Michael Foot. George Fernandes, the lost romantic with an earthy streak of realism, feared Iklé had "conned" Rajiv Gandhi into accepting a surrogate role that overextended India's already strained resources.
That fear rides again amidst the expected razzmatazz of Donald Trump's visit. Imagination boggles at Narendra Modi's promise of seven million people along the road from Ahmedabad airport to the Motera stadium, supposedly the world's largest. Another 100,000 spectators must assemble there for the "Namaste Trump" event to trump Houston's "Howdy, Modi" which 50,000 applauded. Trump may have given up on a major trade pact but must pull some other white rabbit — a security deal perhaps or more sales — out of his hat because whatever Barack Obama did, he does bigger and (presumably) better. With the US presidential election due in November, he can't forget the "Joint Strategic Vision for Asia-Pacific and Indian Ocean Region" Obama and Modi issued in 2015.
Gamesmanship notwithstanding, India undeniably needs the US. Even Jawaharlal Nehru conceded we should "align with the United States somewhat and build up our economic and military strength". So, there's no question of dismissing Trump as only Vladimir Putin's "shithouse cleaner" as Arkady, a former double agent, does in John Le Carré's latest novel, Agent Running in the Field. "He does everything for little Vlad that little Vlad can't do for himself: pisses on European unity... pisses on NATO. Assures us that Crimea and Ukraine belong to the Holy Russian Empire, the Middle East belongs to the Jews and the Saudis, and to hell with the world order."
Mulling over that diatribe, one recalls that Trump's first presidential pilgrimage to Riyadh wasn't all diplomatic nicety. The US is in the business of selling arms, and the 2017 Saudi trip led to immediate sales of $110 billion with $350 billion weapons contracts over 10 years. Trump's blatant partiality for Benjamin Netanyahu's aggressive Zionism may also owe something to Jared Kushner, his son-in-law, senior adviser, an observant Jew and, paradoxically, a buddy of the by all accounts unsavoury MBS, Saudi Arabia's Crown Prince Mohammad bin Salman bin Abdulaziz Al Saud. We can't adapt and adopt Le Carré's own complaint that "Britain is rolling out the red carpet to an American President who has come to sneer at our hard-won ties with Europe and humble the Prime Minister who invited him" for two reasons. Trump likes Modi "a lot" and the prime minister revels in being liked. No doubt he will regale awestruck Mann ki Baat listeners with gloating accounts of how the Sare sansar ke maalik, as Rajasthani women dubbed Bill Clinton, graciously treated him as an equal and even let him address the president familiarly as "Don".
Nehru's pragmatic reasons for seeking American friendship are even more valid today. But foreign policy now being a one-man show, personal predilection takes precedence over strategic and economic considerations. The "Green Card" syndrome mesmerizes Indians at all levels. Pictures of Modi with the Russian and American presidents say it all. The one with Vladimir Putin in the Kremlin on December 24, 2015 shows two stony-faced men staring unseeingly into the middle distance as they clap mechanically. Not even the revelation that the jaunt enabled Anil Ambani's Reliance Defence to ratchet up a $6 billion deal with Russia's state-owned Almaz-Antey corporation to develop air defence missile systems erases the visual impression of personal distance. Putin doesn't hug or hold hands.
In contrast, Modi and Trump are shown fingers entwined, pointing, grinning and giggling like irrepressible adolescents at the G7 summit in Biarritz. Trump at least has good reason for celebration: Indian defence purchases from the US have soared by an astronomical 569 per cent. Harsh Vardhan Shringla must be credited with the understatement of the century for saying in his previous incarnation of ambassador to the US, "We are obviously diversifying our purchases." Correspondingly, acquisitions from Russia dropped from 76 per cent in 2008-2013 to only 58 per cent in 2013-2018.
Some landmarks along that road are George W. Bush's indisputable contribution to legitimizing India's nuclear capability, Condoleezza Rice's magnanimous offer to make India a "great power", Obama's grant of "Major Defence Partner" status, the 2016 pact enabling the two militaries to use each other's assets and bases for repairs and replenishing supplies, and, finally, the triumph of Trump's 2018 decision to rename the oldest and largest US command "which includes 36 nations as well as both the Pacific and Indian Oceans" Indo-Pacific Command. Headquartered in Honolulu, the Indo-Pacific Command covers "over half of the earth's surface and its diverse populations, from Hollywood to Bollywood, from polar bears to penguins", to quote the defence secretary, Jim Mattis.
China is the catalyst. The Quadrilateral Security Dialogue or Quad, as the strategic engagement among the US, Japan, Australia and India is named, began in 2007 when Manmohan Singh was prime minister. It was accompanied by joint military exercises on an unprecedented scale. China's testy reaction prompted Singh to explain the Quad wasn't "a military alliance" and "there's no question of ganging up against China". The Quad was dormant until Singh's successor agreed with Trump and the Australian and Japanese prime ministers to revive it against a backdrop of heightened tensions in the South China Sea caused by China's territorial claims. There is a likelihood now of the threat perception, underlined by Chinese stridency over Arunachal Pradesh, leading to even more massive militarization. The 1985 memorandum prompted 7,750 Pentagon licences for assorted military supplies, and generated 850 partnerships, 75 per cent more than in 1980. Modi's tenure has already seen purchases from the US rise to $17 billion while other contracts, as for a $5 billion Russian S-400 mobile, long-range, surface-to-air missile system, continue.
Despite the government's bluster, however, the Americans don't need to peer behind Ahmedabad's slum-concealing wall or taste Air India's economy class meals on domestic flights to understand that India is living beyond its means. They must know that the growth rate of Indo-US trade would not have fallen from 8.4 per cent in last year's first two quarters to a mere 4.5 per cent in the last quarter if the economy hadn't been pretty well stagnant. Trade in goods and services stood at a miserable -2.3 per cent, in contrast with the 9.6 per cent growth witnessed for the year's first two quarters. The old "Make in India" slogan associated with Congress's swadesi commitment that Modi discovered and mouthed as if it was his own coinage can't by itself boost manufacturing. High unemployment is partly due to demonetization's devastating impact on the informal sector.
Echoing Nehru, the late T.N. Kaul wrote somewhere, "India would like to be friendly with the USA, but not as a surrogate or client state." That was also the burden of my book,Waiting for America: India and the US in the New Millennium. India cannot be the new Pakistan. It has to be an equal relationship in which the economic needs of Indians come first. That is why this is hardly the time for the folie de grandeur of massive military purchases, sharing policing responsibilities even in one corner of 100 million square miles of ocean, or nursing visions of superpower status.
There is no glory in being the world's second largest — some say largest — importer of arms if you are also one of the poorest countries in the world.