All quiet on Covid-19 second wave
A strong government manifests its strength in many ways, including silencing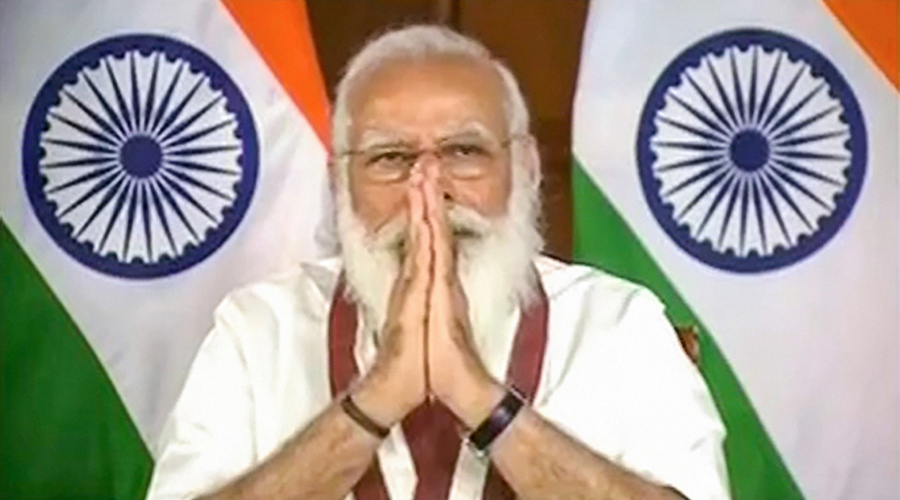 Narendra Modi.
File picture
---
Published 28.04.21, 04:08 AM
|
---
Silence is desirable, silencing is best. The present Indian government has always loved this principle and now, as the country tries to fight a second wave of Covid-19 infections without enough oxygen, medicines, hospital beds and vaccines, silencing is the Narendra Modi-led government's chief strategy. It has ordered Twitter to remove tweets critical of its handling of the crisis under the Information Technology Act, 2000 which blocks public access to information that would harm the integrity and sovereignty of India. Even at this hour of calamity, Mr Modi's government is using the law to stifle critical questions and is busy identifying, by implication, the Bharatiya Janata Party with the country. Its ire against social media platforms is ironic; the BJP employs them systematically for attack and propaganda. A further irony is the revival of Mr Modi's own tweet of seven years ago, where he could not bear the nation's suffering and said that India needed a strong government. His strong government is now overseeing the nation suffering ungovernably.
A strong government manifests its strength in many ways, including silencing. The chief minister of Uttar Pradesh, Yogi Adityanath, who had claimed there was no shortage of oxygen in his state when numerous hospitals are being forced to turn away Covid patients or discharge them for lack of oxygen supplies, has now ordered that any hospital that declares or complains of shortage will be penalized. Hiding the truth is all important, and it must be done with strident lies, derision and blame, often directed at the Opposition. In the Delhi High Court, where the Aam Aadmi Party-led Delhi government charged the Centre with inaction regarding the uninterrupted and adequate supply of oxygen, the solicitor-general, Tushar Mehta, said that it should try not to be a cry-baby. The contempt and condescension in this expression may be the Centre's way of expressing strength without action; remaining unperturbed amid the countrywide suffering, terror and largely preventable grief and loss may be its way of teaching the nation to be strong in adversity. No cry-babies allowed. And if that does not work, there are always prisons. The journalist, Siddique Kappan, suffering from Covid-19 after being arrested under the Unlawful Activities (Prevention) Act when travelling to Hathras, was discovered chained to his hospital bed. A strong government chooses its actions.